Hey all!! Hope you had a restful Easter break. We are recharged after a week at the beach. It is always hard to get back in the groove…but only 24 days of school (then exams…) and onto summer! The weather has finally turned nice…and it is a perfect time to dive into this months True Value Blog Squad post Itis easy and a great beginner concrete project:)
My daughter wanted to fish and I bought her a cactus instead…it just seemed a lot easier to me:) I really just didn't want to deal with the fish smell and the fish food in the fish cleaning and yada yada yada even though she said she would take care of all that. I talked her into a cactus and she was really happy. I got to looking at the other succulents in the cactus aisle and thought these "hens and chicks" would look so pretty on a tray on porch for spring time. And then I got to thinking why don't I make a tray out of something that would be kind of different… kind of cool could…and be used really for any season.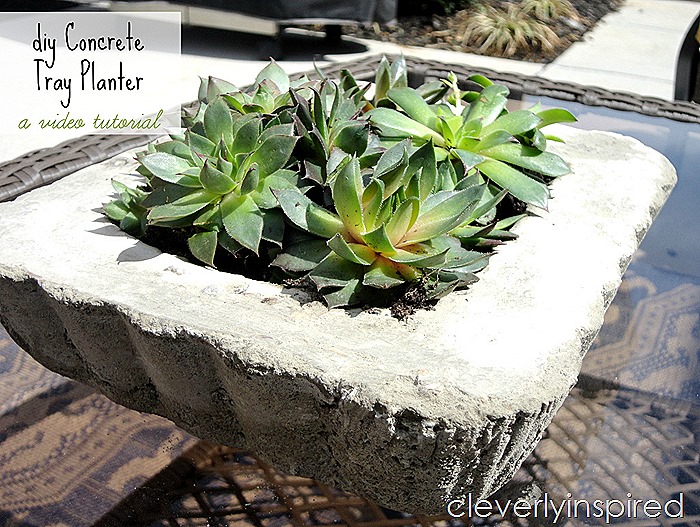 For this really cool and chic concrete tray you will just need a few items from your local True Value Hardware store. You may even have some of these items laying around your house just waiting to be repurposed. For the size of tray that I used here is the list of items that you will need.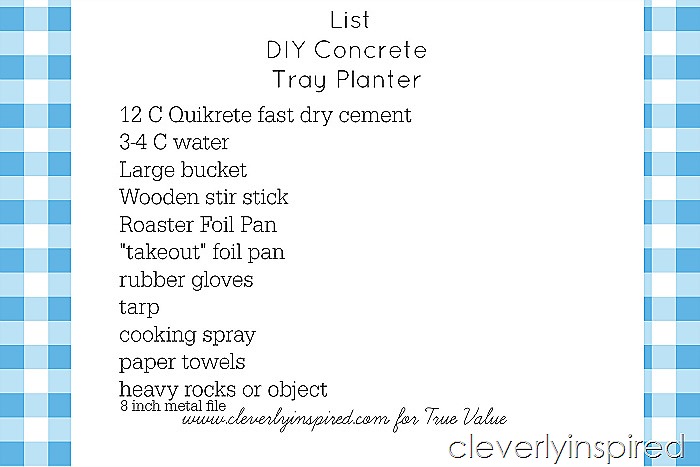 True value has many quick drying concrete to choose from so I would encourage you to ask your local True Value professional about any questions you might have on the concrete. It really is easy to work with you just have to make sure you have protected your surfaces and that you have all of your other items available and ready to go. Once you work with this fast drying concrete your imagination will open up to lots of other things to make for your outdoor spaces. These little planters would also make great mothers day gifts, Fathers Day gifts and house warming gifts. If you don't want to worry about plantings you could use this for some outdoor candles as well. What I love about using concrete as you don't have to worry about it blowing away and it is good to go for any season.
The short YouTube video will explain step by step how to create your unique one of a kind concrete planter. If you have any questions please be sure to email me or find me on your social media channels and I would be happy to help!
Side note, I did not provide a drainage hole in my planter. If you wanted to place a drainage hole in yours you could buy a half inch piece of PVC pipe and while the concrete is setting up place the pipe into the center. Obviously cut it the same depth as your tray. I planted succulents in mine and they are still thriving.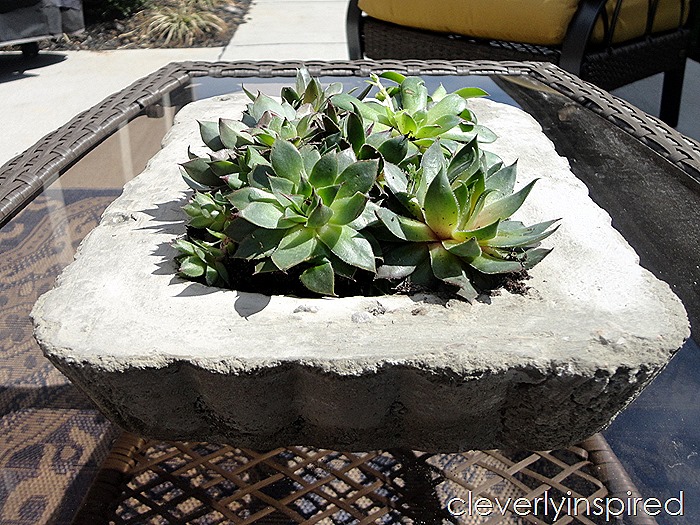 Go and make yourself your own concrete tray planter! Share it with me if you do:)
This has been a sponsored post by True Value. I have been compensated for my time however all thoughts, ideas, photos and errors are all mine:)
Sharing at tatertotsandjello