Well,  it's that time again….no…. not time to run around in your undies in the middle of the street in winter time like you're back in college (#thingsyoudoincollegeandprayyourkidsdon't)  It's time for favorite things give away! I have  rounded up a few of my most fav things and I am going to give all of them to ONE LUCKY READER! I just want to say thank you…thank you for coming to see me every week for the past 5 years. I am living my passion…and you are helping me do that everyday! I completely adore each one of these items…and I want you to enjoy them too!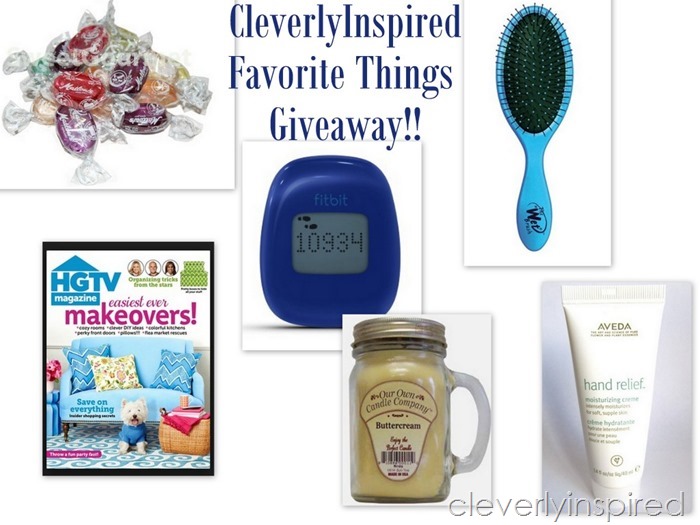 This little thing gets me moving….Every morning gets jumpstarted by the help of my little fitbit. I have the FitBit Charge which is the wristband version. But the one I am going to giveaway is just as great. You just slide it in your pocket or on a zipper…and go! You can download the fitbit app on your phone and see how you are doing. I love this!! My average is between 10-13,000 steps a day. I know this….I am moving so much more now than I was. I am a FitBit addict and you will be too!
Do you remember how the grocery stores used to have a big round display that was filled with Brach's candies? It was called Pick a mix…and I loved it! We would each get to pick our our favorites and add them to the bag. Brach's used to sell hard candies and I have searched all over for them….I found these on Amazon awhile back and they are identical to those Brach's crystal candies.
The Wet Brush…..I just cannot explain it. You can get out of the shower…and your hair is a tangled mess…this brush gets through it right away…without being harsh on your head. My daughter and I both have this brush….it is perfect for snarly curls and tangles…so gentle too. I love this brush!
Everynight before bed I lather on this Aveda Hair therapy. It is the only cream that I have found that actually reverses age spots and helps winters dry skin. The smell lulls me to sleep too:)
In the age of all this technology…I still enjoy flipping through an actual magazine. Of course HGTV is my favorite. They have tons of quick reads and tips…I usually keep it in my car when I am in carpool line.
These candles are such a value…they burn for 100 hours…slowly…and they smell heavenly. I love the vanilla and the buttercream…but honestly I haven't burned one that I didn't like. Love these!!
(FYI, above are Amazon Affiliate links:)
Sign up to win all these favorite things! You can enter as many times as you want…I would love for you to share with your friends too! Winner announced Feb 18th. Good luck!