I bet the Pilgrims would have loved a good slow cooker recipe….after long hard day…building a house and pillaging for food…probably would have been real nice to come home to hot cooked meal. I often think….geez-Louise we have it good….I mean we can plug this device in…throw some food in…and it cooks for us…all day long…so that all we have to do when we get home at night is put it on a plate and dig in. Dang we are spoiled! Sidenote: have you ever watched the History Channel's series called The Story of Us? It is mind blowing and truly incredible. It is basically the story of the United States…and how we came to be….from the Pilgrims landing and onward. Highly recommend if you haven't seen it….Anywho, here is a fabulous cozy fall meal that truly is comfort in a bowl. Try it this weekend….:)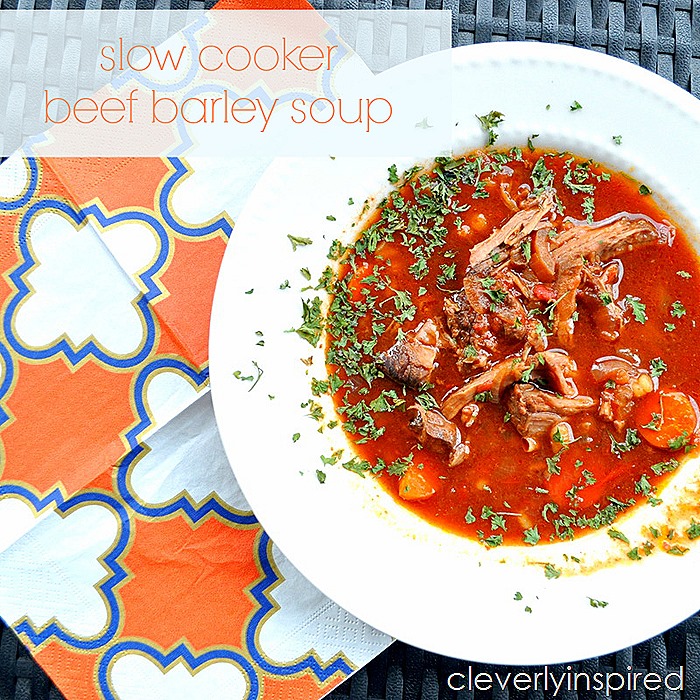 The beef is so incredibly tender…I suggest a "chuck roast"…. also, it MUST be cooked on low….low and slow= tender and awesome;)

Slow Cooker Beef Barley Soup
Author:
Tracie at CleverlyInspired
Ingredients
2 T oil
2 large onions minced
¼ C tomato paste
¾ t dried thyme
½ C red wine
28 Oz crushed tomatoes
2 C beef broth
2 C low sodium chicken broth
2 carrots chopped
⅓ C soy sauce
¼ C pearl barley (do NOT use quick cook kind;)
2-3 Lbs chuck roast
salt pepper
Instructions
Heat oil in pan, add in onions, tomato paste and thyme. Saute 10 min till browned..Stir in wine and combine.
Place onion mixture in slow cooker.
Stir into slow cooker, tomatoes, beef and chicken broths, carrots, soy sauce, barley.
Season beef with salt and pepper and nestle in slow cooker.
Cook on low 8-9 hours.
Remove beef and shred, place back in slow cooker and keep warm to eat!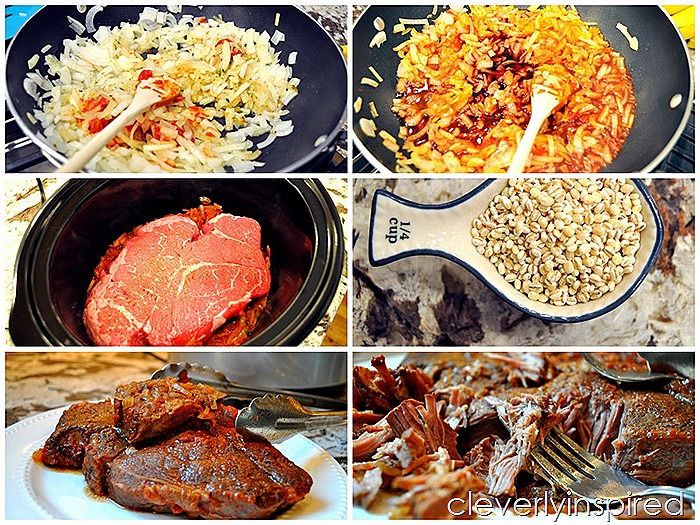 If you are making this for a weeknight meal….you could make the onion mixture the night before….then in the morning just toss it in the slow cooker and place the beef and juices on top. Done:)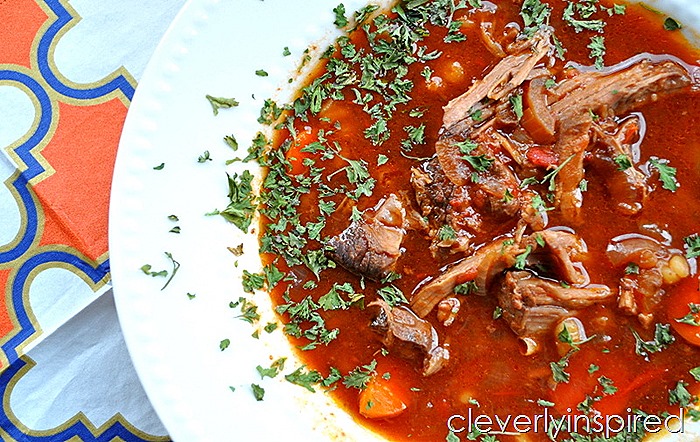 Have a wonderful weekend friends:)
xo
(recipe adapted from Slow Cooking Revolution cookbook:)