Another snow day here today….I have no words. So here is the recipe I am sharing:) Think spring friends, think spring….
My love for blueberries came to me later in life. I have baked them in muffins here and here….There is nothing like a fresh blueberry muffin with a hot cup of coffee. Seriously, my mouth is watering. So when my friends at the US Highbush Blueberries Council asked me to come up with a new recipe using fresh blueberries….I was like heck yeah! I came up with this fresh blueberry whipped cream…and let me tell you…you will be putting this on top of everything you eat. So flippin good! And it couldn't be easier.
(US Highbush Blueberry Council has sponsored this post, as always thoughts and photos are 100% mine.)
I shared on Instagram a few weeks back that I have a new favorite breakfast. Some wholesome granola…a bit of fruit and whipped cream. Easy enough….but this fresh blueberry whipped cream puts it over the top!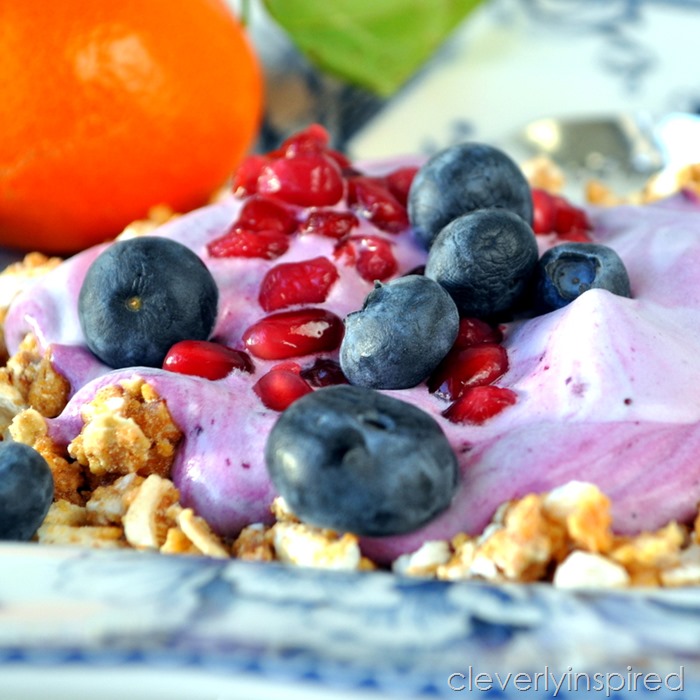 First you make a blueberry simple syrup and let that cool really well.
Then you make some fresh whipped cream (remember I showed you how simple that was a few weeks back…)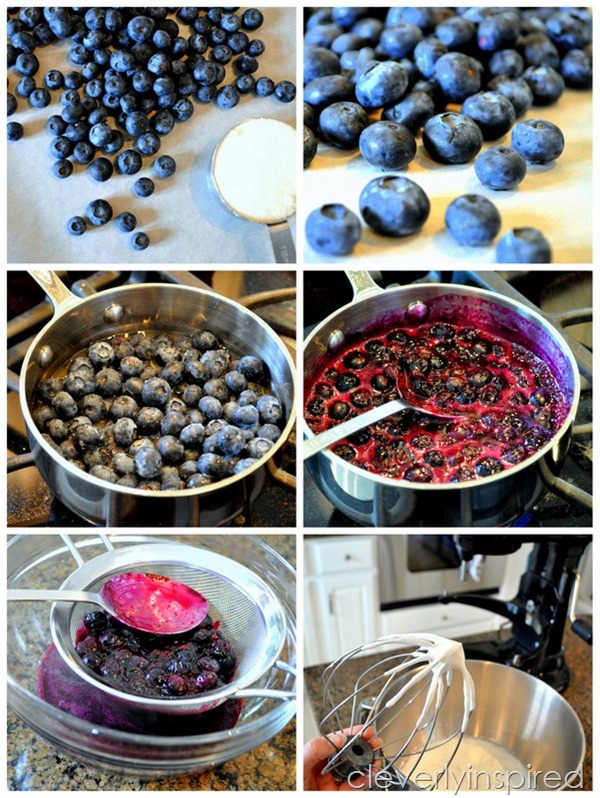 When your whipped cream is forming peaks….add in 1 C cooled blueberry syrup to 1.5 C whipped cream and combined. Best to let it sit in fridge for a couple hours.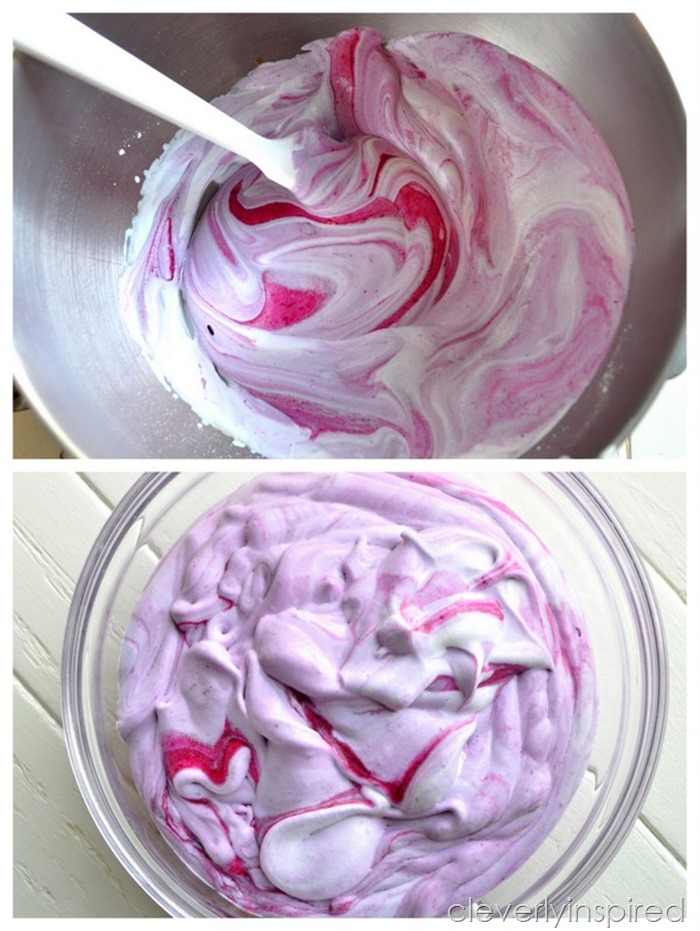 Dollop some on your granola (I really like the Kashi GoLean crunch), along with some fruit and of course fresh blueberries. Holy cow it is yummy! You could use this blueberry whipped cream on anything, pies, muffins, cakes, pancakes….it will never disappoint!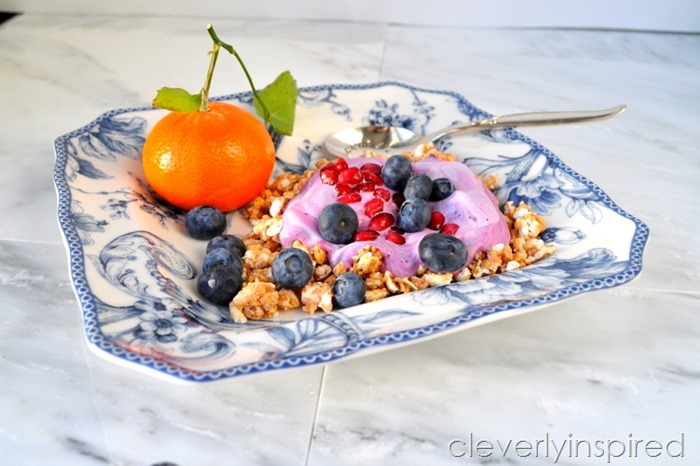 Blueberries offer tons of energy filled awesomeness in a little bitty bite. They can be incorporated in sweet dishes or savory. Keeping them in the fridge often makes for a quick and easy healthy snack all on their own.For more recipes, I encourage you to check out the Blueberries FB page and the website. Lots of great information on there too! Search #littlechanges on your favorite social media for more blueberry news…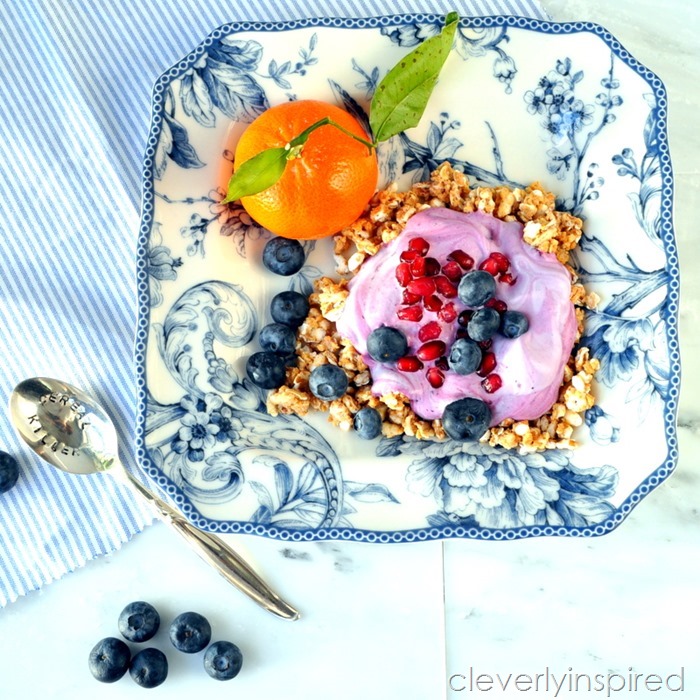 Here are 5 things you may have not known about the power of a blueberry:
1. High in Vitamin C which helps promote healthy immune system.

2. 1 Cup is only 80 calories (that's a ton of blueberries!!)

3. They help to lessen inflammatory issues that cause heart disease and age related cognitive conditions.

4. One handful of blueberries provides a substantial amount of your recommended daily fiber intake.

5. They play an important role in converting the protein you eat into energy.
Plus…they make everything on your plate pretty:)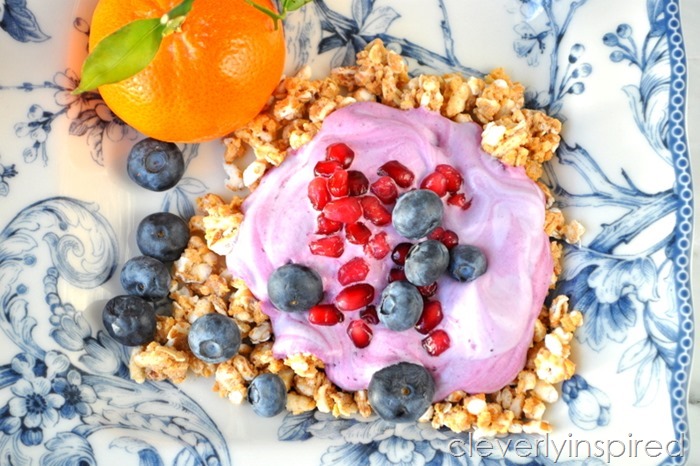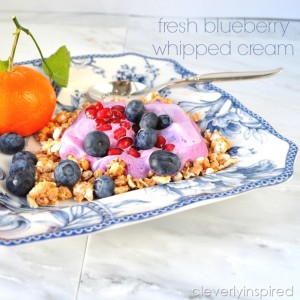 Fresh Blueberry Whipped Cream (#littlechanges)
Ingredients
2

C

fresh US Highbush Blueberries

1/2

C

water

1/3

C

sugar

1

C

whipping cream

2

T

powdered sugar

1

t

vanilla
Instructions
Simmer blueberries, water and sugar about 15-20 minutes. Strain and cool syrup.

Separately, whisk whipping cream and powered sugar and vanilla until soft peaks form. Best to use electric mixer.

Combine 1 cup blueberry syrup with 1.5 C whipping cream and fold together. Keep in fridge for up to 3 days.
Find lots more inspiration on the US Highbush Blueberry Council's website
Enter below to win $75 Visa Giftcard
sponsored by US Highbush Blueberries!
(Thank you to the US Highbush Blueberry Council for sponsoring this post. I have been compensated for my time in writing this post—all thoughts & photos are my own.)