This is a Sponsored post written by me on behalf of Duck® Brand for SocialSpark. All opinions are 100% mine.
Stuck at Prom®Stuck at Prom®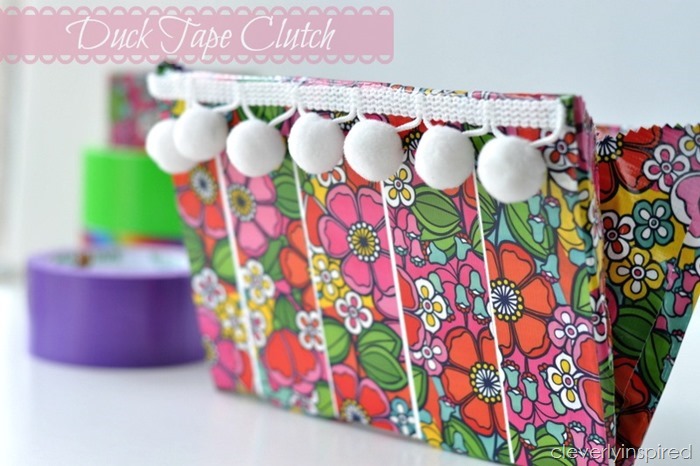 Have you seen the dresses that some folks have crafted up out of Duck Tape®? Simply put…they are amazing. Serious works of art. Duck Tape® sent me a fun package full of bright colored tape and asked me to get creative. I was to come up with a fun Prom accessory that was created with Duck Tape®. Oh the possibilities!! A clutch purse immediately popped in my head. I thought it would be useful, unique and so cute in this floral pattern. Here is how I went about creating the purse…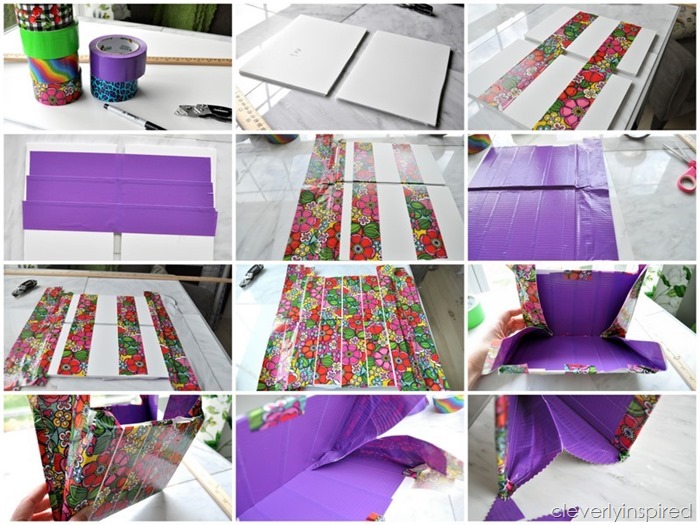 Supplies:
2 pieces of foam board cut to 9 by 6
Duck Tape® of your choice (I used 2)
pen
ruler
Steps:
Lay the 2 pieces of foam board side by side long ways leaving 1/2 inch between them.
Place 2 strips of tape (the outside) to connect the boards.
Flip over and tape the inside of the clutch (seen above in purple)
Overlap the edges on the front and back by extending 2 pieces of Duck Tape®. This will be folded inside the clutch so that nothing is able to fall out on the side. Also allows clutch to open wider.
Flip over again and finish taping the front. I left a small space to allow some white to show through.
Finish by folding the clutch together and taping the "seams" on the inside. Trim the edges and glue on some pompoms. I super glued a piece of Velcro for the closure.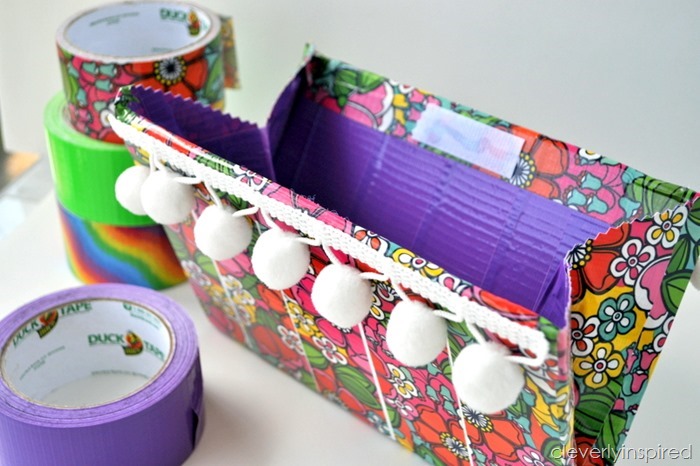 How fun right?!?!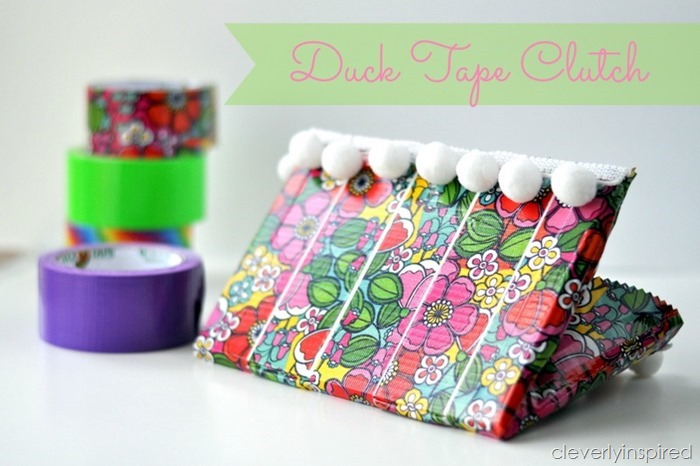 The fine folks at Duck Tape® are having a fabulous contest. Looky what is up for grabs!!
• Over $40,000 in cash scholarships are up for grabs!
• First Place: $5,000 each and $5,000 for their school
• Second Place: $3,000 each and $3,000 for their school
• Third Place: $2,000 each and $2,000 for their school
• 7 Runners up: $500 each and $500 for their school
• Singles Category Winner: $500 and $500 for their school
Q. Who is eligible?
A. Legal residents of the United States and Canada, including the District of Columbia, but excluding Maryland, Vermont, Colorado, Puerto Rico and the Province of Quebec, who are at least 14 years of age or older. You must also attend a high school, home school association or other school-sanctioned prom in 2013.
Q. When will the contest run?
A.
• Entry Period Begins – March 11, 2013
• Entry Period Ends – June 10, 2013
• Top 10 Announced – June 13, 2013
• Voting Begins – June 13, 2013
• Voting Ends – July 8, 2013
• Winners Announced – July 11, 2013
Q. How do you enter?
A. Visit http://stuckatprom.com and click on the Enter Now button. Fill out the required information and upload the images of your Duck Tape® prom attire.
Q.When will a winner be selected?
A. Once the entry period ends, a panel of judges from Duck® brand will choose the Top 10 submissions to move onto public voting. During the voting period, users can vote either on StuckatProm.com or on the Stuck at Prom tab on Facebook (facebook.com/ducktape) for their favorite entry. The entries with the highest votes will win one of 10 cash scholarship prizes.