A typewriter seems like an ancient relic to our kids….but you can make it cool again. Yes, it is a heavy price tag to make a point (about $800) but I love the conversation that this piece would bring. Through a usb port….the typewriter is officially high tech….again ;)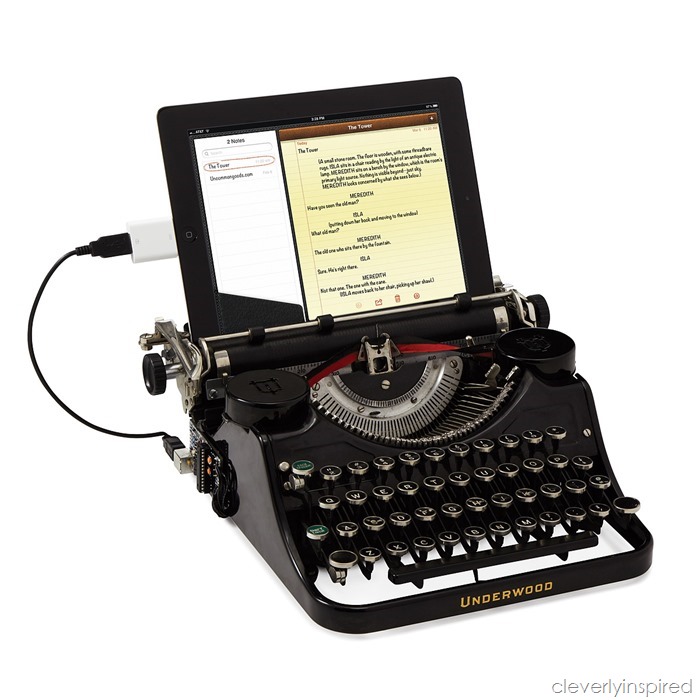 Think back, do you remember the last time you used a typewriter? Do you recall the resonant click clack of the keys as you plugged in every letter, eventually forming words, sentences, paragraphs, even whole manuscripts? What about the delight you felt sliding the carriage back into place with a zip and ring whenever it was time to start a new line of copy? Even a tech fanatic can admit that there was something uniquely exciting about using a typewriter that you just can't replicate typing into a smartphone, an iPad or a computer.
The thrill of using a typewriter may be passing from memory, but Jack Zylkin's groundbreaking innovation brings this mechanical marvel out of retirement and offers a nod to its influence on the development of modern automation. For ardent admirers of the look, feel, and robust quality of an old-fashioned manual typewriter, the USB TypewriterTM allows you to use this once obsolete tool as a keyboard that plugs into any USB-capable device, such as your PC, Mac, or even your iPad! Plus, this new-and-improved gadget features all the advanced functions of a modern keyboard, such as ctrl, alt, esc, and arrow keys, so your typewriter is ready to keep up with your twenty-first century demands. Made in Philadelphia.