What's for dinner? Did your blood pressure just go up? This fun handy app may just have you back in the kitchen again…with a smile on your face. It is actually fun to use. I have been using it for a few months and it proves to be very user friendly…and free :)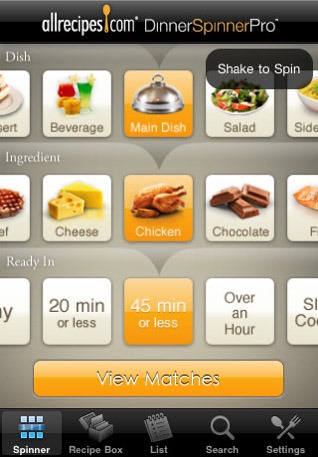 When you have some extra time in car pool line…pull it up and tell it what ingredients you have….shake your phone and it will give you some popular recipe selections. Kind of fun! You can store your favorites, create shopping list and even share the recipe with friends.
Here is a bit more info:
•When you already know what recipe you want, use powerful search options to access more than 45,000 member-tested recipes:
•Ingredients to specifically include or exclude
•Dietary restrictions like gluten free, low carbs, or low sodium
•Search recipes by course, cooking method, or prep time.
•Filter your results by popularity or member rating!" —All Recipes
So what are you making for dinner tonight?
Have you heard of any great apps lately?