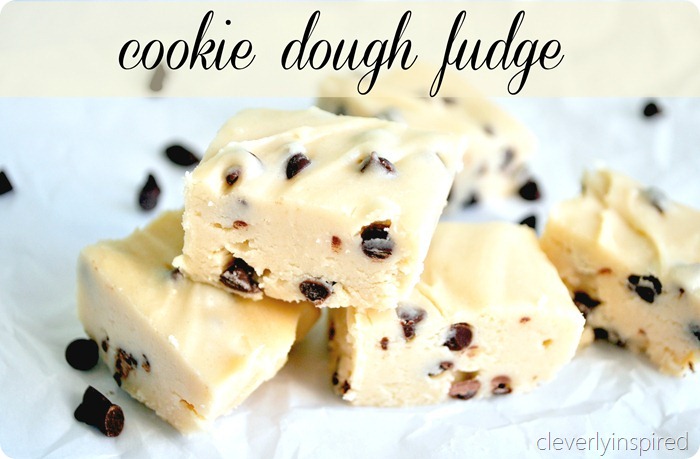 While listening to Sirius a few weeks back…I heard the author of a new cookbook being interviewed. She talked about this cookie dough fudge recipe…and I was totally captivated. What's this you say?? Cookie dough texture and flavor with no raw eggs to worry about?? And what's that…it's super easy??? Me…hooked…totally going to do that. (book is here)
I took this to our teacher welcome back luncheon and it was a huge hit! Yay! I love this recipe because it is easy….no thermometers involved. If you haven't made fudge before from scratch this is a good one to start with ….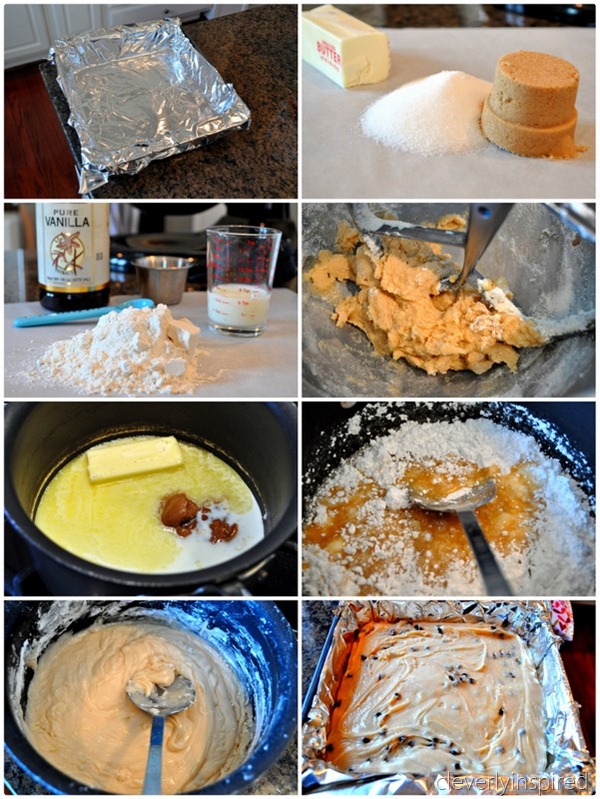 In a mixer…combine the following ingredients for the cookie dough. Set aside.
1/3 cup unsalted butter, soften to room temperature
1/4 cup sugar
1/4 cup light brown sugar
1/2 tsp. vanilla extract
1/8 tsp. salt
2 Tbsp. half-and-half (or milk or cream) (I used milk)
1/2 cup all-purpose flour
In a saucepan…combine until melted.
1/3 cup light brown sugar
1/3 cup unsalted butter
pinch of salt
1/3 cup half-and-half (or milk or cream) (I used milk)
Take off the heat and slowly (1 cup at a time) mix in confectioners sugar. I used a little over 5 cups.
4-5 cups confectioners' sugar
1 tsp. vanilla extract (I would use a bit less…closer to 3/4 tsp.)
1/2 cup mini semi-sweet chocolate chips
Line 8×8 square baking pan with aluminum foil or parchment paper. Set aside.
For the Cookie Dough, combine butter and sugars in the bowl of a stand or handheld mixer. Beat on medium speed until light and fluffy. Mix in vanilla, salt, and half-and-half. Add flour and mix until just combined. Do NOT over mix.
To prepare the fudge base, combine brown sugar, butter, salt, and half-and-half in a medium saucepan. Stir over medium-low heat until butter is melted and brown sugar is dissolved. Remove from heat. Slowly stir in powdered sugar, 1 cup at a time, until mixture is smooth and sugar is incorporated throughout. Stir in vanilla. Add more confectioners' sugar if desired. The more powdered sugar you add, the thicker, firmer, and sweeter the fudge will be. I used 5 cups.
Add cookie dough to the fudge base and stir to combine. At this point, the mixture should have cooled to room temperature. If not, continue to stir until it is no longer warm to the touch. Fold in mini chocolate chips and spread fudge into prepared baking pan. Chill until set, about 3-4 hours. Cut into squares and enjoy!
*Fudge will keep for 1 week in the refrigerator.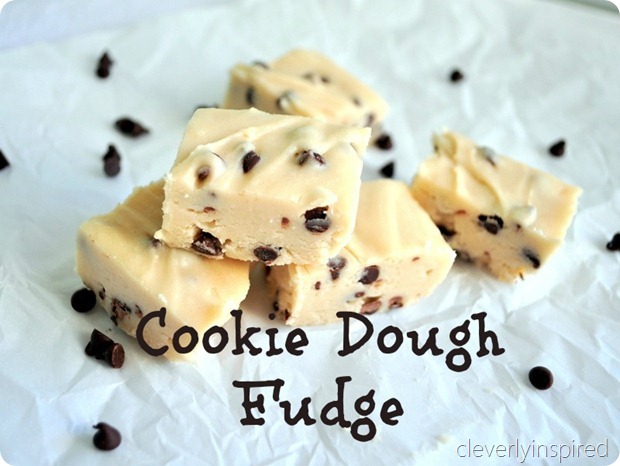 Be sure to stop by the facebook page…. I'm giving away a copy of the Cookie Dough book!!!!