We are in the middle of switching out and buying new family room furniture. I've had my eye on several brands and stores and have landed on a few pieces at Macy's. I had fallen in love with this a sofa in the Martha Stewart collection called Saybridge. The tufted sofa is classic…elegant and always in style. We ended up going with a different sofa..but non the less…the piece was completely lovely. And apparently all the rage since I opened my latest pottery barn catalog and saw almost replica of the Macy's piece…but yet almost $1600 more.
Thanks Macy's for offering furniture that are stylish, well built and affordable !
$999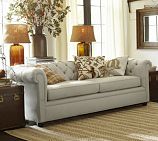 $2500
Can't wait to share some updates on the family room…..hint….it involves grays and camel colors ;) yay!