This is one of those crowd-pleasin-no-fuss-grillin-n-chillin recipes of summer. It is make ahead…pop on the grill while your enjoying a refreshing cocktail…good time food. It comes together easy. I love that.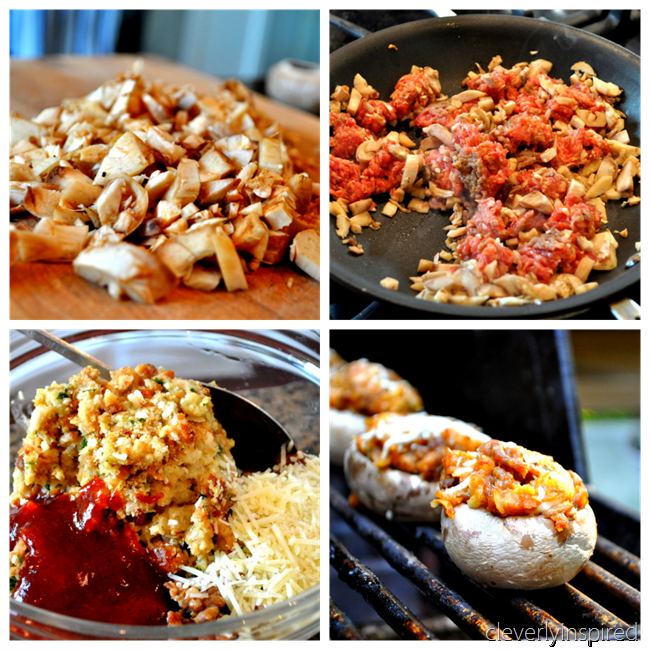 Pop off the mushroom stems and chop them up. Sauté them in a pan with some ground sausage. Meanwhile, cook the stuffing in the microwave. In a bowl, combine the cooked sausage mixture, stuffing, bar be que sauce, parmesan, along with a pinch of cayenne and one garlic clove minced. Salt and pepper to taste.
Fill the mushroom caps. Set in fridge until you are ready to grill. Heat grill to medium/high on one side. Place the mushrooms on the indirect side of the grill. Close the grill and cook for 12- 15 minutes. Nicely browned on the top.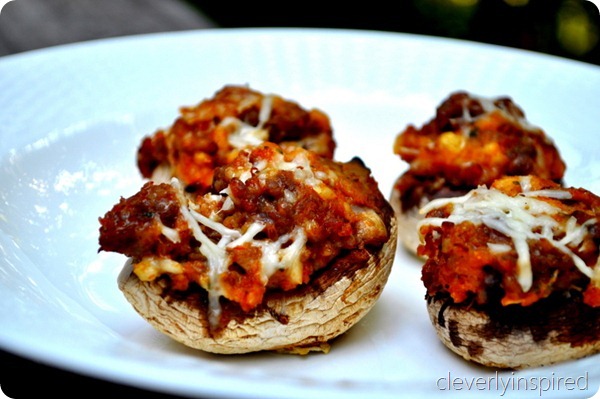 What have you grilled lately??
PS: if you don't want to grill…feel free to pop in the oven instead. 400 or so for same amount of time ;)
Recipe for Grilled Stuffed Mushrooms
Makes 12 large mushrooms
12 large button mushrooms
1/2 pound Italian Sausage
1 cup Stuffing Mix (prepared according to box directions)
1/4 to 1/2 cup Fresh Shredded Parmesan Cheese
1/4 cup Barbecue Sauce
1 clove garlic minced
dash of cayenne
pinch salt and pepper
Stem mushrooms and chop well. Sauté with sausage until juices release and sausage is cooked. Combine in a bowl with cooked stuffing mix and all other ingredients. Place heaping tablespoon into each mushroom cap. Cover and place in fridge until ready to grill. Grill indirectly for 15 minutes on med high heat.
sharing at
tip junkie
[shopeat_button]