Our powder room is located right off the foyer…before you get to the kitchen (I know many have requested a "layout"….working on that:) Anywho, when I first started blogging I did a post on the Powder room. It still is the hardest working room in our house. I sometimes hear it cry (help please…too many little boys have been in here!!) TMI I know…but it is a daily struggle for many of us mom's…pee on the seat. That's another post…for another time…maybe….
Our powder room has many fabulous features…I still LOVE the cut bowl sink that sits on top of the counter we made, I love the little light that hangs above… It is small on size but it is very usable and convenient. Now that the foyer has been updated and the kitchen…it is time to paint the powder. A few things I need to think about…
A. Wallpaper on the ceiling. Do I take it down? Do I find another color in the wallpaper that will work for the walls? Do I like it still? Does anyone care? How often do people look at? Do people ever look at it? Can I come up with one more question? no… These questions will need to be answered (well, most of them…some are just plain silly..)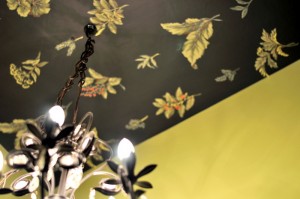 B. Black as an accent? Should I paint the counter? I am thinking black is a lot less likely to drive me completely batty when it comes to dirt and handprints.
C. How to freshen up the space…and not use any money ;) or at least very little!
Here are some inspiring pictures I found of some classic smaller bathrooms…
Maybe I wallpaper the whole little room??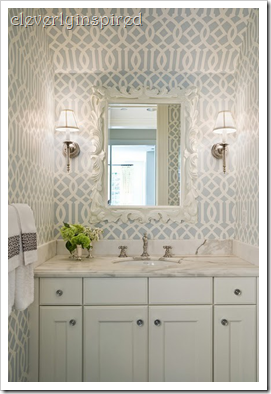 Or go completely opposite…how dramatic would this be?!?!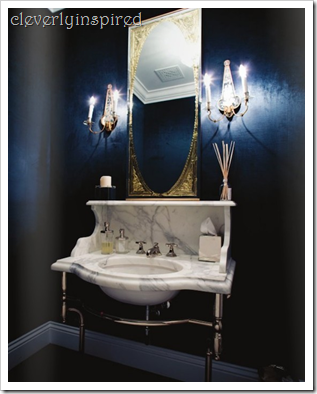 My friends up to the north…in the lovely British Columbia should check out some fabulous bathrooms on bathrooms.com. So many high quality and classic looks like this black gloss bathroom furniture…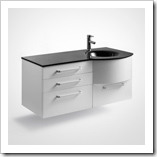 This article is sponsored by bathrooms.com, all opinions are 100% my own.
source: sadieandstella.blogspot.com
source: decorpad.com