Portable bacon….I mean genius right?!?! What could be better? Oh I know, portable bacon with cheese. I spotted this recipe a while back on Pinterest….and I thought this time of year might be a good time to give it a try. It is a perfect bite size party food that you can make ahead…and so chic :) I failed to have any lollipop holders on hand….but you can use them…or long picks. A perfect snack to make for New Years Eve :) Maybe put one of those fancy sparkler toothpicks on the end and be extra festive :)
 Cook six pieces of bacon until very crispy. Let cool.
In a food processor combine 4 oz goat cheese, 4 oz regular cream cheese, 1 T fresh basil, dash of fresh ground pepper. Mix well.
With a melon baller, create small balls of cheese mixture (think about the top of your thumb size) Like a dumdum lollipop size.
Place balls on wax paper, place lollipop sticks in center. Place in freezer for 20 minutes.
Meanwhile, in a cleaned food processor—Combine crushed bacon, 1 T basil, 1/4 C. pecans. Plus until very fine.
Hard to photograph a pretty picture of crushed bacon…moving on….
Take the cheese balls and gently crush the coating onto the cheese balls. I found that I needed to press the coating onto the ball to make it evenly around.
Place on a platter and chill until ready to serve.
This recipe makes about 20.
The recipe calls for them to be served on a round apple slice. I didn't do this but I am sure it would be yummy :)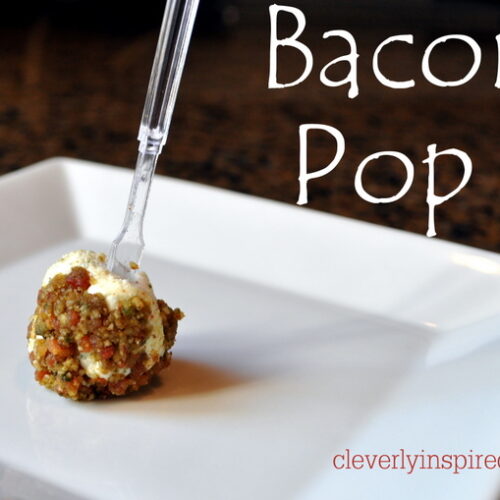 Cheesy Bacon Lollipop
Ingredients
Goat Cheese Balls with Herbs

Pecans, & Bacon

makes 16-20

6

slices

bacon

4

ounces

goat cheese

4

ounces

cream cheese

not whipped

2

tablespoons

chopped thyme or basil

divided

Cracked black pepper

1/4

cup

pecans

Apple slices

to serve
Instructions
Cut each piece of bacon in half. Place the bacon in a large skillet without overlapping the slices, and turn the heat on low. Cook on low for about 15 minutes, turning frequently, until the bacon is quite crispy. Remove to a paper towel-lined plate to drain. Pat the slices to remove excess grease.

While the bacon is cooking, whiz the goat cheese, cream cheese, 1 tablespoon of herbs, and a few turns of cracked black pepper in the food processor. Whiz until creamy and well-mixed, then form small balls, about the size of the tip of your thumb. Insert lollipop sticks. Put in the freezer for 20 minutes to firm up a little more. (Don't let them freeze all the way; just help them firm up. You can also place them in the refrigerator for a longer period of time.)

Clean out the food processor. Crumble in the cooled bacon, the remaining tablespoon of herbs, and the pecans. Whiz until very fine and crumbly; it should be as fine as your food processor will make it.

Take the cheese balls out of the freezer and roll them in the bacon mixture, pressing it in with your fingers if it doesn't immediately stick.

Place the balls in a container on their sides and refrigerate until serving. Serve on full rounds of sliced apple. These are delicious eaten together with apple; take a bite of one and then of the other.