This is one of those projects I wish I would have thought of about 7 years ago—-when MY kids could have used it. They would have LOVED this!
is it a puppet theater? is it a store front? is it an indoor lemonade stand??
who knows what they will think up—I love that about it!
A simple tension rod along with a few fabric scraps….makes for loads of fun! Here is how I did it…
My puppet curtain is 45 wide by 36 tall….you can make yours whatever size will fit on your tension rod. I figured the little girls I made mine for are going to use it in a bedroom doorway area. Cut up 3 scraps of fabric…45 wide by about 12 …
sew together the bottom piece to the middle piece (right sides together)…if you don't want to sew…just cut the fabric with pinking shears and use a permanent fabric glue…(no need to do right sides together for the glue…)
sew the middle to the top…right sides together…
on the top piece–iron a hem flat and sew a straight stitch..this will hold the tension rod
thread the rod through….
I made a little added detail with black felt…I cut scallops…
then I attached velcro with permanent adhesive…
let dry…if the glue gives you trouble with the felt—use a hot glue to attach the velcro…
Ready for some pretend play!!!

Be Inspired to be Clever ;)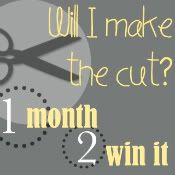 A Glimpse inside
Sharing today…Someday Crafts, Sew much Ado, seven thirty three, My Backyard Eden, Dot Dot Dot, Between you and me, Freckled Laundry, Creation Corner, Whipperberry, Tickled pink, Stories of A to Z, Mad in Crafts