This is a sponsored post written by me on behalf of Folgers for IZEA. All opinions are 100% mine.
Happy Friday yall!! I haven't had much writing time this week….Derby is fast approaching and I have been whippin up some last minute clutch purses:) I'm excited to go out with some girlfriends tonight…it has been awhile! We are going to see Sixteen Candles (80's band)….have you heard of them? Should be a good time…wearing my dancin shoes;)
Today I wanted to share with you an easy crafting project. My friends at Folgers asked me to come up with an inspiring coffee idea. I love me some coffee. It is how I start my day..everyday. I only need one cup….but I really need that one cup:) Good thing it is good for you….cause I am NOT giving up that one cup:)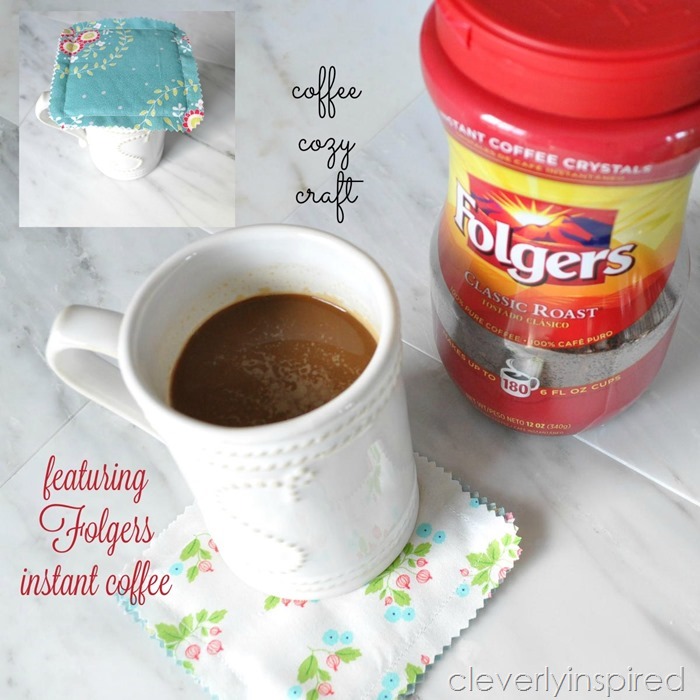 My routine consist of making something for breakfast…and a cup of coffee—then I head to my desk to get the day start. Often times I get to writing and my coffee gets cold before I am done. I thought of this fun little coffee cozy to help keep it warm:) All you need is a little scrap fabric and some fusible fleece. Comes together so easy!
Folgers is a perfect after noon pick me up too—on days when you are draggin a bit—it is a grab and go kind of a drink. Enjoy it hot or cold or mixed up with some ice like a smoothie:)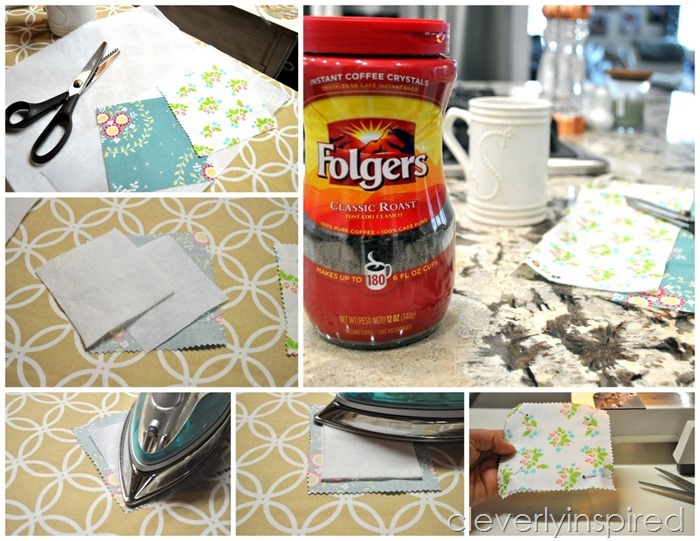 This would be a sweet idea to put in a "thank you" teacher basket for the end of the year:) Make a bunch!
To make this sweet little cozy:
(2) 4 inch squares of fabric
3 by 3 piece of fusible fleece
3 x 3 piece of med. weight interfacing
sewing machine
iron
How to:
Iron on the interfacing to one of the wrong sides of fabric
Iron on fusible fleece on top of interfacing
pin wrong sides together and sew
cut sides with pinking shears if you wish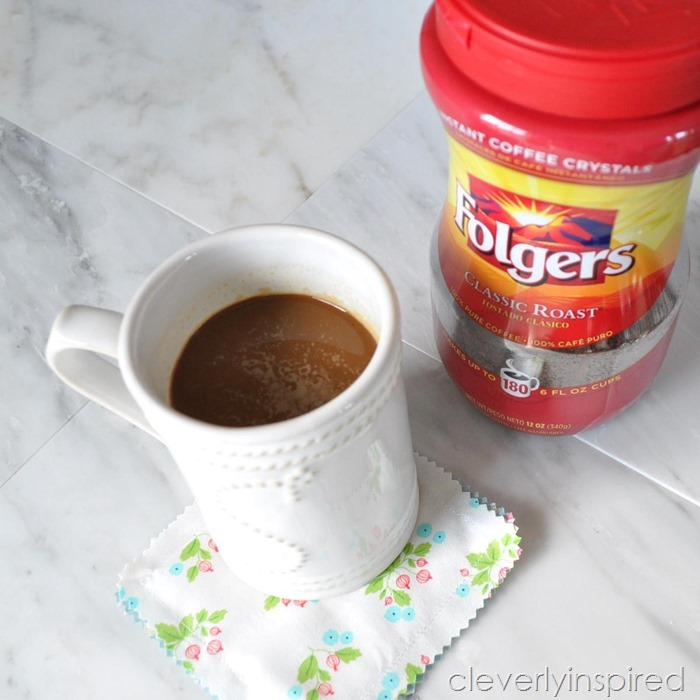 Easy sewing project that will keep your morning cup of Folgers instant coffee nice and steamy so you can keep on keepin on:) There are a ton of really great coffee recipes on  Folgers Recipes website…check it out:)Instant coffee can be the perfect way to start your day….or the perfect afternoon pick me up:)
I hope you have a great weekend friends!!