This is a sponsored post written by me on behalf of Nickelodeon for IZEA. All opinions are 100% mine.
I love how colorful Easter eggs are these days. Back in my day it seems that all we had was pastels with the color kit that came at the grocery store. There are so many fun ways to decorate Easter eggs now, with paper Mache, different color food dyes, foam and paper, glitter, gold leaf and even nail polish… it really is a fun interactive craft to do with your kiddos! My friends at Bounty and Nickelodeon invited me to come up with a fun craft to do in the kitchen with your kids to celebrate the 2015 Nickelodeon Kids Choice Awards. These Easter eggs would be a great project to do while you watch! There is a ton of other inspiring ideas out that will put your kids in the party mood. Search up #slimeon on your favorite social channel and be sure to tag @NickBreaks to show them what you have created!Head to @NickBreaks and enter #SlimeOnSweeps for a chance to win prizes thanks to @Bounty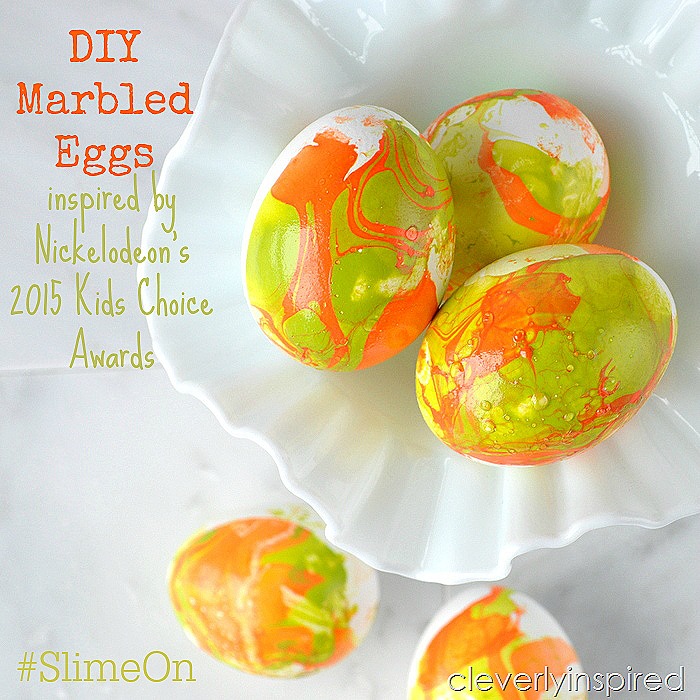 You will just need a few household items to create these one of a kind eggs. I would caution: these are just for display….to create these bright marbled eggs we used nail polish. Even though it is just on the shell….I wouldn't recommend eating these eggs. You could blow out the eggs first….we just hard boiled a dozen.
Gather your supplies:
green and orange nail polish

shallow plastic container

bounty paper towels

news paper or wax paper

toothpicks

rubber gloves
How to:
fill container 1/4 of the way with room temp water

drop in a few dots of each nail polish

roll the egg until the sides are covered

place on wax paper to dry

you can use a toothpick to swirl the colors a bit but it dries quick…so you'll need to be quick

for every egg you will need to re-drop nail polish in the water
Play with the colors and have fun with it! Rubber gloves and Bounty paper towels will make quick clean up too…so go ahead and get slimy!Get more slime content and tweet your own with #SlimeOn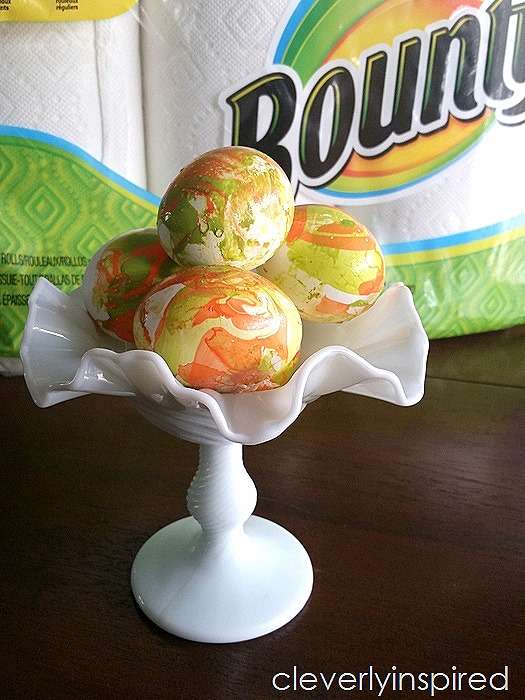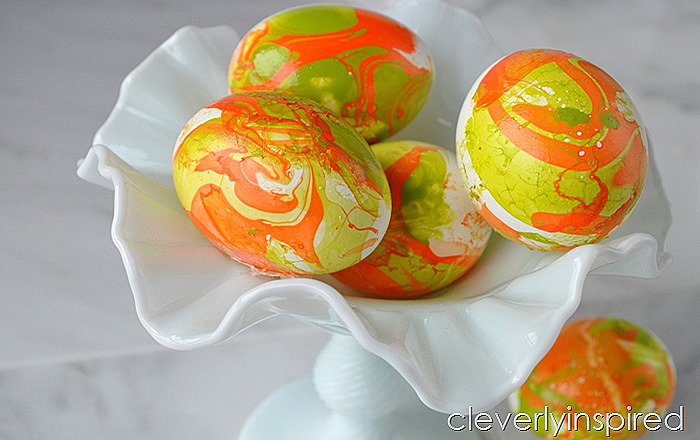 Have a great time rooting on your favorite stars at this year's Kids Choice Awards!