Are you stuffed?? Boy…we had such a great family weekend…Thanksgiving…tree decorating…lots of family movie time. This time of year is simply the best. I hope you had a great weekend too. To get you inspired this week for some fun Christmas decorating….I have a couple of neat ideas…starting with this handmade holly wreath. Also…today kicks off the Christmas Inspiration week with ThistlewoodFarms and The Hunted Interior. Be sure to stop by KariAnne's today and see her fabulous nautical Christmas ideas.
I have some holly. And when I say I have some…I really mean I have several overgrown-need to be cut-desperate for attention….holly bushes. So, if your local….come on over and clip some for this project ;) I suppose any green you have outside would work…like evergreens…whatever you want.
This is a super simple but very chic (and cheap!) wreath project. You are going to need an old frame, some burlap, hot glue, green floral wire and some free green clippings from your landscape. I used holly…because I have a ton;) If you don't have a frame…scout out your local thrift shop. You can usually find some for just a couple bucks. Cheap is chic am I right?!?!
First cut a piece of burlap the size of your frame. You are just going to be covering the edges…so cut out the center too.
Now you are going wrap the frame and hot glue the burlap to the edges. Doesn't have to be perfect…we are going to cover up with the greens anyway.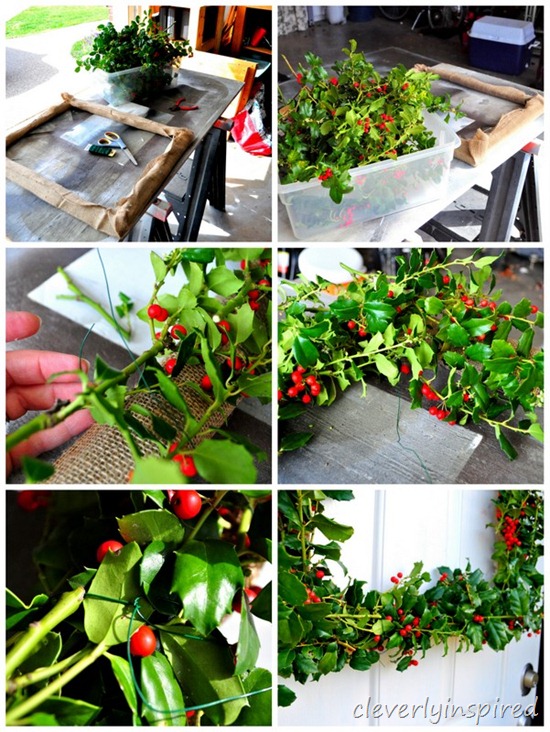 Clip off some fresh holly from your over-grown bushes (like me right?!?!) I filled up a small Rubbermaid container and that was plenty.  The idea is to cover the frame with the greens …using floral wire….so at the end of the season you can discard the greens and save the frame for the next time.
Laying the greens down on the frame….wrap the wire around (twist the wire) so that the greens stay put. Keep layering and wiring until you make it back to where you started. Fill in bare spots as needed. I use the green floral wire so all my mistakes are hidden :)
These custom wreaths can run as much as $50….and looky here….you just made your own for pennies ;)
What do you have lying around outside that would make a good wreath?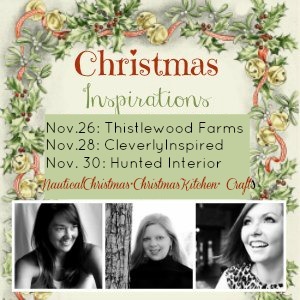 Here is the link to go see KariAnne over at Thistlewood Farms…:) She decorated her guest room for the Holiday….swoooonnnnn
Sharing at SandandSisal, CentsationalGirl