I recently shouted out on my Facebook page that I would be happy to do a free reader redesigns. Several of you jumped at the chance…so I am going to make it a monthly feature for a while. Now yall know….I am not a licensed interior designer….I am just giving my advice based on what I know…and base on what I think the reader's taste may be. I know you all enjoy seeing a plan come to life…so I am hoping these readers keep us in the loop of their room redo's.
Kristen from Florence, KY is up first. She sent me pictures within 5 minutes…so she wins quickest too! She already has a great start in her family room space. She is just needing a little direction on where to go now. Her furniture placement was hanging her up…I told her I would take a look…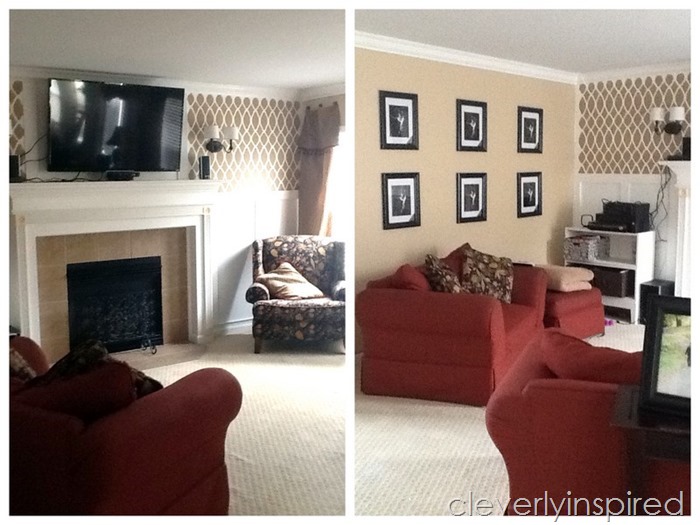 She did this amazing stencil on her fireplace wall. I love the drama that it adds…but yet the room still feels warm and friendly. Kristen will be laying some wood laminate flooring in a few weeks….so the plan that I have made up will take that into account….
She is also looking into buying new furniture. Her family is leaning towards leather…which will work great. Kristen didn't want the room feeling to dark….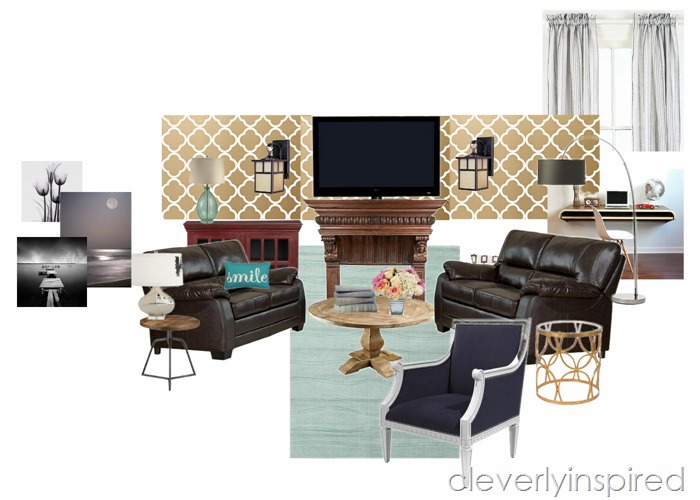 Here is what I would suggest Kristen:
Maintain the focal point of the room by adding two loveseats to face each other and be inline with the fireplace/tv. (I would keep the mantle white…this in the only pic I had:)

Ground the room with a lighter area rug (this sea glass color would pair nicely with the stencil wall)

I would consider changing out the sconce lighting for something with a little more style like these craftsman paned sconces. Put them on a dimmer to be perfect mood lighting.

Consider adding a small corner wall desk on the right side of the room. Nice to give that corner a purpose that is usable.
Lighten the window treatments. Sheers are all your need since you have privacy coverage.

A feature wall of black and white family photos would be great on the left wall.

A narrow bookcase or cabinet on the left of the fireplace would be very useful for storing cables and cords.

An accent chair that is small enough to move around easy…and in a pretty blue would be a great hint of color. (you could consider reupholstering the chair you have)

Be sure to fill the room with a few lamps….it makes all difference for how a room feels and makes you want to spend time there.
For a complete buying guide please visit my Olioboard
Have a great weekend friends!