Hey all! This weekend there was a weird yellow ball of goodness high in the sky…people call it the "sun"…oh my it was nice to see it! I hope you had some tastes of spring where you live! Starting a fun new series today…. #clevermoving Monday:)
The house we have purchased is already started….we skipped by all the boring all the foundation, site planning, and roof work…and are full steam ahead with the fun stuff inside. The house is already framed and getting ready for electrical. We have been through this process a few times…so I thought I would share with you a few things to consider when you are planning your new home for electric. Again…I am no professional…just sharing what has worked for us in the past:)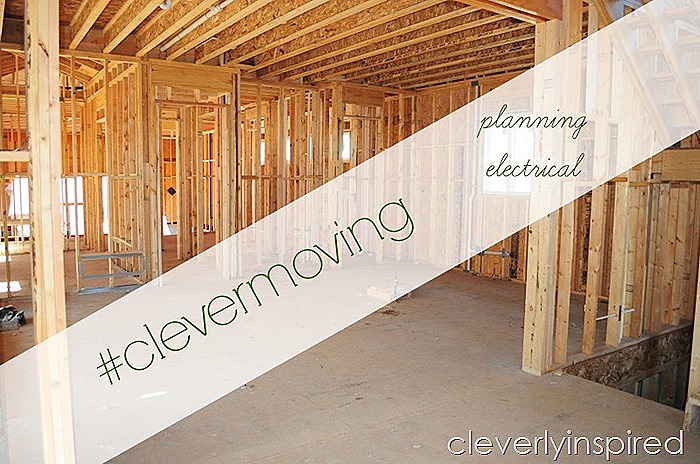 * Take a long hard look at the building plans. I like to go room by room and really think about how that room will be used. For example, in the foyer…where will you want an outlet for holiday lights? Do you want a lamp in a certain spot? Be sure to place outlets where you think you may need them. In Kentucky, the building code states that there must be an outlet every 6 feet. So consider this in smaller areas because 6 feet is a long way to go in a space like a foyer.

* Look up. Where will you need overhead lighting? I always err on the side of too much light is better than too little. You can always put dimmers on overhead lighting…but it is much more costly to go back after drywall and add that light in.
* Think about switches. Do you want dimmers in the family room? Do you want to switch on a lamp in the bedroom? Consider how the furniture will set up and where you may find a switch handy. We placed dimmers on the basement recessed lights, the family room and the kitchen. Also, light switches for both entrances to a room (particularly helpful in a "jack and jill" bathroom situation)

*Think about your workspaces. Where will you need cable, internet (wifi) connections? These are so easy to add now….and much less costly. We placed cable in the garage, back office, family room, screened porch, bedrooms and loft space…along with a couple in the basement. We want the option to be available if we want a tv in those spaces. Another space to consider is the laundry room and master bathroom.

*Outside fixtures. Do you want hanging lanterns? Or fixtures on the house? Do you want a fan on your porch? How about Christmas light outlets? Where do you think you may want Christmas trees…super helpful to place these outlets with a switch. All of these items are easy to add in now…

* My friend Brittany suggested if you have little ones…a on/off switch for the doorbell is very handy. Waking up a little person for the UPS man= nap fail…. :)

*If you cannot afford the lighting you want now…in a particular space…you can have the builder run the wires and cap it. I did this for the family room in our new house. I am not sure what kind of fixture I may want there….but I wanted to keep the option open to me to place it when I am ready.
*Really consider what you love about your current home and consider that for your new home. Do you love a particular table with a lamp on it near the sofa? Be sure to accommodate for that in your new floor plan. It doesn't mean you have to do it the same way…but it gives you the option.

*Speakers. If you want music through out your home…now is the time to run the speaker wire. We chose to just use our Bluetooth speaker….but I did make sure the builder placed an outlet in a hidden open cabinet above the refrigerator.

*Take pics. Now is also a great time to take several pictures of the studs (hubba hubba;) These come in handy when you want to go back and do things in the future. You can see how the joist run and what is in between the walls. Print these pictures and keep them in a small photo album to refer to in the future.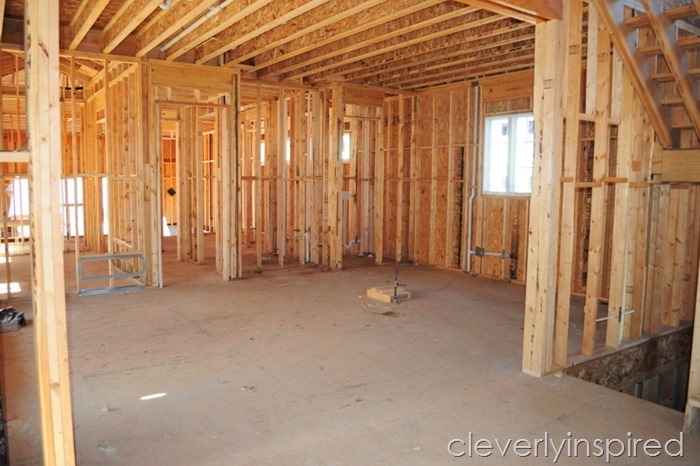 I thought it would be a fun series to start #clevermoving Mondays….to share the latest in the building process…and things that we learn along the way. So be sure to pop back in on Mondays to see what's up!
Do you have anything you would have added? DO tell:)