Well, I just have to tell you….I have had a complete blast with this whole blogging thing. I never really realized how much I truly enjoyed sharing clever ideas…until I started this blog. It has molded all my most favorite things all together…and all of you wonderful folks have been so kind to share with me how much you enjoy it too. All I can say is thanks….it has been a fabulous 2 years…and for that…I send you all hugs.
And I am sending you an opportunity to win $150 in brand spankin new sassy boots from Country Outfitters! Whooo hooooo and YeeHaw!! (you can pick the ones you like the best )
I picked these….the fine folks at Country Outfitters sent me a pair….and let me tell you…I am officially a cowgirl. They arrived within a week and fit perfect. They are just the right amount of sass and class if ya know what I mean. Perfect for skinny jeans…or a fabulous skirt. Love these boots!! The boots are a bit tight in the ankle  (as most cowgirl boots are…)…so if you have a wider foot you may want to go a half a size bigger.  Just fyi…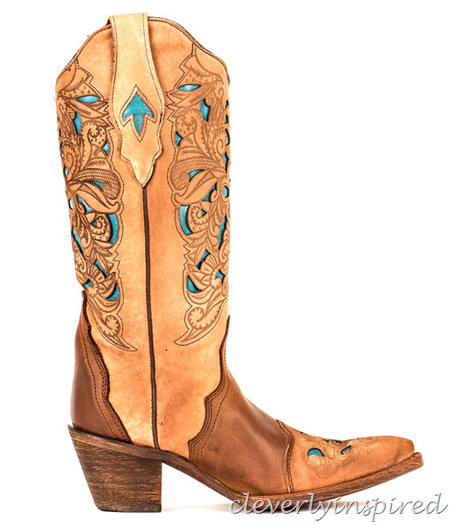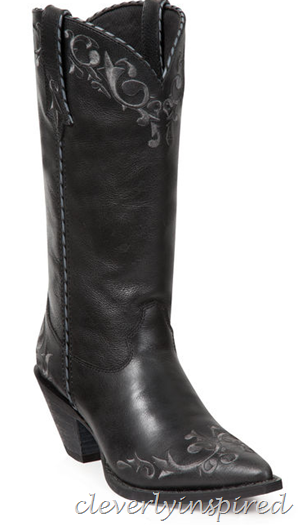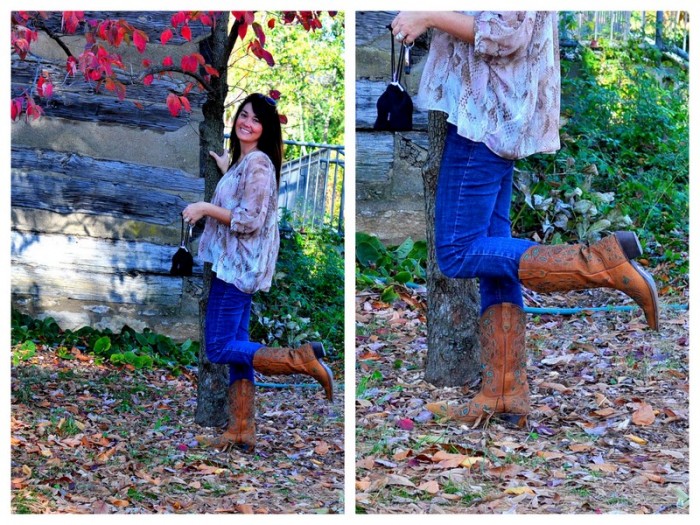 Me….in my sassy new boots :)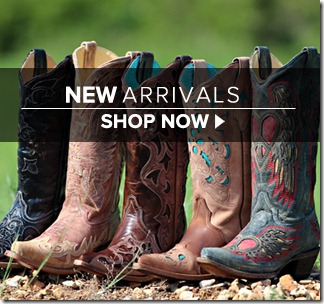 A bit about Country Outfitters:
"We got together in 2011 and started Country Outfitter as a great place for people to go and buy name brand and hard to find boots and western apparel. After we flipped the switch it was kind of obvious we were on to something big. All Americans it seems, not just those out west, love boots and the American Country Lifestyle that boots embody. Boots just make you feel a little different when you slip them on. They're like an old friend.
In 2012 we've set off on a mission to build the best up-and-coming, most innovative Country Lifestyle brand we can build, and the pieces have come together nicely. Today, Country Outfitter.com offers amazing country lifestyle brands like Ariat, Justin, Corral, Wrangler and dozens more at great prices with fast and friendly service, on a site that really showcases the great brands we carry. We're constantly improving our service and website experience to make Country Outfitter your go-to site for all things Country. Keep coming back to see new brands, products, and more." (Country Outfitters website)
Super easy to enter….you know how I don't like giveaways with a bunch of hoops to jump through. All you have to do is enter your email address. That's it.
If you want to have a second chance to win….you can comment below and tell me you shared this giveaway post on your favorite social network.
I am going to leave this giveaway up for 2 weeks! Plenty of time to enter

Giveaway ends November 6th, 2012.
And one last thing….thanks…thanks for reading and cheering me on. Thanks for sharing projects and recipes that you like. Thanks for everything. I am blessed to have this opportunity to share with you and I don't take that for granted. xoxo
FYI:
Country Outfitter will occasionally send you marketing messages. You are welcome to opt out at any time. For an additional entry please leave a comment below letting me know you entered. Must be a US Residents 18 years and older.
CountryOutfitter, a retailer of Loredo women's boots sent me these brown Loredo Miranda boots to review.