Sarah's blog The Yellow Cape could really be called "house eye candy" ! She puts a room together flawlessly. And the thing I enjoy most about her style is that it is so approachable. She is an interior designer by trade and she is a real talent. I think what I love most about her blog is that her decorating is very personal….she makes a house into a home using resourceful ideas. Things we can all do! Love that! Here are a couple of my favorites….
DIY silhouette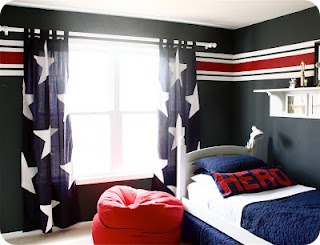 No sew star drapes….I love her boy's room!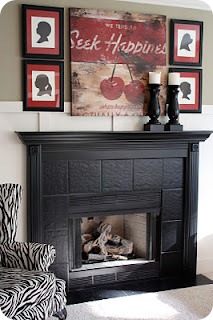 She also upgraded a boring builder fireplace…amazing!
Here is a little project she did for a client….Thanks for visiting Sarah!
Today I went shopping for accessories for a client's living room.  I wanted to add a natural element and a little color to her mantle.  I knew in my mind exactly what I wanted but I couldn't find it anywhere.  I went to a few stores and finally decided to ask for assistance. 
I approached the clerk and asked, "Do you have large mossy balls?"
I know…awkward. 
To spare myself further humiliation, I decided to go home and make my own. 
Here is what I used:
A bag of bright green spanish moss, hot glue, and styrofoam balls. 
Using a glue gun, I coated the balls with hot glue and pressed the moss around them. 
It's just what I envisioned.
I'm not sure what the clerk had in mind. 
Geesh…
Sarah Macklem The Yellow Cape Cod Interior Design Consultant/Writer
Email: [email protected]
Website: theyellowcapecod.com
Facebook: http://www.facebook.com/pages/The-Yellow-Cape-Cod/150488681673494
Twitter: http://twitter.com/#!/theyellowcapecod
Thanks for sharing this DIY project Sarah!
Be sure to go visit her at The Yellow Cape