December 17, 2014 By Tracie Leave a Comment
Good hearty appetizers are always a good choice to serve up to your favorite holiday crowd. When the spirits are flowin….folks need something easy and hearty to pop in their mouths in between stories:) These spicy sweet chicken bites are perfect for that occasion. They can be made ahead of time…baked up and keep warm (gently…don't want to dry them out.) We actually have these for dinner a couple nights a month. Appetizers for dinner is always a hit:)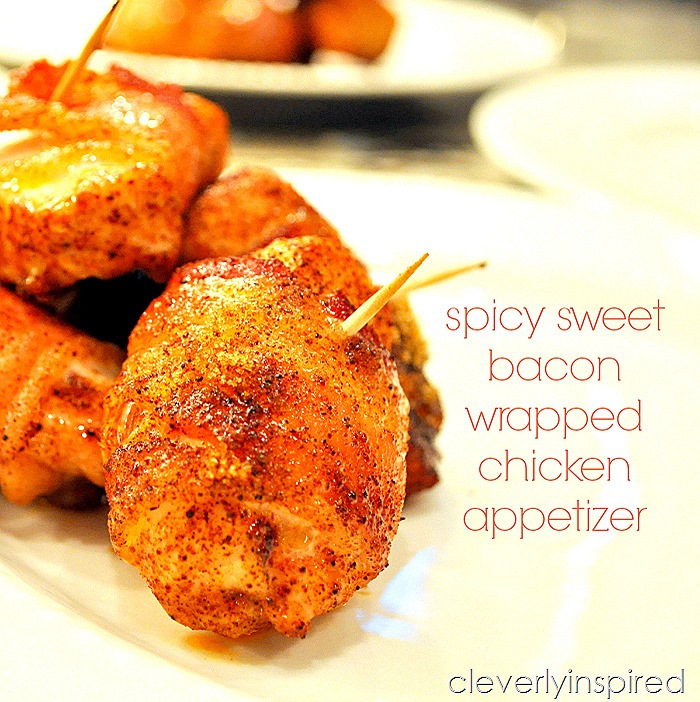 Cut bacon into thirds and working on wax paper makes clean up easy. In a small bowl, mix together brown sugar and chili powder. Cut up chicken into 1 inch pieces (I get about 10 pieces out of one boneless breast) You don't want them so small that they overcook easy….secure with a toothpick…roll in sugar.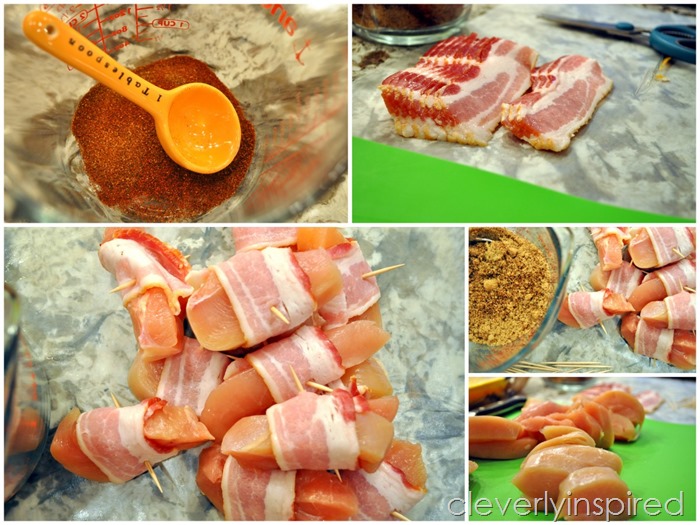 Cover a cookie sheet with foil, place a rack on top and space chicken pieces on the rack.  Bake up and serve up!
Bacon wrapped chicken appetizer (easy hearty appetizer recipe)
Author:
Tracie at CleverlyInspired
Ingredients
4 boneless chicken breast
1 lbs bacon cut into thirds
⅔ C brown sugar
2 T chili powder
Instructions
Cut chicken into 1 inch pieces.
Secure a piece of bacon on the chicken with toothpick
Combine sugar and chili in bowl
Roll chicken in sugar
Place on rack on top of foil lines cookie sheet
Bake 350 for 20 minutes until cooked through.
You could make some appetizers like this one this weekend….gather your peeps and watch some movies:) Enjoy the season friends:)
xo
recipe adapted Paula Deen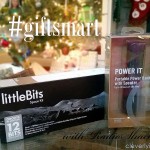 Your local Radio Shack is more than a place to just find a battery for that hard to find battery:) It is a place that is filled with all sorts of fun tech gifts for the tech lover in your life. My friends at Radio Shack sent me a few things to take a look at for this holiday season gift giving.  They would love for you to #giftsmart when you are thinking about what gifts to buy this year. The great thing about shopping at Radio Shack is if you are not familiar with what you're really … [Read More...]