April 20, 2015 By Tracie Leave a Comment
Hey yall! Hope you had a great weekend. We had glorious weather…so we made the best of it and did some gardening and cleaned out the garage. Nice to get some things done:) I am getting ready to go through some of the creative ideas that were linked up last week. I will share some favorites tomorrow.
This time of year in the Bluegrass all we talk about is Derby! Of course we've all heard of the mint julep cocktail and this Derby Pie cookie bar would be perfect to serve up for your Derby party (it's the first Saturday in May;) If you've never had one consider doing one this year! It is a great time to celebrate spring and have some fun "betting" games during the day of "race for the roses."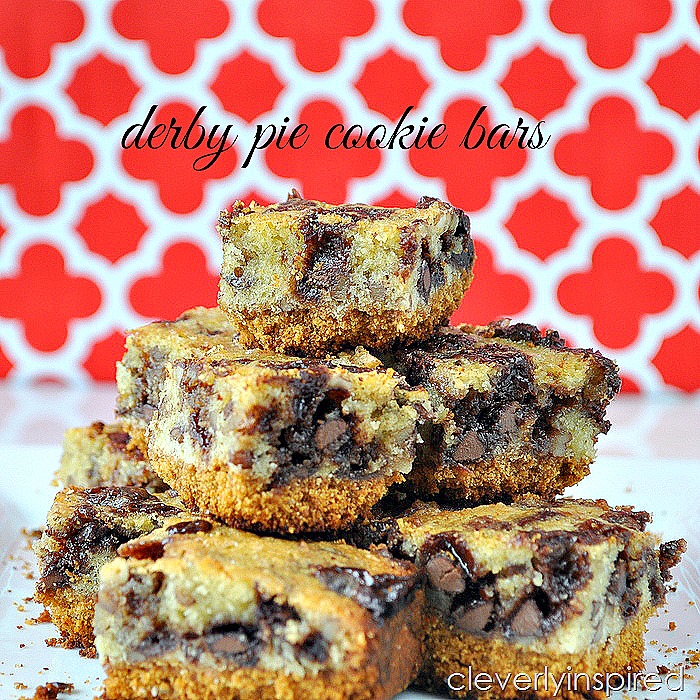 A traditional Derby Pie has a shortbread crust…. I decided to do a graham cracker crust instead. I wanted to create a lighter version of the traditional Derby Pie. This recipe does call for a touch of bourbon… you can feel free to leave that out if that's not in your taste. It does at a nice little hint of sweet directly from the bluegrass state:) As we say in Kentucky Go baby Go!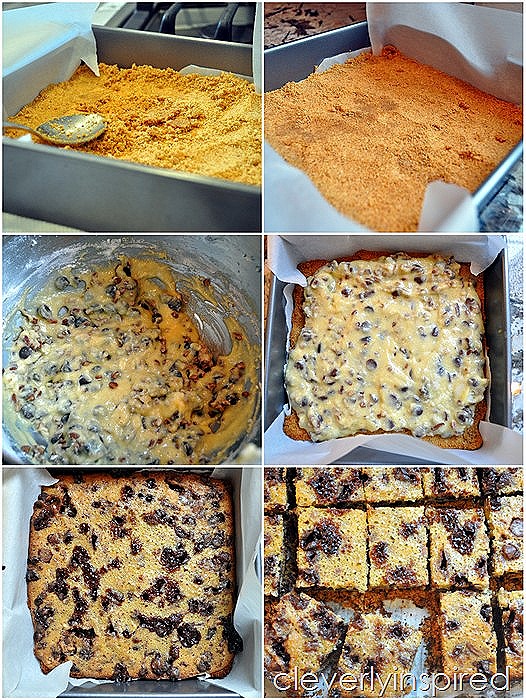 Derby Pie Cookie Bar Recipe
Author:
Tracie at CleverlyInspired
Ingredients
2 cups graham cracker crumbs
2 tablespoons of sugar
half a stick of butter melted.
Cookie Topping:
6 tablespoons butter softened
⅔ cup sugar
2 eggs
⅔ cup flour
1 tablespoon bourbon
½ teaspoon vanilla
1 cup milk chocolate chips
½ chopped pecans
Instructions
Press crust ingredients into an 8 by 8 pan that has been lined with parchment. Bake at 350 for 9 minutes.
Combine and spread over crust. Bake for 30 minutes at 375. Let cool 30 minutes before cutting.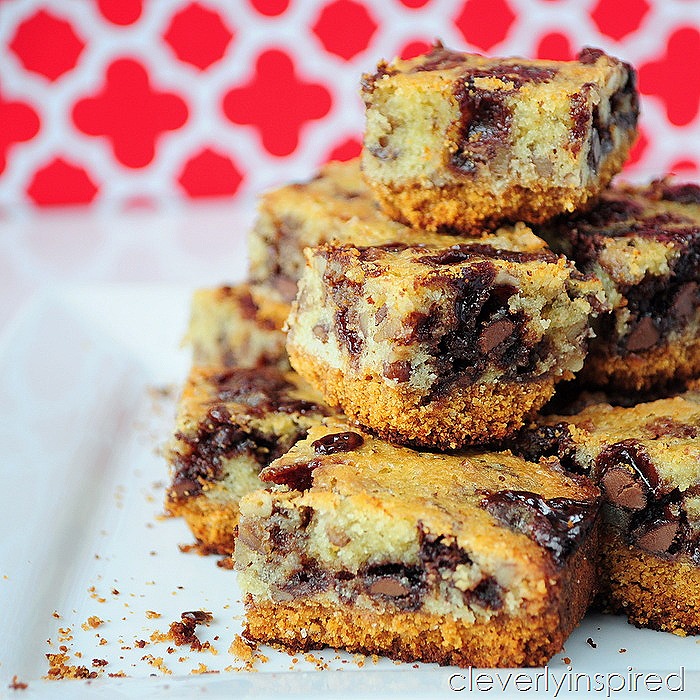 Good luck…GO baby GO!
Have a great Monday friends:)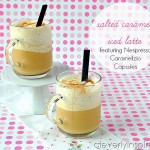 Hey yall! Friday!!! Whooot!! We have big plans to clean out our garage this weekend....now don't be gettin jealous now.....Hopefully with a little fun sprinkled in there too:) I am so pumped about today's post....so let's get to it! My friends at NespressoUSA recently sent me this fabulous care package full of Nespresso goodies including their new Caramelizio flavored coffee. It is sure to be your favorite springtime/summertime treat for yourself when heat starts to climb.  Make up one of … [Read More...]