October 22, 2014 By Tracie Leave a Comment
Hey yall! Happy Wednesday! Before I forget….I am sharing a fun fall treat over at Jen's today that is a great option for preschool snack day:) Go check it out! And if you are here visiting from Tatertots and Jello…welcome! I am thrilled you are here….be sure to sign up to follow me on your favorite social channel:)
This technically isn't really  a DIY…even though it is DIY….the only thing DIY about it is a few spray painted S hooks…..but when coming up with a title for a post you have to think about the person who is looking to search out "necklace holders"… so this one totally qualifies:) (holy run on sentence:) I found this large iron rack thingy at Homegoods….pretty sure it's original intent was just to hang pretty on a wall…but I thought it would make a fabulous necklace holder. It fits perfectly in between the mirrors in the master bathroom. All I needed was 3 packages of small S hooks…some jewelry chain and a bit of wire. It holds all my necklaces and some earrings too…I love how it came out!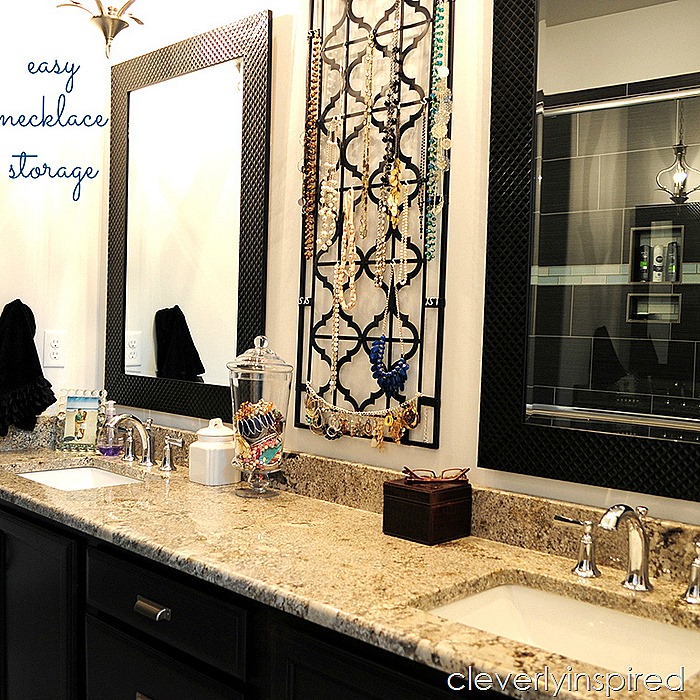 I see similar grates often in Target or TJ Maxx…look around for one that has lots of cross angles for you to place some S hooks. I found the S hooks at Lowes….and I sprayed them robins egg blue….just to dress them up a bit.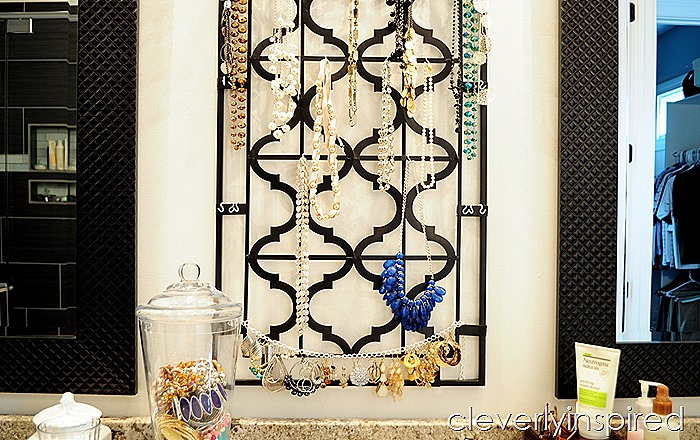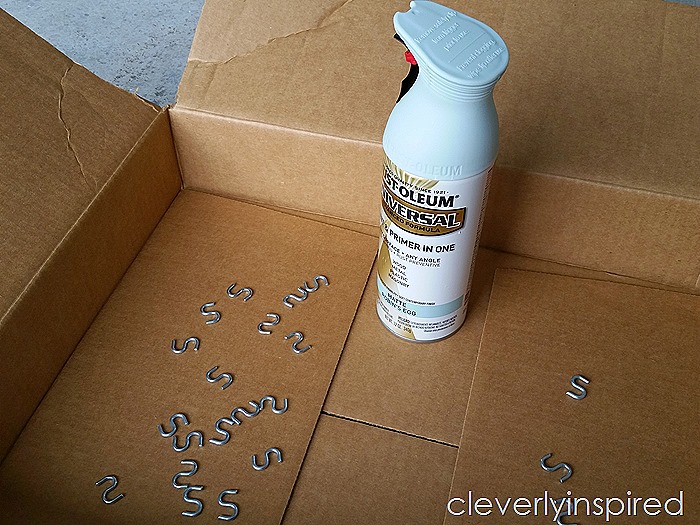 I used some jewelry chain from Michael's on the way bottom…secured it with silver wire….it is a perfect spot for dangling earrings….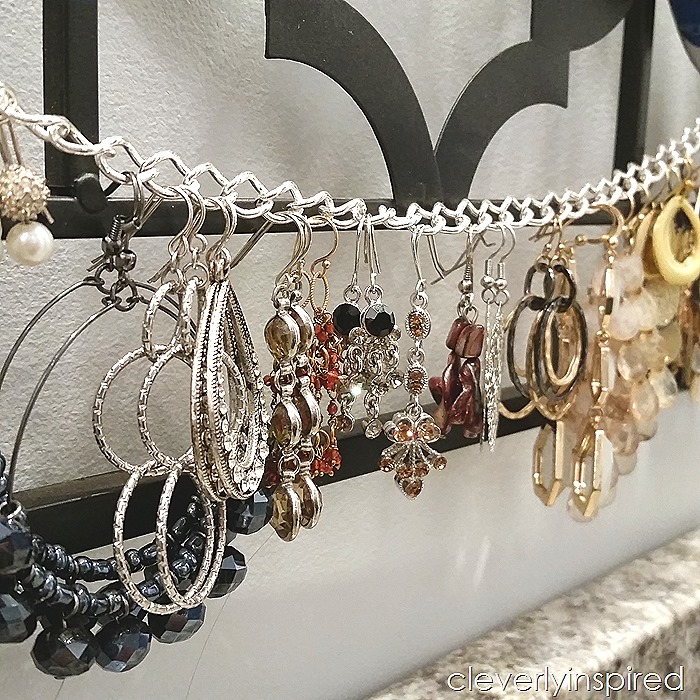 Easy to see…easy to grab….plus pretty to look at….:)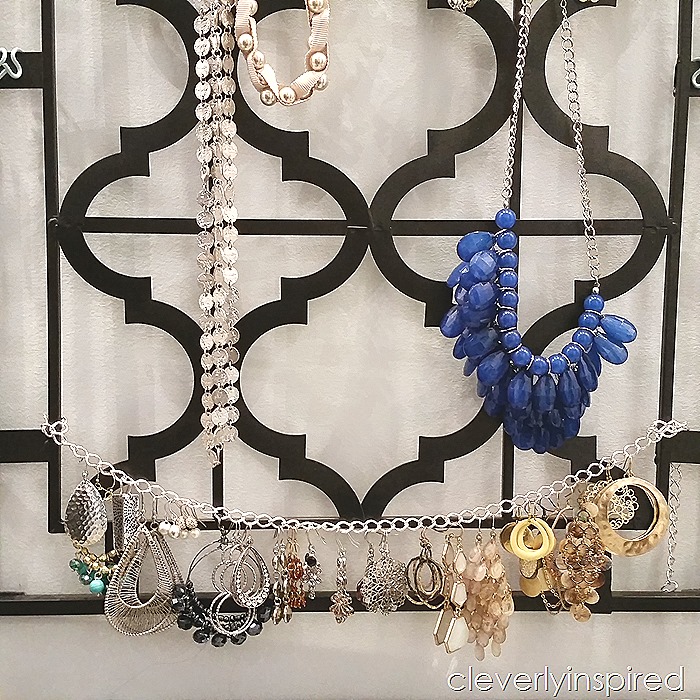 The rest of the space….as it is today;)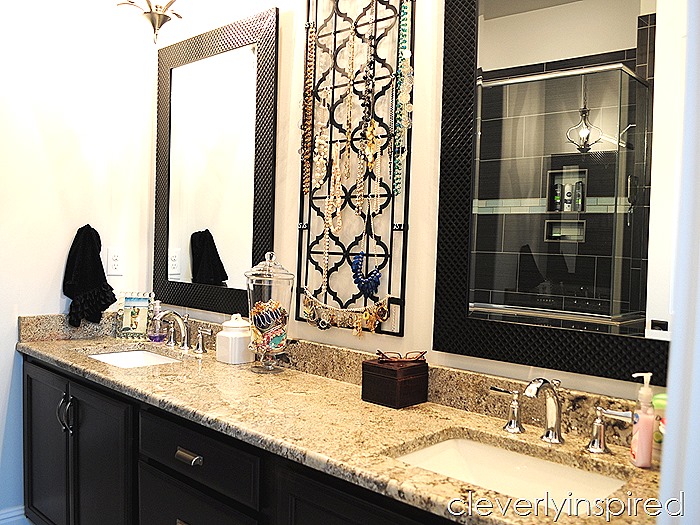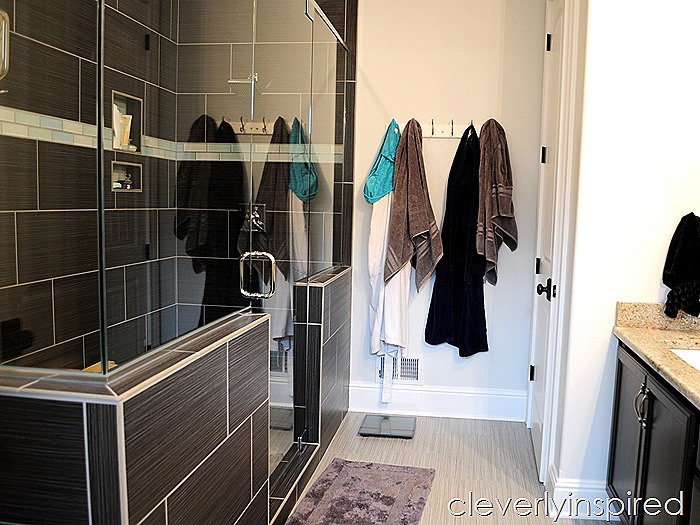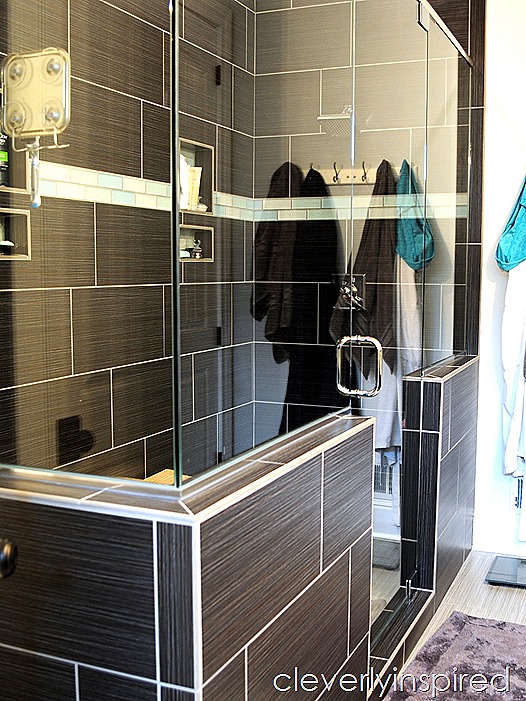 Good luck in your search!
xo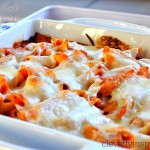 A cozy rainy Monday here.....we have had a lot of rain lately....but for some reason...I kind of love it. It tends to keep me on task and productive for some reason...it may be because of yoga pants....because rainy days=yoga pants...always:) I hope you had a great weekend. Hubs and I did a fun quick project on Saturday...that will post soon on the True Value blog. It is such a great beginner wood working project....I wish I could show you now!! I will let you know when it is up on the True … [Read More...]