March 30, 2015 By Tracie Leave a Comment
Hey yall!! Almost spring break week here…and we cannot wait! Heading to the beach soon…but I have a few fun things to share this week first…What we were up to the weekend….
My Grammies had a screened in porch at her beach house. Growing up she didn't have central air so if it was above 85 degrees the house is pretty hot. It forced everybody to congregate on a nice enclosed screened in porch. There were many nights in the heat of the summer that I would sleep out there. It wasn't carpeted she just had an AstroTurf type of material on top of the concrete. But she had cushions and pillows and I would take a sleeping bag out there and fall asleep. It was the beginning of my lifelong love of front porches. So many  nights where we would play cards, eat dinner, have parties with friends… all on this little 12 by 24 patio. It was also a perfect spot to watch a thunderstorm roll in over the island…talk about lulling yourself to sleep. It was the one spot in the house that was a guaranteed breeze. I love a good porch.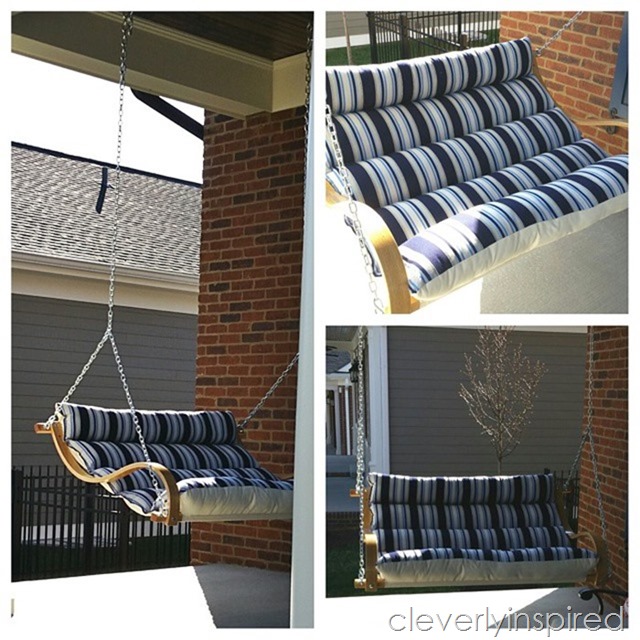 Our home has such  nice outdoor spaces to enjoy….it is a major reason we fell in love with this home.  We have a screened in porch on the side we have a nice wide front porch and we have a nice patio in the back with a fire pit. We love to be outside when the weather turns nice (that will happen this year right!?!?)  This front porch is a perfect spot for a porch swing and if you follow me on instagram…you already know what we were up to this weekend. Our swing is a 2 seater and it is made by Hampton Swing (sold through Brookstone.) It comes in several colors….it was easy to hang once we figured out where our joist were:) It is so comfy! A perfect addition…and I love that it is in the sun. If you see someone passed out on it…no worries…it's just me. I cannot leave this swing! Here is a round up of a few others that we considered…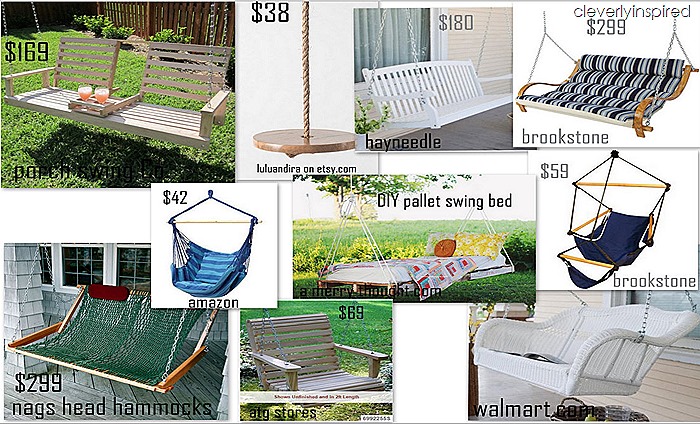 I wanted something that was low maintenance. Something that was conducive to nap taking and something that was unique and interesting. I rounded up a few that came in the running and also the one that we ended up getting. I like that most of these swings take care of themself. All they might need every season is a nice hose down and they're ready to go. A few you could just top with some different cushions every year to kind of mix it up but you don't even have to do that if you don't want to. You can find some great outdoor cushions and pillows at Homegoods, Target and Lowes on the cheap. Even if you don't have a front porch you might have a little spot in your yard to put up in a frame and create a sitting area with a swing of your choice. There's usually some spot somewhere on the outside that you can carve out. Perfect for springtime naps with your favorite book when you can grab even just a few minutes of quiet time. I tried to round up most of them that were under the $500 price point. There's also some suggestions for maybe building your own swing / daybed to catch some outdoors zzzz….ahhhhh Spring:) (links below to products that are in the pic:)
Brookstone//Single Swing Brookstone//Hayneedle//NagHeadHammocks//ATGStores//Walmart//PorchSwingCO//DIY//etsy
Blue Hanging Rope Chair Porch Swing Seat Patio Camping Max. 265 lbs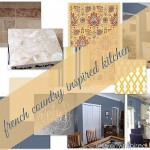 Good news....my knee is on the mend....and Stella has spent the last few days apologizing...in her own special way:) Sometimes I miss the mark....and this moodboard was one of those times. What I had envisioned for this client was not exactly to her liking. She loved some of what I put together....but she was going for a different vibe. That is one of the pitfalls in "e-design", I cannot have a personal interview of the space...and walk through other rooms in the house to get a better idea of … [Read More...]