December 19, 2014 By Tracie 3 Comments
I have never given a tour of our new kitchen on the blog. When we moved in this past summer…I just sort of dumped things wherever they landed. It still needs a good organizing…but I have all winter for that right? :) It is the heart of this home. We spend 75% of our time just hanging out in here. We love that it is connected closely with the family room and screened in porch. The kitchen was designed perfectly for us. I snapped a few pictures to share….I didn't go crazy with Christmas décor in here…because I am still figuring out where I want things. This winter I plan on doing something on the windows…tackle the pantry organization and a few other touches to finish the space a bit. It functions beautifully and everyday I cook in here I love it more…I'm going to stop chit chatting and let you look around… (look….it's snowing in my kitchen!! #thankspicmonkey:)…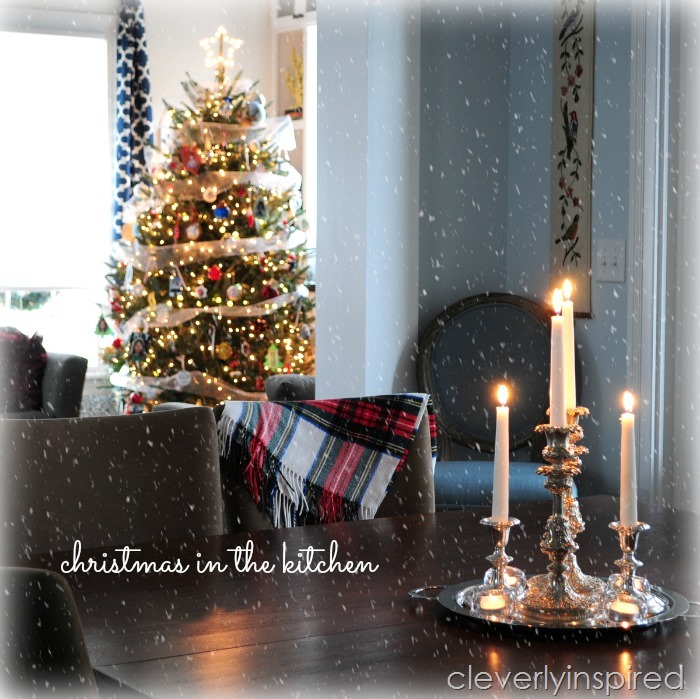 First let's start in the foyer….if you park out front….this is what you would see first:) Come on in….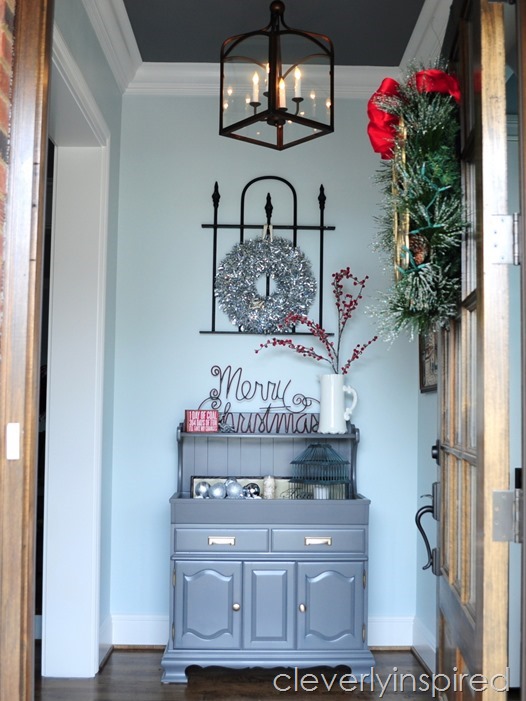 My dad refinished this vintage dry sink for me…I adore it in this space. The lantern is from overstock and has just the perfect touch of copper:) I talked about our outdoor décor a few weeks back….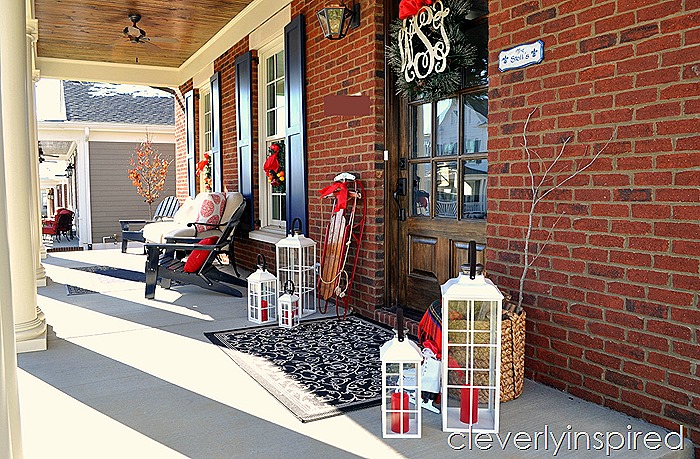 Kept things simple and just used what I had….a tinsel wreath and some berries…a few shiny ornaments in a bowl:)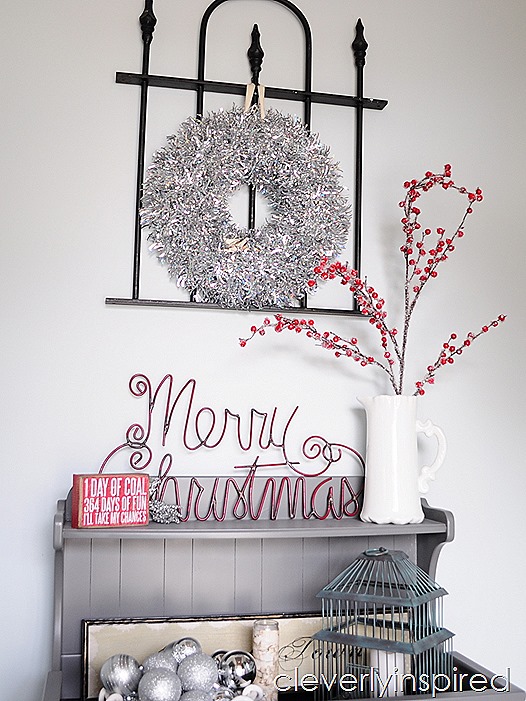 After you walk through the family room….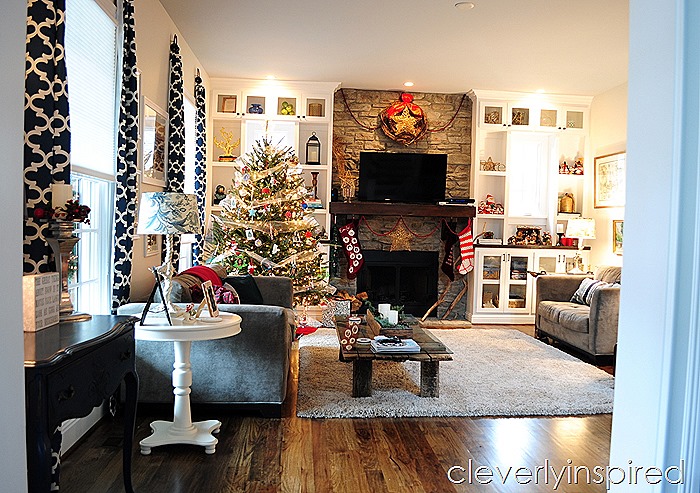 …you come upon the dining/kitchen space….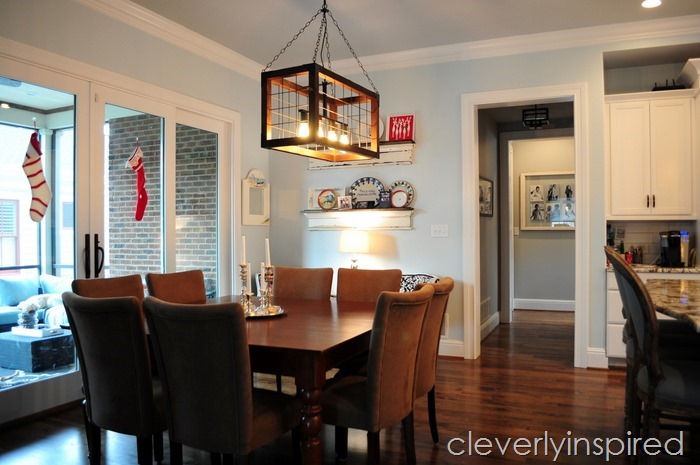 I showed you this space briefly when I made these platter shelves…. I love to start and end my day here…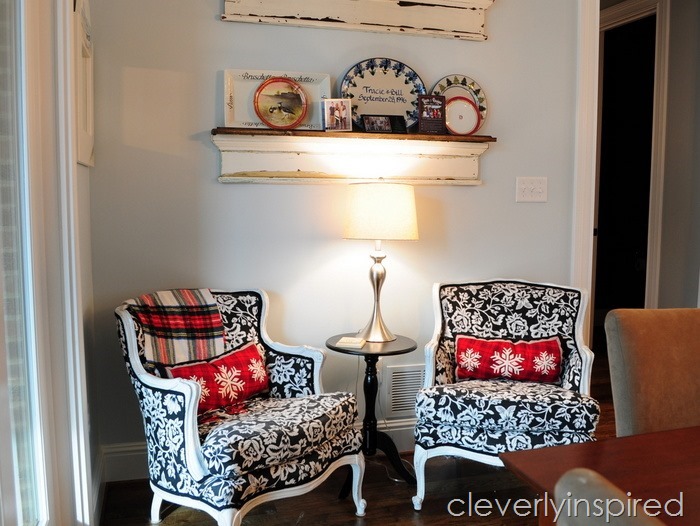 …so does Stella…. (can you say SPOILED?)…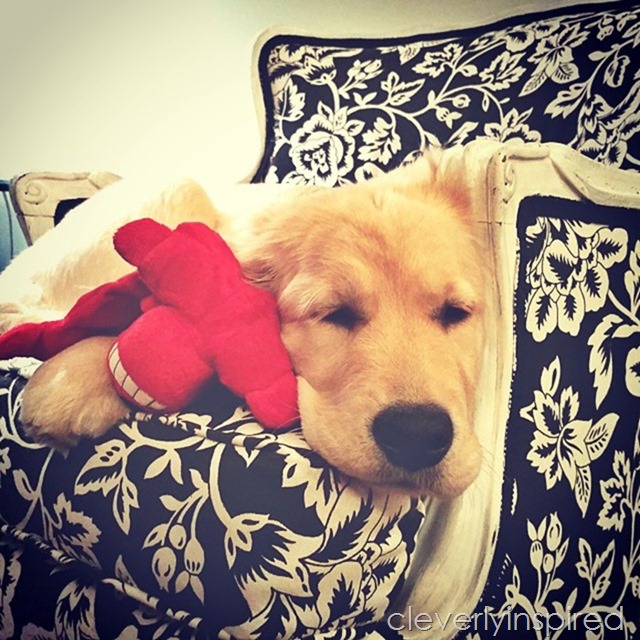 On the other side of the room is the kitchen….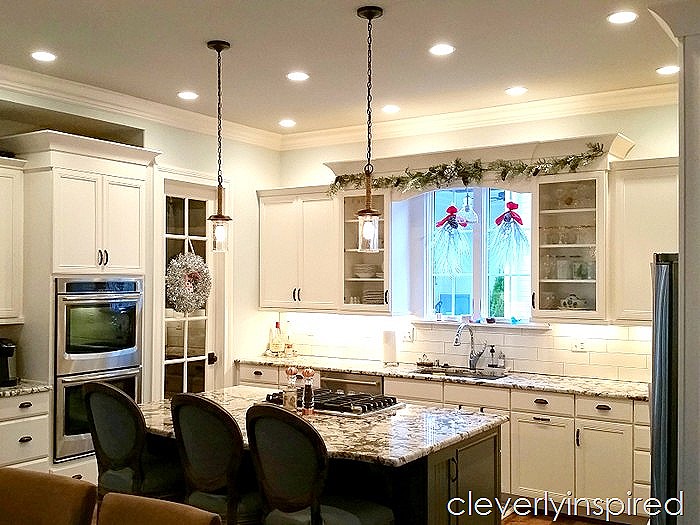 Just put up a bit of garland over the sink….and a few Christmas boughs on the windows with red ribbon…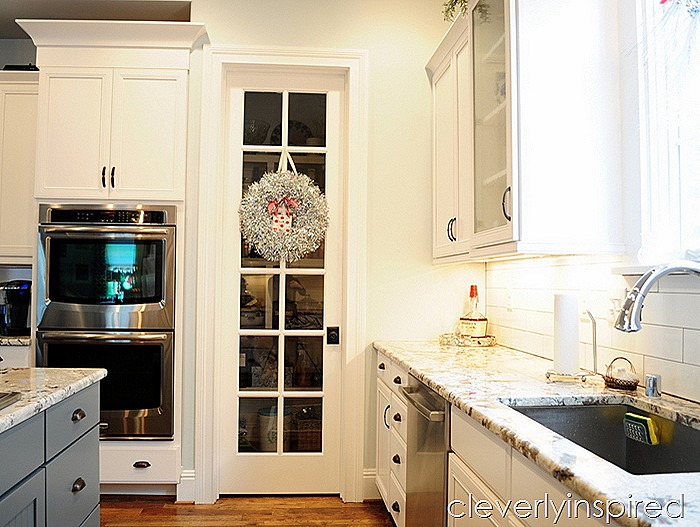 Another tinsel wreath on the pantry door….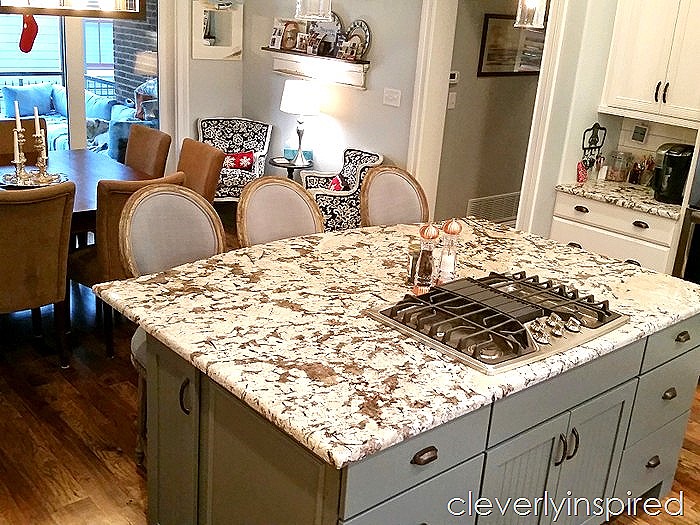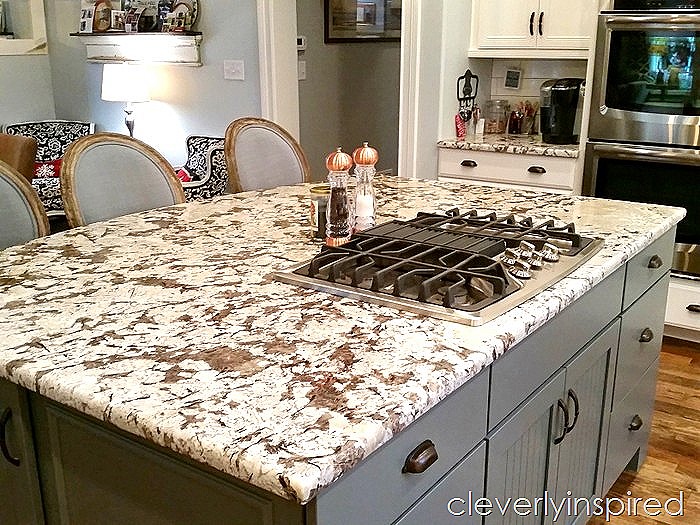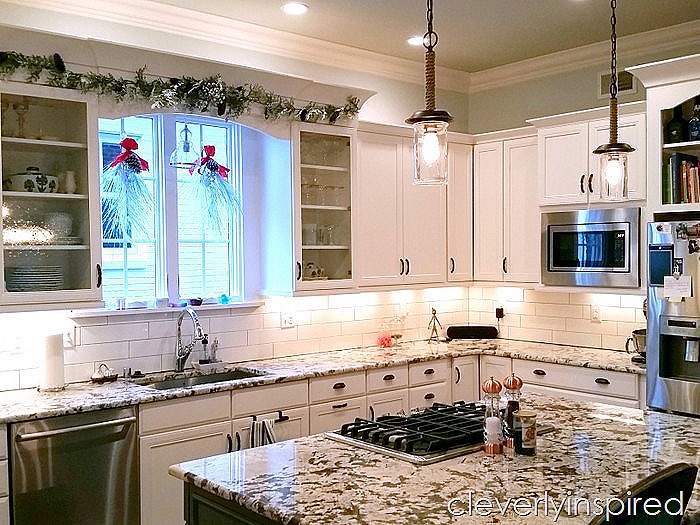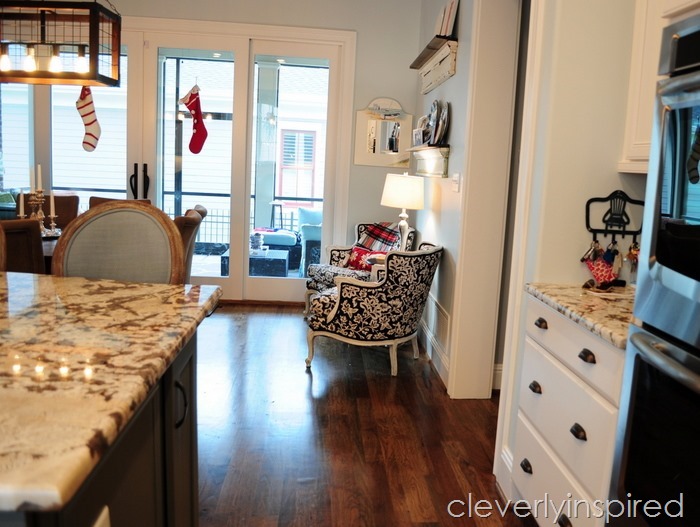 I talked a little bit about this space (here…and I will be sharing more projects for this space in the new year. We love how this house feels….very comfortable and very useable. All the  spaces are family friendly and that fits how we live.
I am going to be taking some time off from the blog. I will be back in the new year…or maybe before:)I do have some yummy New Year's appetizers to share…:)
I wish you a wonderful Christmas and if you are new here welcome! Please feel free to poke around a bit:) And I know I don't say it nearly enough…..but thank you.
Thank you for your loyalty, for your kind words about Cleverlyinspired. It has been an amazing 4 years…and much more to come. xoxo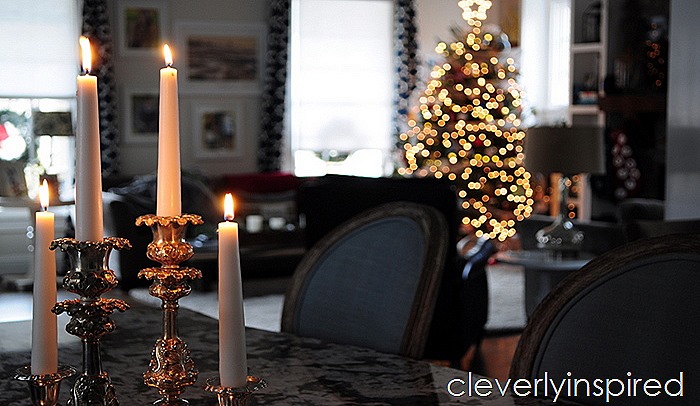 (stools from World Market, paint on walls is Constellation (ben moore), Granite is Bianco Antico, cabinets are Wellborn glacier, Island is Willow, backsplash is 4×15 white subway with gray grout, handles are oil rubbed bronze, floors are random plank rustic grade hickory stained on site with Jacobean stain by Minwax, pendant lighting is from Shades of Light, dining fixture is from World Market,)
Let me know if you have any other questions:)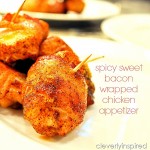 Good hearty appetizers are always a good choice to serve up to your favorite holiday crowd. When the spirits are flowin….folks need something easy and hearty to pop in their mouths in between stories:) These spicy sweet chicken bites are perfect for that occasion. They can be made ahead of time…baked up and keep warm (gently…don't want to dry them out.) We actually have these for dinner a couple nights a month. Appetizers for dinner is always a hit:)   Cut bacon into thirds and working … [Read More...]