Hey yall….hope you are having a productive week. I have been getting my creative juices out….I listed a few new things in my etsy shop. Go take a peek today….they are perfect for teacher gifts or Mother's day:)
I spent a lot of my childhood in a suburb of Philadelphia. Both of my parents and grandparents were born in Philadelphia as was my brothers and I. I remember in 1st 2nd and 3rd grade we had snack time. We got warm soft Philadelphia pretzels for snack and we could pick a little carton of orange juice or milk. It was my most favorite part of the school day! I have always been a lover of soft pretzels and these frozen super pretzels take me right back to childhood. I thought it would be a fun game night snack or when your kids have some friends over to serve up this superpretzel fondue snack buffet.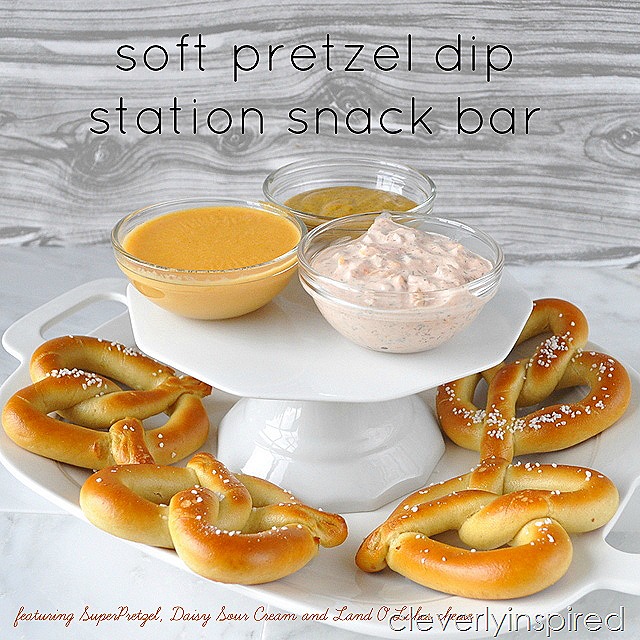 Superpretzel makes it really easy because you can just pop as many as you need in the oven on a few cookie sheets. Warm them up while you are preparing the dips. Each of these tips come together really quickly and are sure to be crowd pleasers! You might also introduce a chocolate or peanut butter dip for dessert. I decided to focus on three savory dips for my snack bar. A creamy Tex Mex dip,  a warm cheesy beer cheese dip and a hot & spicy mustard dip.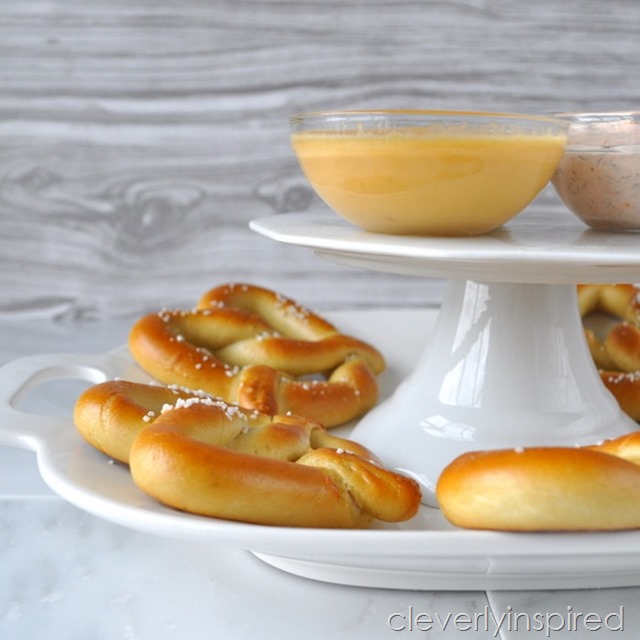 Your options are limitless and can be any array of flavors that you might like to try. What I love about it is it appeals to a lot of different taste and it's a snitch to pull together. Looks like you spent a lot more time on it than you actually did….and that is always #winning! A few other key ingredients like the Daisy sour cream the Land O Lakes sharp cheddar cheese can be found in your grocer's dairy section.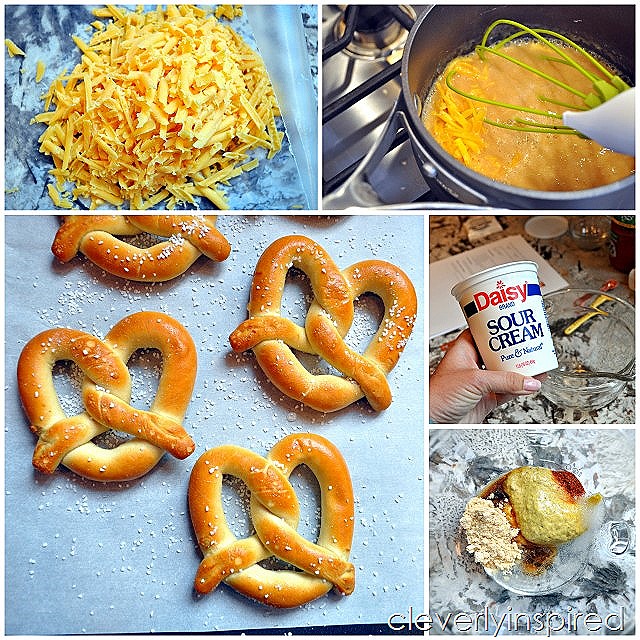 It makes weeknight meals and snack time that much easier! And did you know that April is actually soft pretzel month? Who knew there was such a thing? That gives me all the more reason to eat more of them. Enjoy!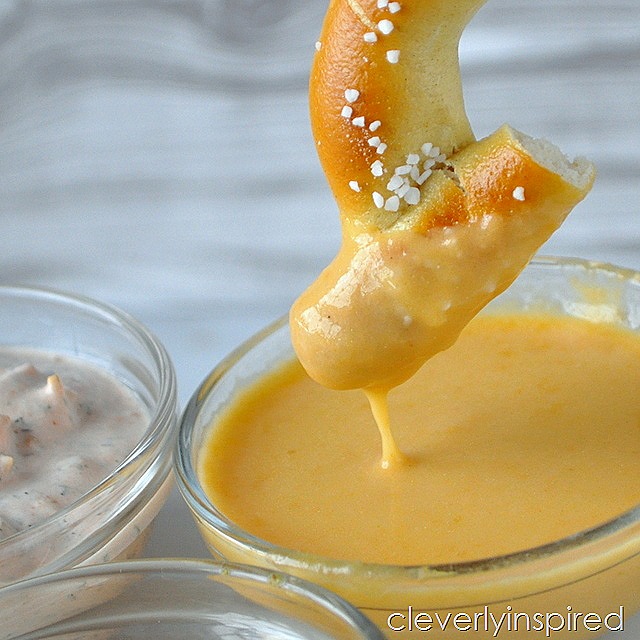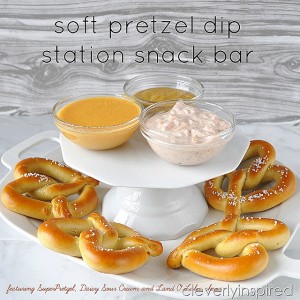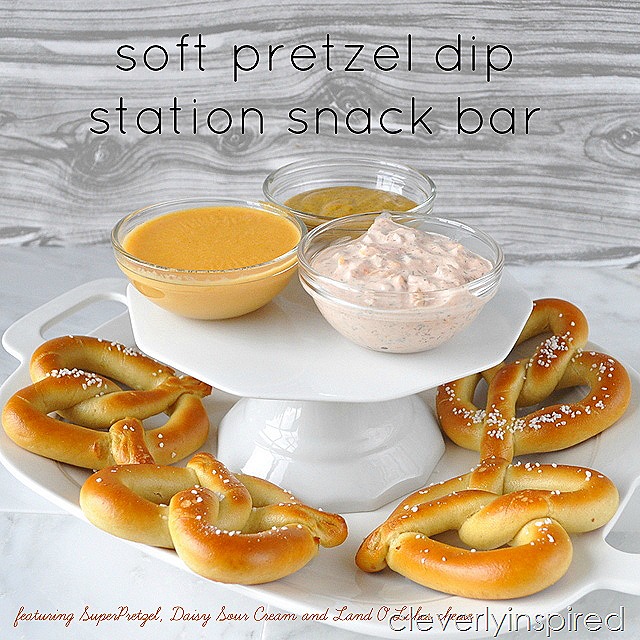 Soft Pretzel dip snack bar
Ingredients
Sweet Hot Mustard Dip

Combine in a bowl….

1/2

C

brown mustard

2

T

corn syrup

4

t

mustard powder

1 1/2

vinegar

1

t

soy

1 1/2

t

sugar

1/4

t

cayenne

Creamy Tex Mex Dip

Combine in a bowl…

16

oz

Daisy sour cream

1

t

dill

2

t

dried parsley

1/2

t

garlic powder

1/2

t

onion powder

1/2

t

kosher salt

1/2

C

salsa

1/2

C

Land o Lake sharp cheddar shredded cheese

Warm Beer Cheese Dip

2

Tbs.

unsalted butter

3

Tbs.

all-purpose flour

1/2

cup

milk

3/4

cup

dark beer

1

tsp.

dry mustard

2

tsp.

Worcestershire sauce

Hot sauce

to taste

12

oz

Land O Lakes. sharp cheddar cheese

grated

Kosher salt and freshly ground pepper

to taste
Instructions
For beer cheese:

In a saucepan over medium heat, melt the butter. Add the flour and cook, stirring constantly, for 2 minutes. Slowly whisk in the milk and beer, increase the heat to medium-high and bring the mixture to a simmer. Add the mustard, Worcestershire and hot sauce and cook, whisking occasionally, until the mixture begins to thicken, 3 to 5 minutes.

Working in batches, add the cheese in large handfuls, whisking until each batch has completely melted before adding more. Season with salt and pepper.
Be sure to look in your grocer's dairy section for more ways to spice up your pretzel bar. So many ready made ingredients are available to make your life easier!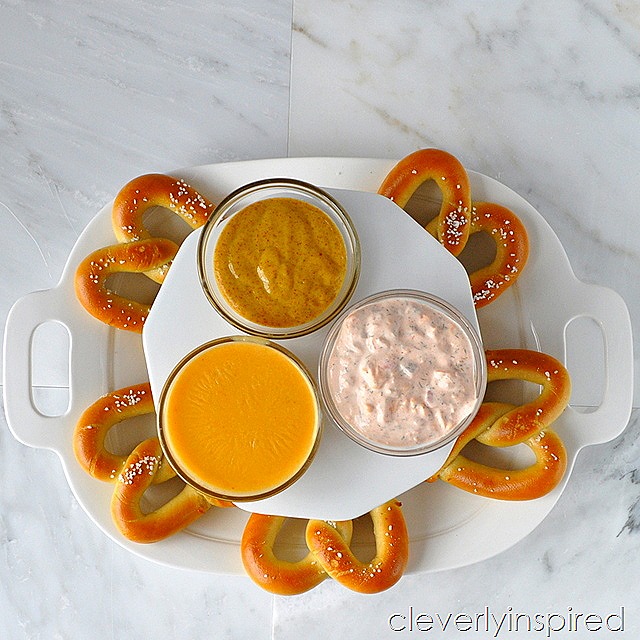 Be sure to pop over to Pinterest to see all the goodies you can make using the easy and healthy items from the grocer's freezer and fridge section.
I am a brand ambassador for the NFRA (National Frozen and Refrigerated Foods Association) & a member of the Cool Food Panel. I have been compensated for my time spent writing this post. All opinions, photos, and thoughts are 100% mine own.