Hey all! It is Derby week here in the bluegrass…and the sun is going to shine the ENTIRE week! Can I get a whoop whoop!!?? I have missed you sunshine:) We don't have any big plans…other than to watch the races and eat/drink. Our neighborhood will be all a buzz…so we will most likely be spending a lot of time on the front porch:) I wanted to share with you a recipe I tried for the first time last week. It had to be hands down one of the easiest meals I have ever made. It was a huge family hit too! We had a salad with it….but you could probably add in any of your favorite veggies and just skip the salad. Make it this week….it doesn't disappoint:)
I finally tried a one pot meal. Have you all tried any of those recipes? Martha has a whole cookbook dedicated to one pot meals. This is a definite new meal in our rotation and I hope it is for you too. It does not have a whole lot of heat so it appeals to all the family members. You could even chop all your veggies and put your spices together and chop up your chicken….and when you get home from work just dump it all in the pot. It comes together in about 25 minutes. It was rich and thick and really one of the easiest meals I think I've ever put together (have I said that yet?:).  I think next time I make it I will add one more chicken breast cut up maybe some mushrooms and more red pepper slices.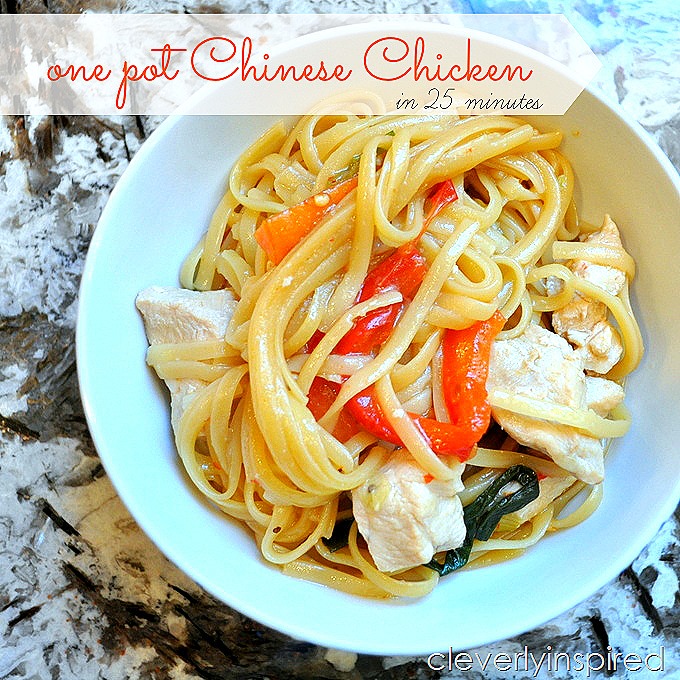 One pot people…no joke….you cannot mess this up…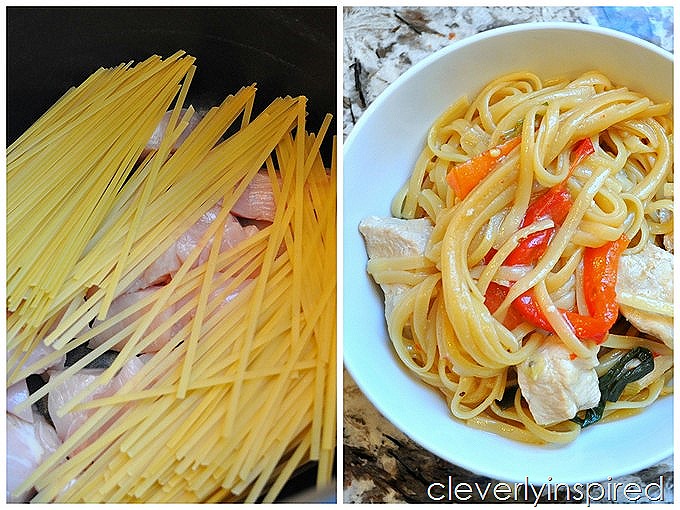 Garlic…..and then more garlic:)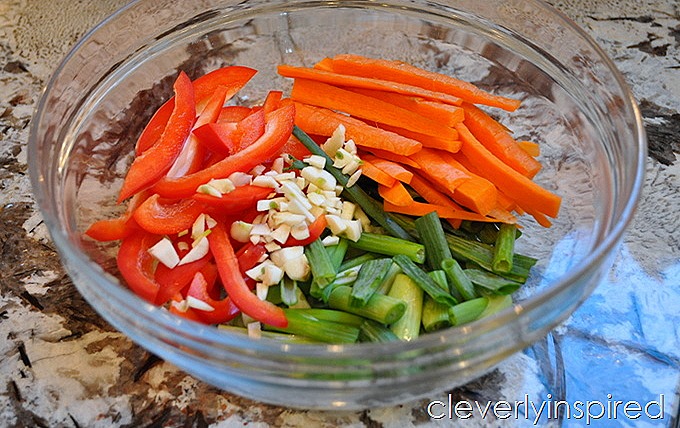 One Pot Chinese Chicken Recipe
Author:
Tracie at CleverlyInspired
Ingredients
4 boneless skinless chicken breast, cut into small chunks
16 oz. box of linguini broken in half
4 medium carrots, peeled and cut in thin 3 inch long strips
1 medium red bell pepper, cut in thin 3 inch long strips
1 bunch green onions, white part sliced and green part cut in 3 inch long strips
4 cloves garlic, minced
¼ cup soy sauce
1 teaspoon garlic powder
1 teaspoon corn starch
1 tablespoon sugar
¼ teaspoon red pepper flakes
4 cups chicken or vegetable broth
2 teaspoons extra virgin olive oil
Instructions
Add the chicken, then the pasta, then the remaining ingredients to a large stockpot and cover. Bring to a rolling boil over high heat. Stir and reduce the heat to medium-low.
Cook covered for about 15 minutes, stirring occasionally. Cook until most of the liquid is gone and the chicken is cooked through.
Remove the lid and let the dish rest for 5 minutes before serving.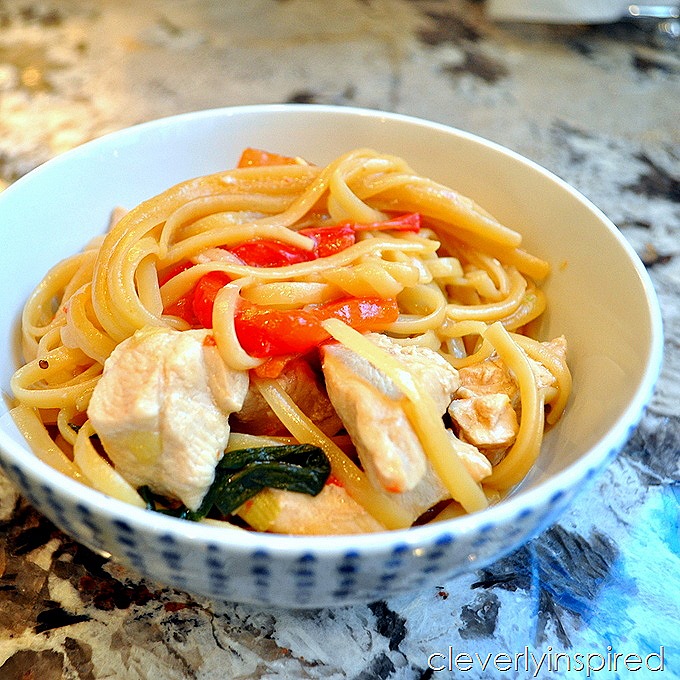 Pop in tomorrow for some features from our Handmade Hangout!
Adapted fromthis website.