This is a sponsored post written by me on behalf of Groupon for IZEA. All opinions are 100% mine.
Hey yall! Tell me….what would you like to see next here on CleverlyInspired? I am feeling super under-inspired lately….I go through funks like this—as I am sure everyone does. Just not feeling real creative. I have been working on a few things in the Master bedroom….just haven't really photographed much. Hoping to get back on the wagon soon:) I have been preparing this week for a little Derby fun this weekend…and next weekend we are having everyone over for brunch to celebrate Mother's Day. I love a good brunch don't you?!?! Do you have a fabulous brunch recipe??Sidenote: that has nothing to do with this…but omg my tulips are still up! 3 weeks now…and they are gorgeous! Go see on instagram:)
My friends over at Groupon wanted you to consider popping over to see  Groupon's Mother's Day Gift Shop. Some fab Mother's day gifts that won't break the bank. They wanted me to share a few of my favorites and also tell you that they are holding a great giveaway that could earn you a free Mother's day deal with their Mother's Day Campaign. Free is always good! There are so many great ideas to pick from….you are sure to find something special for the Mom in your life… You could win free spa days !!  Mother's Day $0 Deal for 1 Year's Worth of Spa Days on Groupon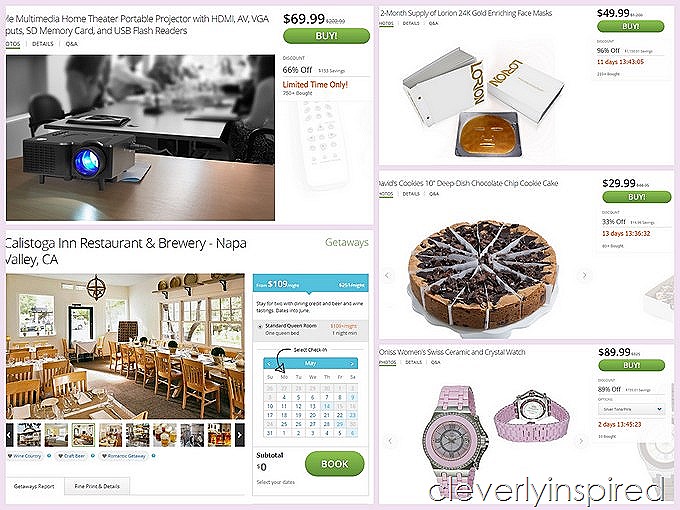 What is the greatest find you have ever bought on Groupon? The site is full of awesome ways to save on all sorts of products.  I found 5 items that are unique and also a great deal.
I think this Bed and Breakfast in Napa at $109 a night is a steal. What a great surprise for Mom!

The Swiss watch comes in a few other colors but the pink is so chic! I don't wear a lot of pink but I love this watch! PS: Groupon is also giving away a few Mother's Day $0 Deal for Groupon's Apple Watches Giveaway

The HDMI projector is great way for mom to showcase all those photos that are loaded on to her phone. It would be a great gift for a mom who has a graduation this year. At the party they could show all of this year's pictures easily.

The gold face mask I thought was just a bit different and unexpected. And kind of cool!

Who doesn't love a deep dish chocolate chip I cooked completely all of their own and they didn't have to bake it? And you know mom will share…so that is a win:)
Napa B&B//Oniss Swiss Watch//Gold face Mask//HDMI projector//Deep Dish bakery cookie
Pop back in tonight to share your best project this week…I would love to feature you on the Handmade Hangout!
xo