Remember that blog….CleverlyInspired…and she used to share inspiring ideas that were really clever??–well SHE'S BACCKKKKK…. (at least for today;) Feels like it has been forever since I shared a DIY idea with you. When I began blogging 4 years ago….it seemed that most bloggers were in a specific category….DIY or Food…I hope that you enjoy reading all the different types of post that I share. I figure most of you love a good DIY…but you also gotta eat right? Sharing design ideas…alongside of a recipe…and crafts & DIY…adding in some personal stuff along the way makes sense to me….it is a very easy and organic process.  Without further ado….
It was 1984…you had your favorite sweater…jeans rolled at your ankles….hair feathered as it should….a night of roller skating was in your future….and you were going to wear the leather coat that would make you look like a defensive lineman for the Green Bay Packers—shoulder pads don't lie (well, technically they do…I mean their whole purpose is to make your shoulders look crazy big. Side note—-why did we want our shoulders to look big?) Anywho, this leather coat…if it could talk I am sure it would share stories of roller rinks, Rubik's cubes, cabbage patch dolls…you get the point. It is directly from the 80's and a steal at my local Goodwill (all coats $5)…whoot! I knew that I could breathe new life into the old girl….and here is how she turned out….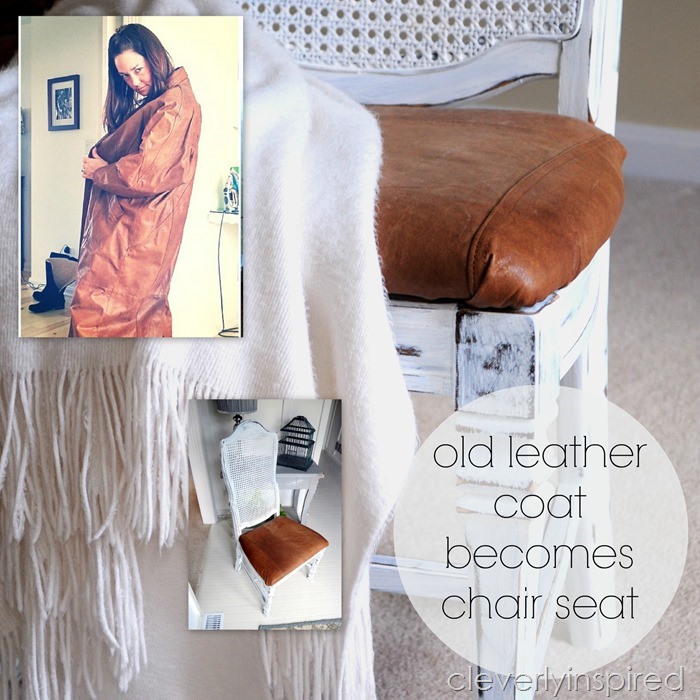 A caned chair in perfect condition is hard to come by,so I swiped this one up at a local thrift shop for $8. It was looking a little dated so I used some chalk paint. Chalk paint is all the rage,and I am loving it! Two coats of paint…sand off aggressively…coat with a poly acrylic in a satin finish (non-yellowing poly). You can pick some up at your neighborhood True Value for just a few bucks. It will last forever. I love the Minwax brand that is wipe on…Easy! Be sure when you are using a light color of paint to use a water based poly….otherwise it may turn yellow over time. If you are using a dark color paint…you can use either oil-or water-based…both are fine.
For the seat, I cut a large piece of leather from the back of the coat. I made sure it was large enough to wrap onto the seat so that I could use a staple gun on the bottom. Another great buy from your neighborhood True Value is this staple gun – I use it all the time! If you haven't taken a chair seat off before it is very simple. Flip the chair over and you will see 4 long screws in each corner that hold the seat bottom on the chair. Unscrew those and the seat will come off. Take off old material and staple on new! Easy!! Replace the screws…Obviously it is easiest to refinish the chair when the seat bottom is off :)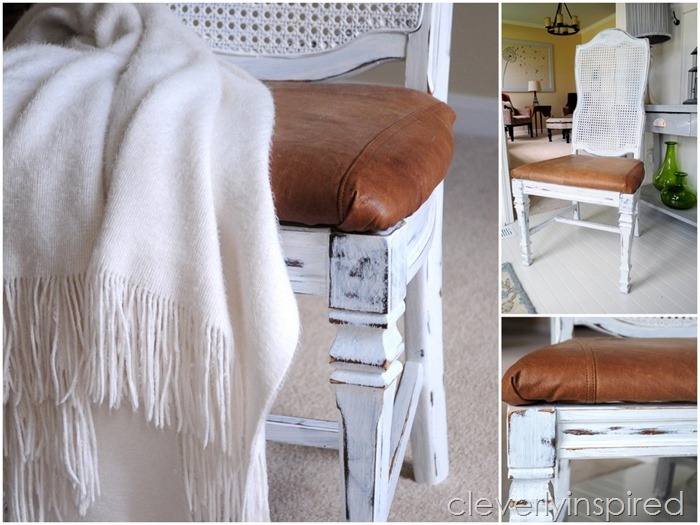 I think I am going to put some small wheels on the bottom and use it for my desk chair….I adore this chair!!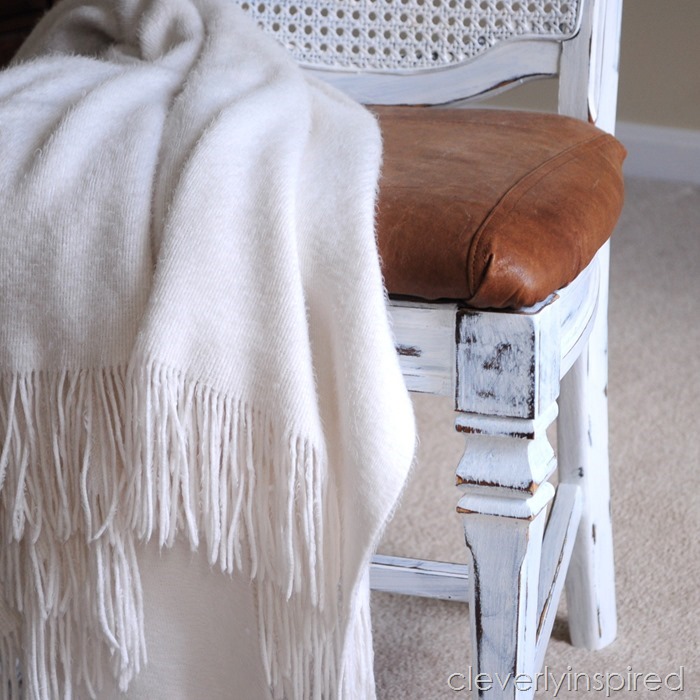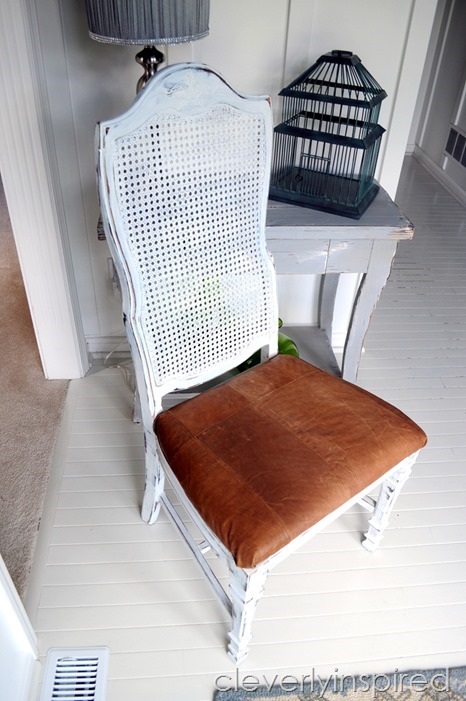 So here is the lesson: Never pass up a $5 leather coat….and never leave home without shoulder pads;) I will be sharing more about the DIY blog squad very soon. I am so excited to have been asked to be a member:)
xo
I was one of the bloggers selected by True Value to work on the DIY Squad. I have been compensated
for my time commitment to the program as well as writing about my experience. I have also been
compensated for the materials needed for my DIY project. However, my opinions are entirely my own
and I have not been paid to publish positive comments.