It's kind of hot. I suppose it should be…it is August. Sometimes it's too hot for coffee….dare I say. There are about 2 weeks in the late summer when I switch to iced coffee. I still need that jolt to wake me up…but I just cannot drink a hot drink. This super quick mocha frappe is just the ticket for these hot hot days of summer. My friends at Nespresso sent me a super sexy machine called the VertuoLine to try out…so I created this recipe for them:) Vavavoom…am I right? Even the pods are fun….;) Choose from espresso or coffee…. I thought it was going to be similar to other one step brews in the market….but not so….this is straight from the coffeehouse to your home….Let me show you…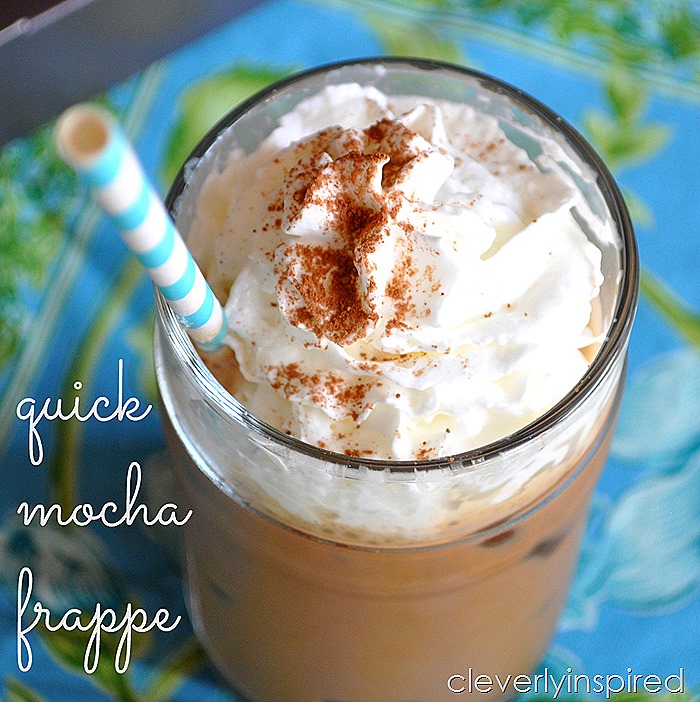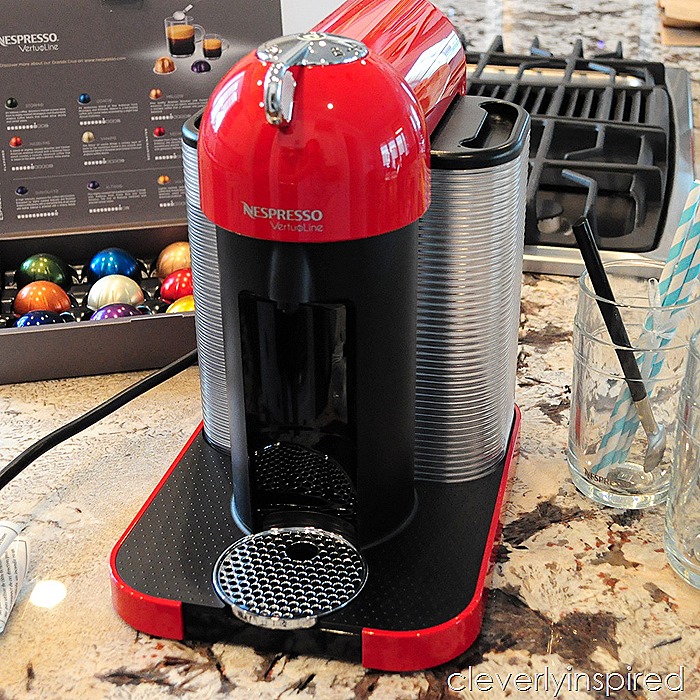 It is a compact machine…but it can make a variety of different brews. The machine actually reads the barcode of the pod…decides it is espresso or just coffee…brews accordingly….I was impressed with the foam this machine creates. And it takes about one minute….seriously fast….I made this homemade mocha frappe in 2 minutes. Super easy…and it was delicious.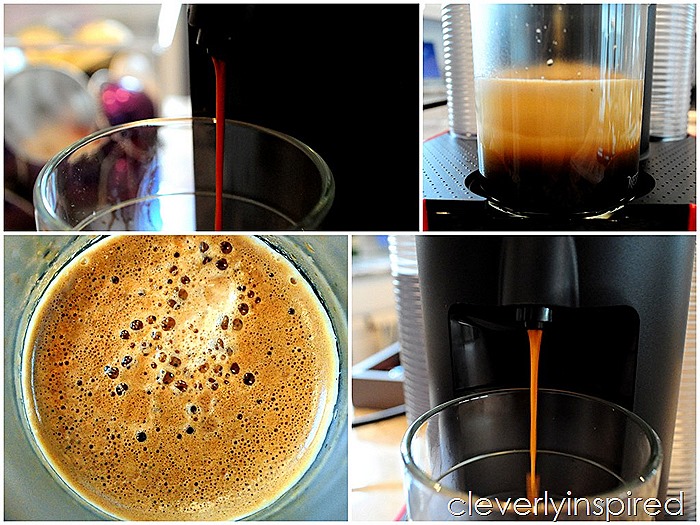 All you are going to need for this mocha frappe is one espresso brewed….some ice, chocolate milk…and of course a bit of whipped crème (if you are feeling fancy.) I brewed a purple regular espresso pod—but the nespresso pods come in all flavors so you can easily mix it up.
Place a tall glass under the dispenser….brew your espresso. When the brew is finished…fill the glass to the rim with ice. Pour in some chocolate milk (probably about 1 cup or so…I filled it to the 3/4 mark on my glass.) With a tall spoon, mix up the espresso and milk. Holy cow…. pun intended of course;)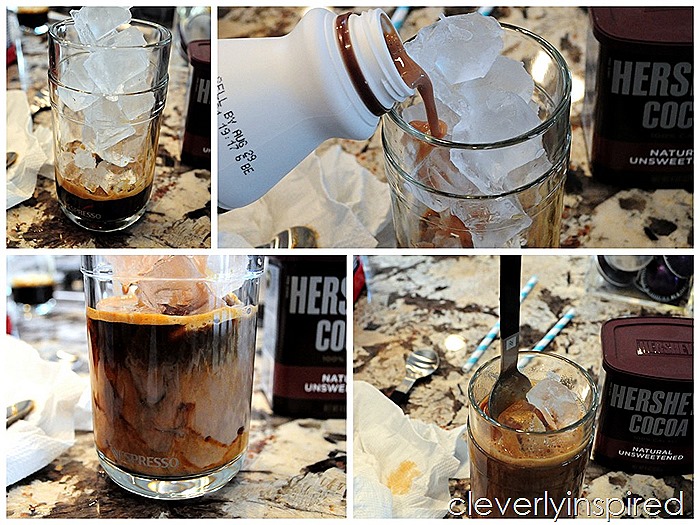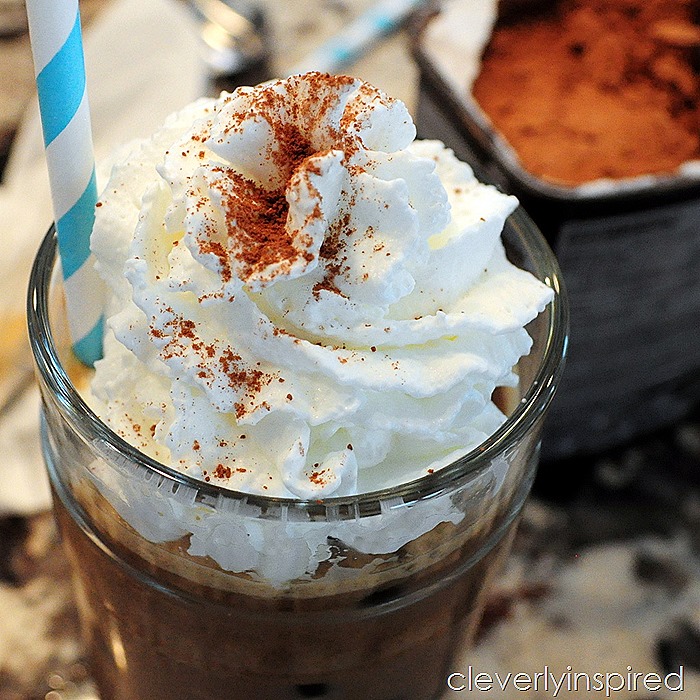 Top with some whipped crème…because you have been a good girl all summer…sprinkle on some cocoa…just because you're feelin fancy. Grab your favorite magazine…or catch up on the front porch reading your favorite blog…ahem..ahem…:)
Go ahead….you deserve it….summer is almost over….soak it in:)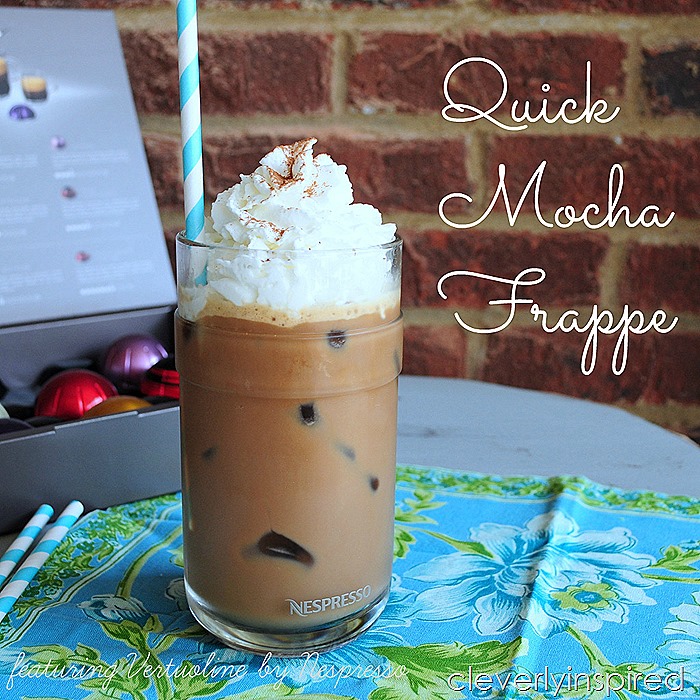 It pays for itself quickly if you enjoy a coffee drink everyday:) (link below is affiliate link…fyi)
I am a brand ambassador for companies that create products and services that target my readership.  I work with Social Spark and Clever Girls, along with individual companies. I will always be mindful of your time and needs…and keep with the mission of CleverlyInspired; which is to inspire you to be clever in your own home. I appreciate your understanding. I have been compensated for my time, however all opinions and thoughts , photos & errors are 100% mine;)