Hi guys! I know that sometimes we find things that are perfect for a space….but maybe they need a little tweaking. These lamps are a perfect example….I bought them for $5 each awhile back at a yard sale. They didn't have shades…which is fine because most times the shades are in bad condition anyway. I found 2 shades that would fit great at Target…but they were plain white…boring..:) I was on the hunt to make them a bit more special. Here is what I came up with ….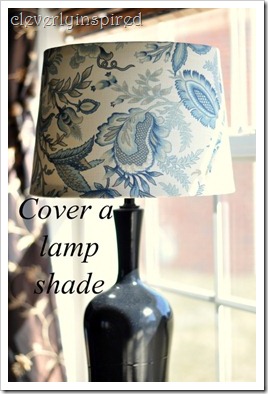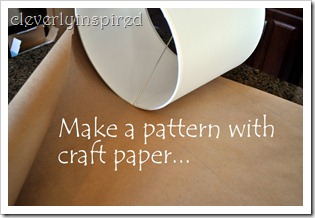 First, take your shade and make a pattern with some craft paper…or even wrapping paper works great. The pattern will ensure you make your fabric the perfect size…
When you have your pattern cut…lay the paper on the wrong size of the fabric…making sure it is the correct direction (top and down) on your fabric. Mine fabric pattern didn't matter because it was just an all over paisley pattern…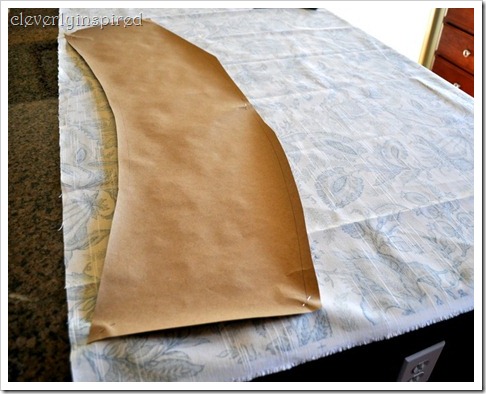 Pin down your pattern to the fabric and cut out with pinking shears (makes for a nice finished seam)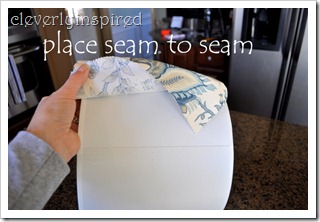 "Dry fit" your fabric making sure you cut it right….I don't doubt that you did…just sayin…it's easier to fix without glue on the whole thing and all ;) With craft glue, place a line of glue on the seam and adhere your fabric ….then lay the shade down and glue (a little as you go) rolling fabric onto shade. I also used spray adhesive on the shade as I rolled the fabric onto it. Be sure to remain in the center of your fabric…Finish by gluing the other seam down where you started.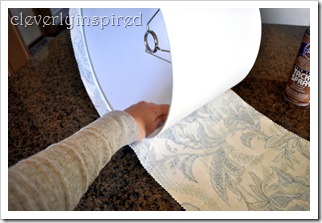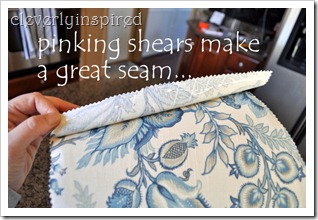 Leave it to me to think of yet one more fabulous use for an empty wine bottle :) This was a proud moment for me…;)
And empty wine bottle can support your shade as you turn and glue it…also makes a great little holder for your glue to remain upside down ….I know…I'll wait for the applause to end….you're too kind…(lol)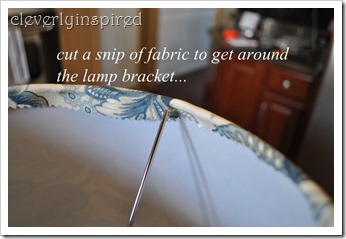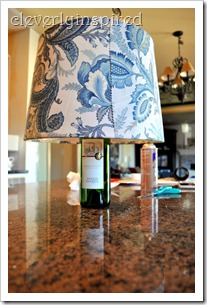 I think a fabric covered lamp shade really makes the whole piece look custom…and not something you found at a thrift shop or garage sale. It's so easy…try it for yourself!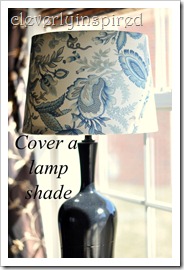 Sharing at Tattertots and Jello and Be Different Act Normal, Tip Junkie