I have read each and every email and comment. Thank you all for being so excited about my "new home"!! I am loving it too!! To celebrate I thought it would be fun to do a little giveaway! Think of it as my gift to you for your patience and your kindness :) I thought it would be fun to giveaway this book…Design Sponge.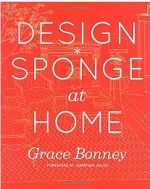 Here is what Amazon.com says about the book …
The long-awaited home décor bible by the beloved design blogger
"Thank you," wrote a reader to Design*Sponge creator Grace Bonney, "for teaching me that houses don't have to be frumpy and formal. They don't have to be matchy-matchy or rigidly modern." They can just be comfy and unique and reflect who you are, no matter how small your budget or space.
That reader is one of the 75,000 unique daily visitors to Design*Sponge, who make it the most popular design site on the web. The site receives 250,000 pageviews every day and has 150,000 RSS subscribers and 280,000 followers on Twitter. Design*Sponge fans have been yearning for the ultimate design manual from their guru, Grace, and she has finally delivered with this definitive guide, which includes:
• Home tours of 70 real-life interiors featuring artists and designers
• Fifty DIY projects, with detailed instructions for personalizing your space
• Step-by-step tutorials on everything from stripping and painting furniture to hanging wallpaper and doing your own upholstery
• Fifty Before & After makeovers submitted by readers of Design*Sponge—real people with limited time and realistic budgets
• Essential tips on modern flower arranging, with 20 arrangements
With over 700 color photos and illustrations and projects that are customizable, relatable, and affordable, this is the democratizing design book everyone has been waiting for!
I can relate to Grace so much….I would love to publish someday :) We shall see what the future holds for me…in the meantime I will read Grace's book :)
Here is the low down….
Comment and tell me you most favorite thing about my "new home"…
For an additional entry fan me on Facebook :) and comment.
Winner pulled on Feb 8th!