Really cannot express how much fun I had putting these playhouses together for these two sweet boys! I think using your talents for the good of others it's really the greatest joy possible. Everybody has a talent. Whatever yours is…. find a way to use it for the good of others… because you always get back more than you have given.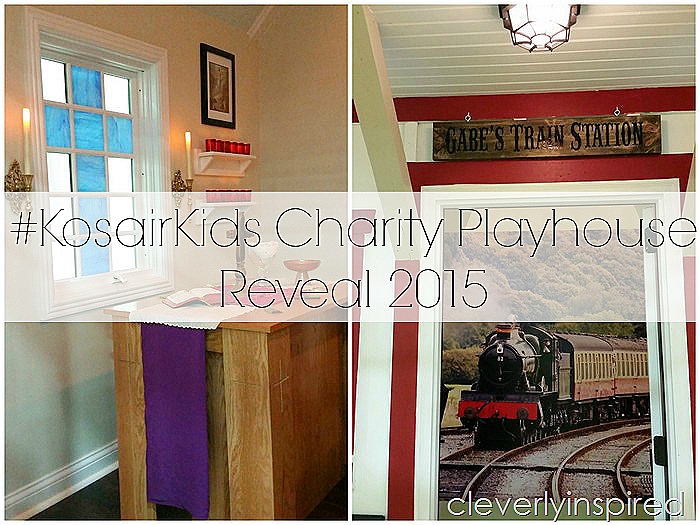 I learned so much throughout the course of the last few months working on this play house. I have had such a great time putting it all together. Thinking like a child and how a child wants to play and discover no matter what their passion. Noah wants to be a priest someday and now everyday he can pretend that he is one in his own church. (he is the little boy in the red with glasses….his sister to his right and his brother Gabe to the left…)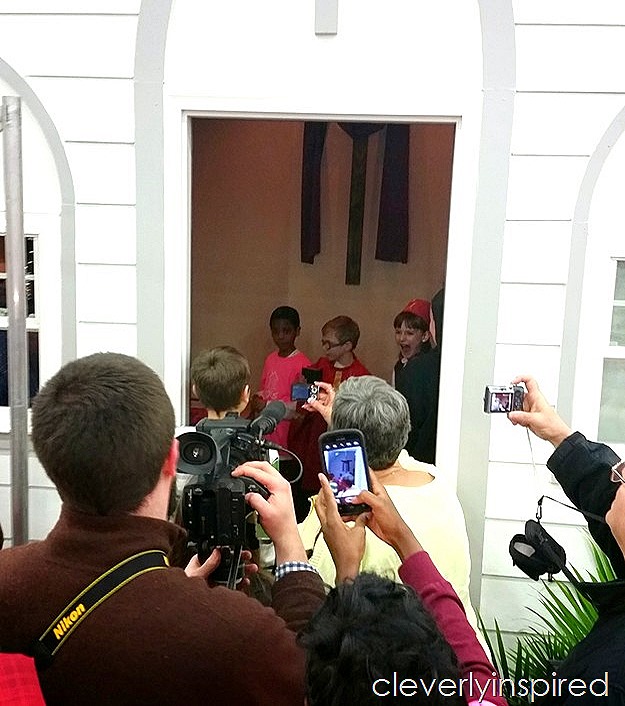 I almost feel like when I'm in that space it is actually holy. We have dimmers on the lights….we have LED candles that he can operate with remote control… we have pictures of Jesus at the Last Supper.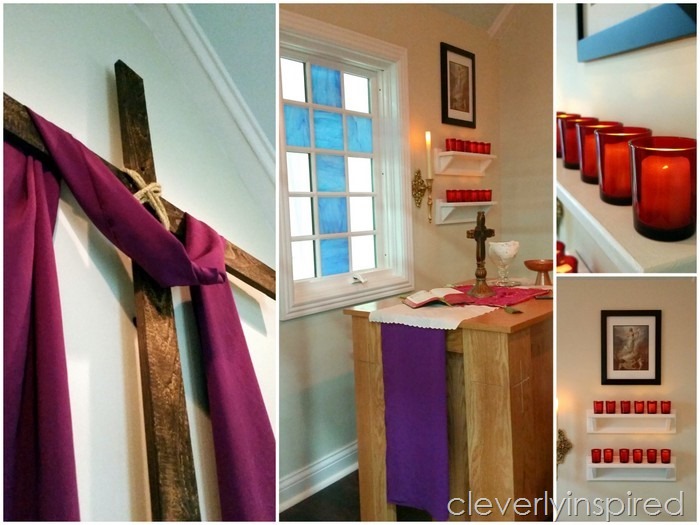 A cross that hovers over the entire space… actual church pews and music in the background. When you enter you do feel like church will begin at any moment. I think bringing this to life for Noah and helping him realize that dreams do come true and every day he can live his passion. It is really a joy to be a part of it all! The custom-built alter that is movable and has shelving underneath for storage.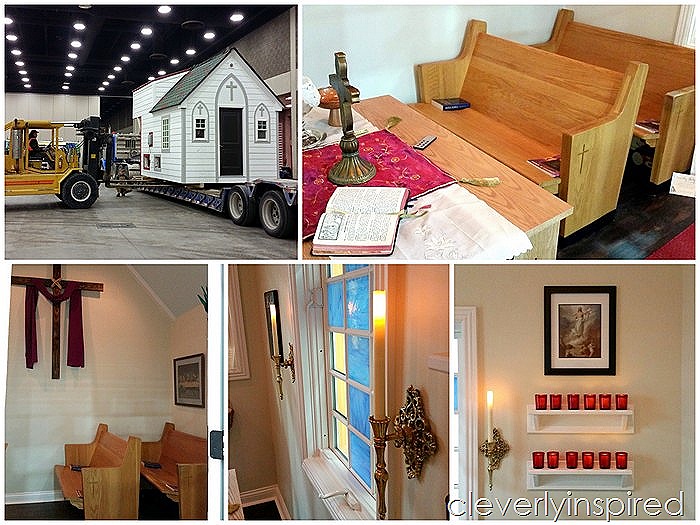 I draped the altar and the cross in purple, the traditional Lenten color. The altar has a chalice and bread bowl along with a hymn book and a Bible. Friends in the pews can gather along and join in Noah's mass. Couple of red carpets that I found at Walmart create the aisle runner. I found golden sconces at a thrift store and these very cool LED tapered candles. When the lights are dim in this church it is really quite beautiful.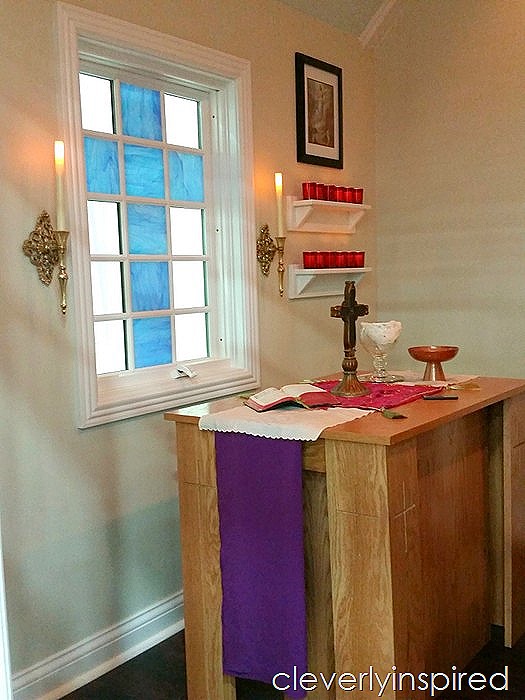 We had a stained glass artist ( his name is Ed Brooks ) he created one of a kind cross formations in blue and white stained glass. It is just the perfect little touch. Some people would say that playing church is a bit unorthodox and what I would say is every child has a passion….some more common than others…a child's passion should encouraged . I wish more kids would play church….how great would that be?!?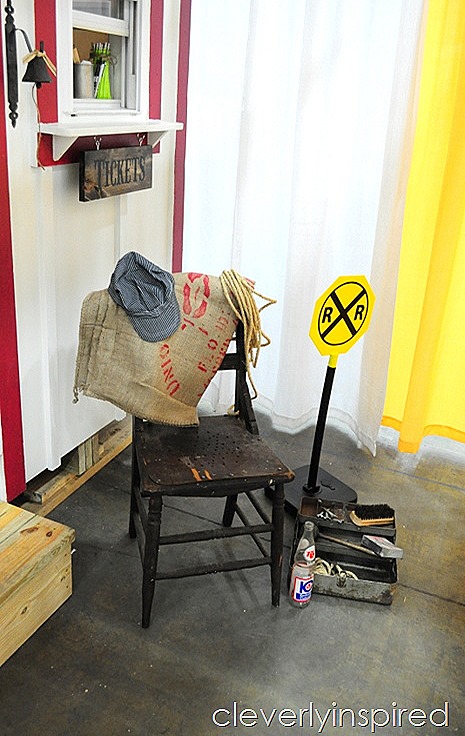 The same goes for Gabe's train station. This space is a little bit more juvenile obviously because of the theme but it's really mimics an old-time train station. My inspiration was an Old General print that L&N credit union supplied us. They also were kind enough to buy Gabe some bean bags for his new loft space and some other framed train prints that I hung on the wall.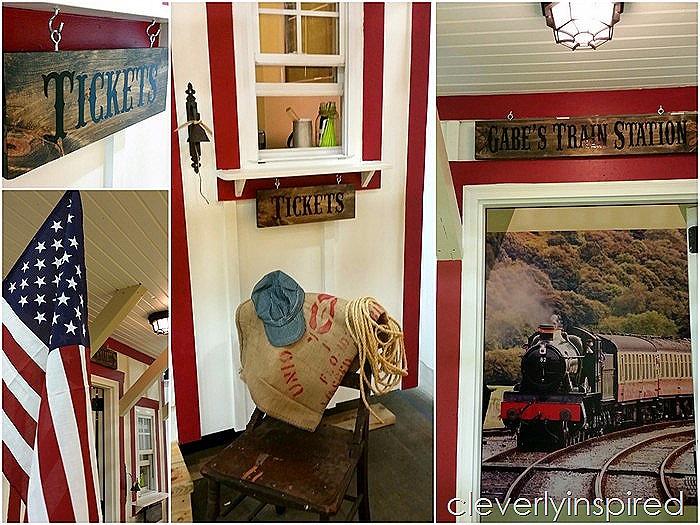 Our stairs and railings system mimics train rails… built by Mark Simpson. I love the train track bookcase. We will have to move it up to allow for the air conditioner unit to blow but I think it turned out beautifully it was created by Barber cabinetry here locally in Louisville.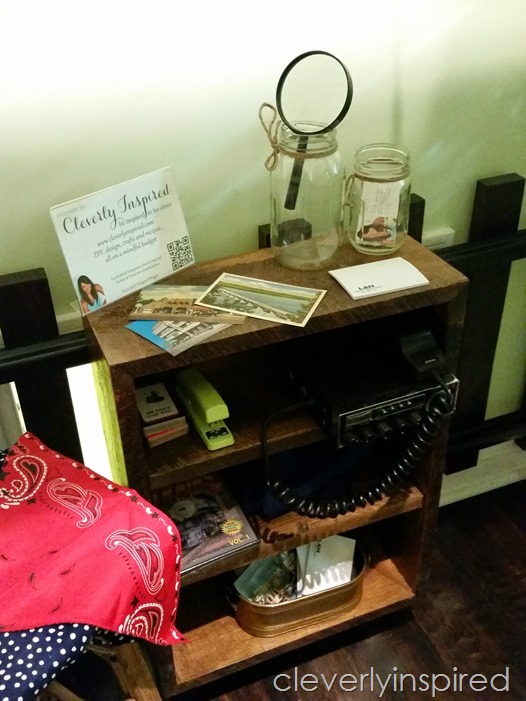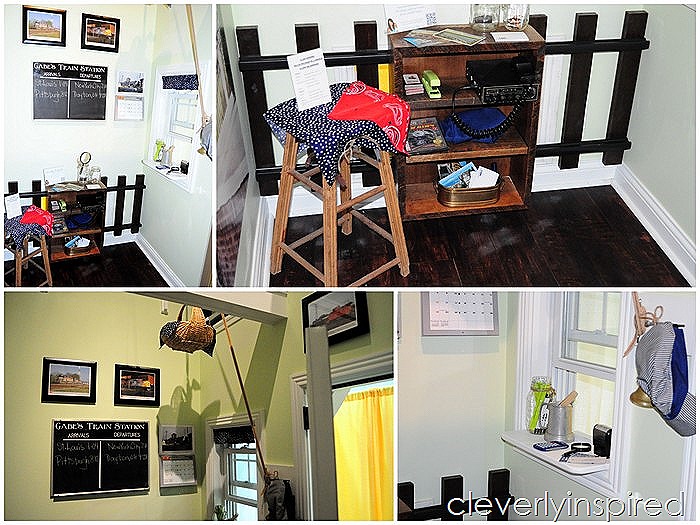 We put a few shelves for Gabe to do his ticketing. I bought some office supplies (in Gabe's favorite color …green!) and hung them in mason jars with twine. I found some really cool old railroad nails and we use those for our hooks. Engineer hat and a bell….Gabe is ready to direct his passengers to the right train!! I was able to find this chalkboard at a thrift store and I used white vinyl to denote destinations in arrivals.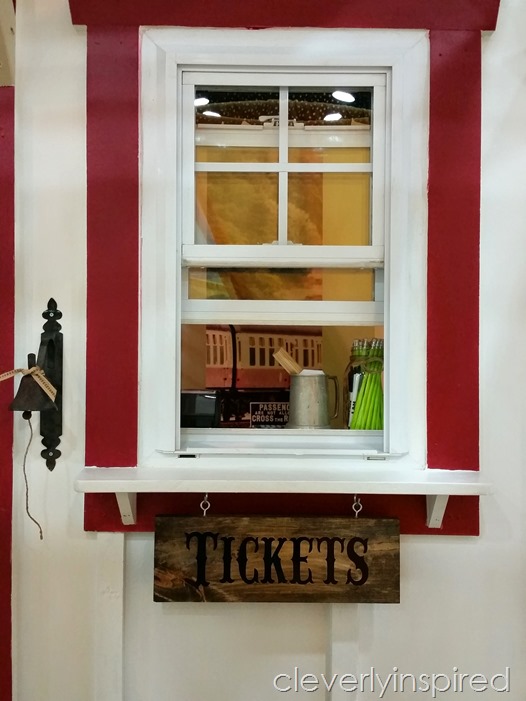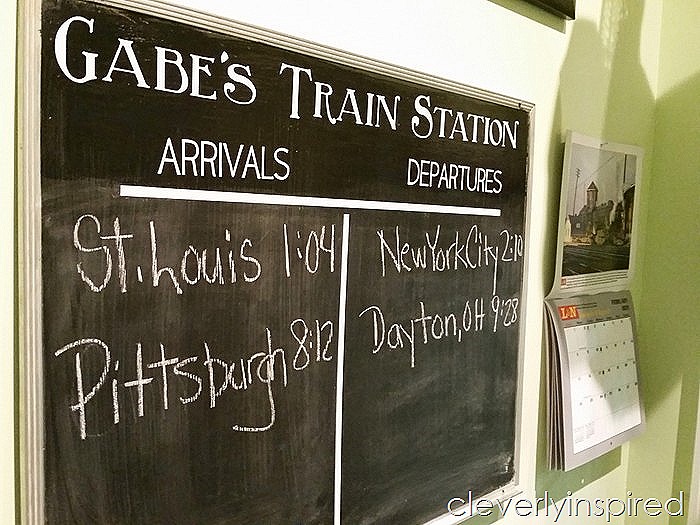 The ticket window opens so the sign outside tells people where to go for their tickets. I created these signs just out of some wood and vinyl and then stained over them to make them look a little weathered.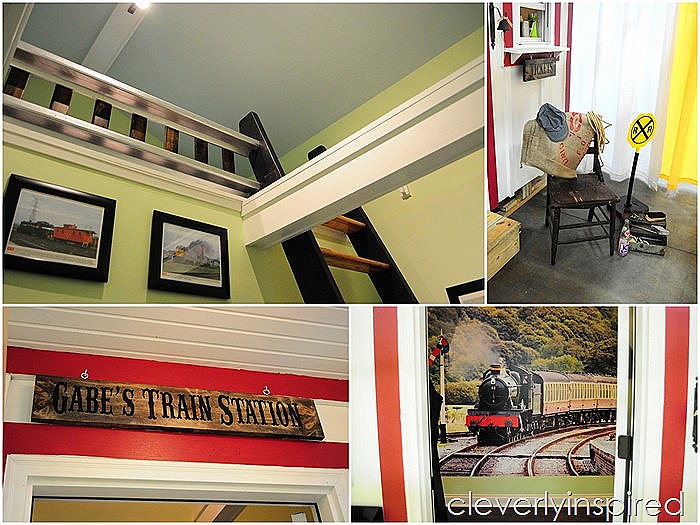 The large train mural is truly a show stopper. I found it online at Magic Murals. It definitely sets the tone for this train station. When the door is open it looks like the train is coming right to the station. A TV with DVD player plays on the wall so that when Gabe is in the loft area he can watch a movie and hang out with friends. There is a train that runs along a shelf in the loft (sorry no pic of that.)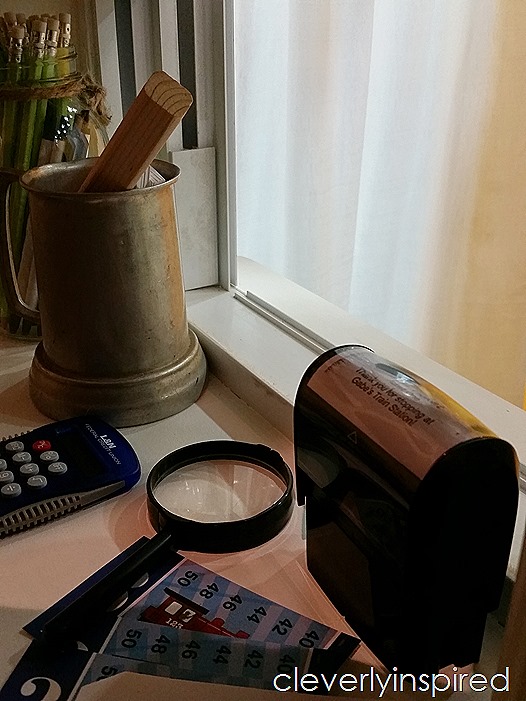 I created a pulley system with a basket similar to the one at our lake house so that Gabe's mom can send up snacks without having to go on the ladder. All these things make the space very interactive,fun and childish. Hours of entertainment which is the whole point of the play house!
Not only did I want the space to look put together and current,  but I wanted it to really be interactive spaces that imagination can just run wild! It has truly been an honor to be a part of it and I look forward to helping out next year again!
If you search @Kosaircharities on Instagram …they have a few videos of the space too:)
I hope that if you are local in Louisville that you can drop by the Home Builders garden & Remodeling show this weekend at the fairgrounds. Not only are there some great ideas to pick up for your own home but you can take a look at the Playhouse and tell me what you think.
Have a great weekend friends and much love for all the support!
Sorry for poor pics….all taken super quick!!
xo