No bake Key Lime Truffles (no bake Cookie)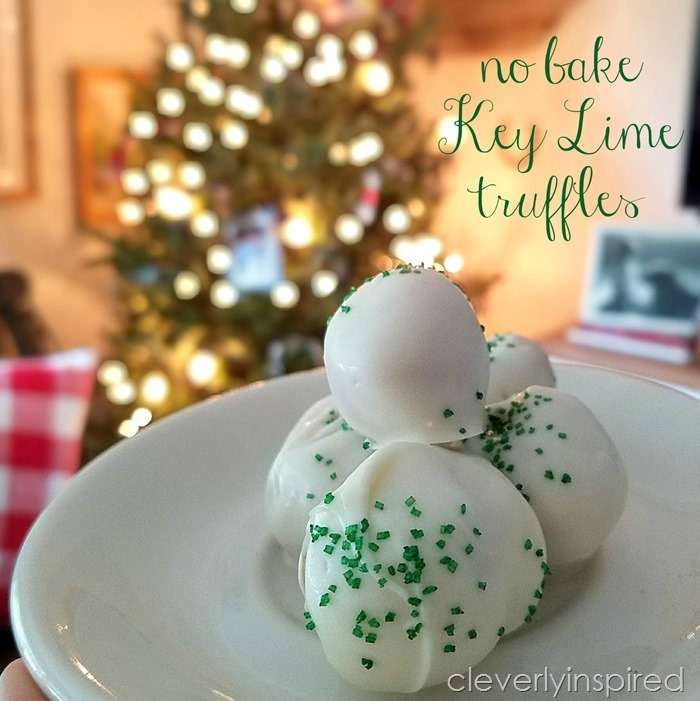 Author:
Tracie at CleverlyInspired
1½ cups all-purpose flour
1 stick unsalted butter
¾ cup packed light brown sugar
Pinch of salt
3 tablespoons Key lime juice (I used bottled)
2 teaspoons pure vanilla extract
½ cup mini white chocolate chips (or regular white chocolate
chips, chopped)
2 tablespoons green sprinkles
1 11-ounce bag white chocolate chips
1 tablespoon vegetable shortening or vegetable oil
Green nonpareils, for topping
Oven to 350. Spread the flour on a baking sheet and bake,stirring halfway through, until lightly toasted, 10 minutes. Let cool on the baking
sheet; whisk to break up any clumps.
Beat the butter, brown sugar and salt in a large bowl with a mixer on medium-high
speed until fluffy, 3 to 5 minutes. Reduce the mixer speed to low; beat in the
toasted flour, then the lime juice and vanilla.
Stir in the mini white chocolate chips and sprinkles until just combined.
Refrigerate until the dough is firm but not hard, about 30 minutes.
Line a baking sheet with parchment paper. Roll tablespoonfuls of dough into balls and arrange on the prepared pan. Refrigerate until firm, at least 30 minutes or overnight.
Combine the white chocolate chips and shortening in a large microwave-safe bowl. Microwave in 30-second intervals,stirring, until melted, 1 to 2 minutes.
Gently drop a dough ball into the melted white chocolate and spoon more chocolate on
top to completely coat. Lift out with a fork, letting any excess chocolate drip back into the bowl; return to the baking sheet.
Sprinkle with nonpareils. Repeat with the remaining dough balls.
Recipe by
Cleverly Inspired
at https://cleverlyinspired.com/2017/12/no-bake-key-lime-truffles-no-bake-cookie/