Savory Sweet Cornbread Recipe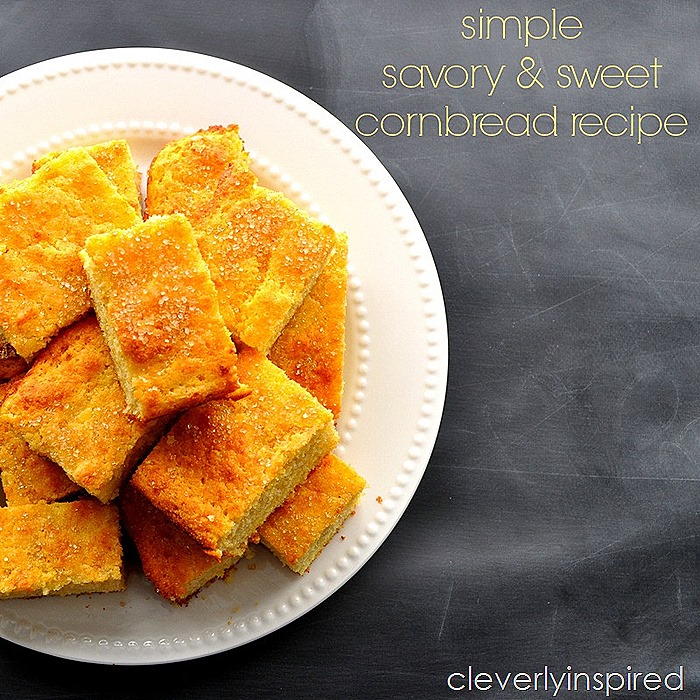 Author:
Tracie at CleverlyInspired
6 tablespoons unsalted butter, melted
1 cup cornmeal
¾ cup all-purpose flour
1 tablespoon sugar
1½ teaspoons baking powder
½ teaspoon baking soda
¼ teaspoon salt
2 large eggs, lightly beaten
1½ cups buttermilk
1 Tablespoon raw sugar
Preheat the oven to 425 degrees F. Lightly grease an 8-inch baking dish.
In a large bowl, mix together the cornmeal, flour, sugar, baking powder, baking soda, and salt.
In a separate bowl, mix together the eggs, buttermilk, and butter. Pour the buttermilk mixture into the cornmeal mixture and fold together until there are no dry spots (the batter will still be lumpy). Pour the batter into the prepared baking dish.
Bake about 12 minutes then sprinkle top with raw sugar. Return to oven
Bake until the top is golden brown and tester inserted into the middle of the corn bread comes out clean, about 12 minutes more.
Remove the cornbread from the oven and let it cool for 10 minutes before serving.
Recipe by
Cleverly Inspired
at https://cleverlyinspired.com/2014/03/savory-sweet-cornbread-recipe/