I know that everybody is knee deep in Christmas time fun but I thought that I would wrap up 2015 and you can maybe pop in and see some of these post while you are vegging out on the couch next week. I hope that you have a lovely Christmas weekend with your families. I want you to know how much I appreciate you stopping in every week to read what I have going on and have to share. I really do enjoy this little blog and you all have made it so much more enjoyable. I basically just looked back at this year and pulled out some of my favorite posts that I was really excited to share with you. They may not be the most pinned post of the year or commented but they were the ones that I really loved sharing with you. I would encourage you if you're new here or just started rereading recently to go back and see some of my past year end top post. There are many that have been very popular over the years and you may have missed some of them.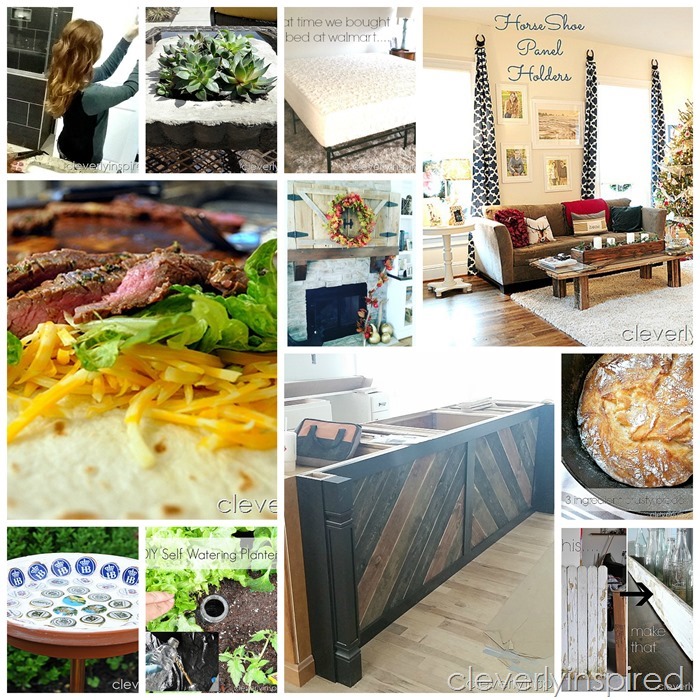 Horseshoe Holders/JoAnneHair/WalMartBed/Concrete Planter/Self Watering Planter/BottleCapBirdBath/Grilled Steak Tacos/3 ingredient crusty bread/Old Fence into a Tray/BarnDoorTVCabinet/Reclaimed wood on island DIY
I will pop in next week and maybe share a recipe or two other than that I'm going to enjoy these homework-free lazy days of Christmas break! As always I'll see you on social media and I wish you a very Happy New Year!
Tracie Stoll is a wife, mom and has a passion for creating new things. On her blog Cleverlyinspired.com she is constantly sharing ways to inspire her readers to be clever in their own home. Since 2010 Tracie has been sharing DIY projects, crafting, remodeling and decorating along with some easy tasty recipes…all on a mindful budget. She is a graduate of the University of Dayton where she studied visual art and communications. Tracie has been featured on popular sites such as Country Living, CNN living, Good Housekeeping, Better Homes and Gardens, Huffington Post, Apartment Therapy, Seventeen and Design Sponge. She is also a member of the True Value Blog Squad & Martha's Circle of trusted bloggers.