I am a brand ambassador for the NFRA (National Frozen and Refrigeration Association) & a member of the Cool Food Panel. I have been compensated for my time spent writing this post. All opinions, photos, and thoughts are 100% mine own.
I've lived in Louisville since 1995 and I have yet to have a Kentucky hot brown from the Brown hotel where it was originally invented.I need to get on that!!  This traditional Kentucky dish was created back in the late 20's for some party goers who got the munchies late at night. The chef at the Brown hotel created the hot brown to soothe the hunger pains of the party guests (it was the chef's version of ham and eggs.)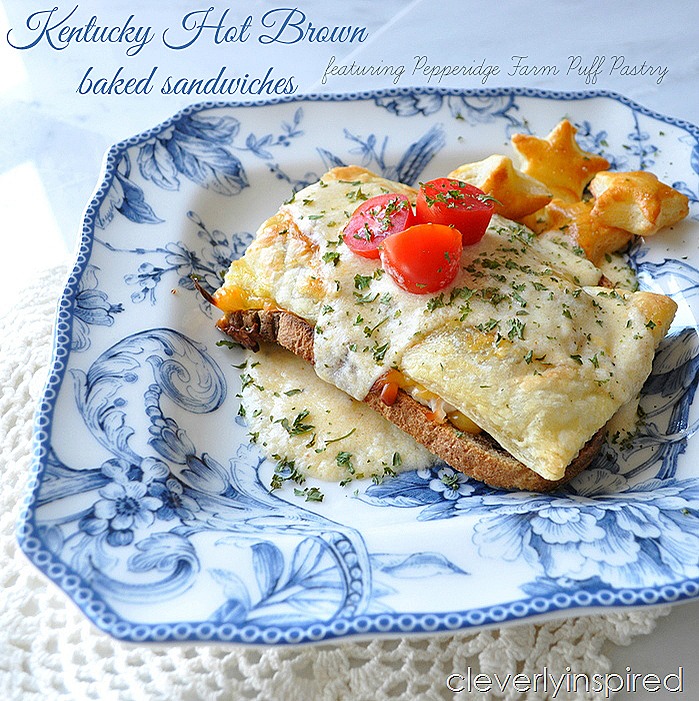 It is now related with all things Kentucky including the famous horse race the first Saturday in May…. the
Kentucky Derby. I wanted to put my own spin on this traditional recipe that might make it a little bit
easier to make on a weeknight. I always make use of those handy products from the frozen food and
refrigerated dairy sections to make this meal come together quickly. And, since March just so happens
to be National Frozen Food Month, it's the perfect time to stock my freezer!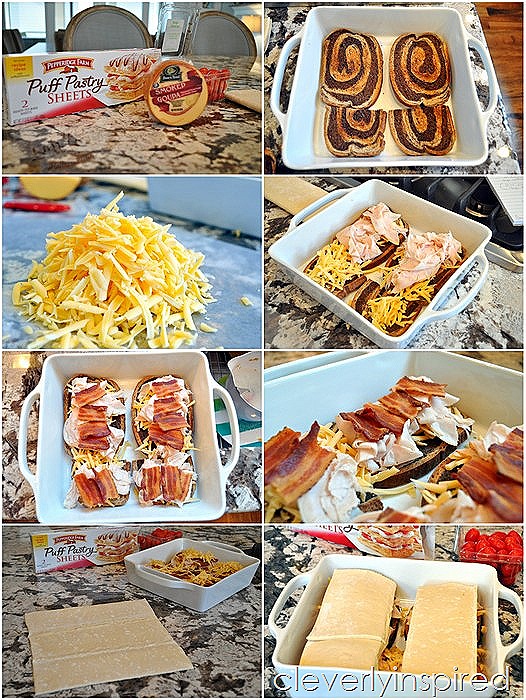 You can serve up these Kentucky Hot Brown Baked Sandwiches with your favorite Green Giant frozen
veggies and you are good to go! Frozen, prepared puff pastry makes these homemade sandwiches look
like you spent more time on this dish then you actually did :) They are definitely one of my go-to freezer
staples…. I love that you can utilize frozen puff pastry in sweet or savory dishes— they're infinitely
versatile!
I scaled down on the heavy sauce a little bit too make it pleasing to most family members. Although this could also serve great at a derby party or family get together….it is definitely fancy enough to serve to a crowd:)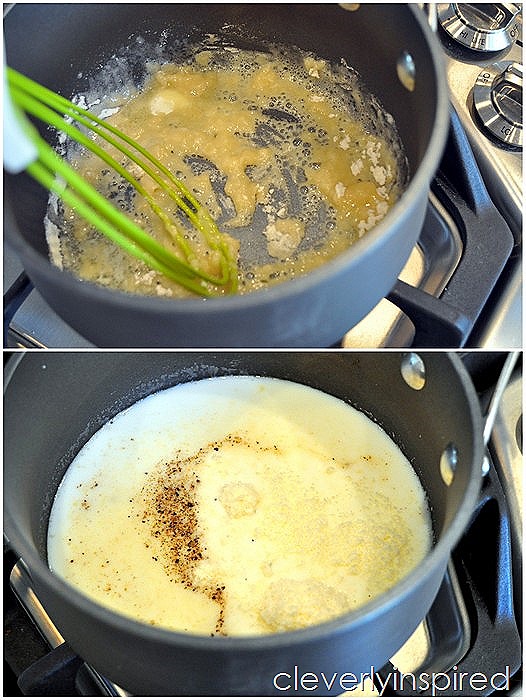 Here is what you will need to make one 9 x 9 pan(which makes about 4 large sandwiches)
Kentucky Hot Brown Baked Sandwiches (Derby Party Food)
Author:
Tracie at CleverlyInspired
Ingredients
3 pieces rye bread toasted
1.5 C smoked gouda shredded
½ lb deli turkey sliced thin
3 piece of cooked bacon
1 sheet puff pastry thawed
grape tomatoes for top
Your favorite Green Giant veggie can be thawed/drained and used in the sandwich too (maybe spinach or peppers?) Make it your own!
For the sauce:
2 T butter
2 T flour
1½ C milk
1 C cheddar shredded
¼ C parmesan
1 T Dijon mustard
dash of hot sauce
½ t white pepper
½ t salt
pinch of nutmeg
Instructions
Heat oven to 425. Lay toast in pan.
Top with cheese and turkey, then bacon
Cover with puff pastry and bake 20 minutes until golden.
Make the sauce while the sandwiches are baking.
Melt butter, add in flour and whisk for 2 minutes.
Add in all other ingredients and simmer until thickened.
Plate sandwich. Top with sauce and cut tomatoes.Serve up right away.
(if you are serving to a crowd….just keep the sauce in a small slow cooker and gently keep warm.)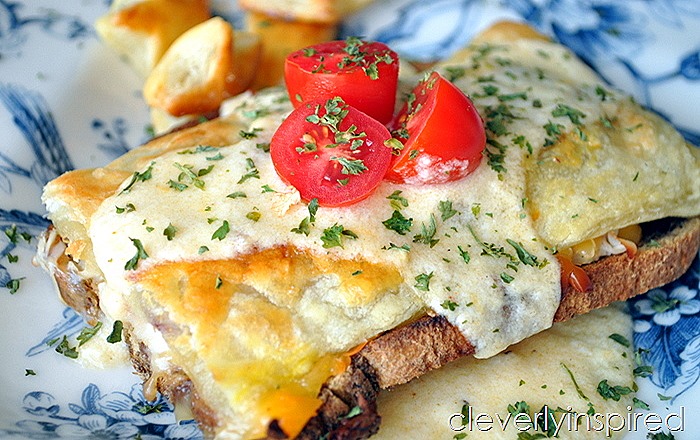 Again, the freezer section has saved me a ton-o-time and it will help you out too! You never sacrifice
quality or taste and you can make a dish like these Kentucky Hot Brown Baked Sandwiches in a fraction
of the time. Get on to more important things…like watching the horse race :) You can find more recipes
and cooking tips at EasyHomeMeals.com.
Have a fabulous weekend friends!!
Sharing at SerenityNow
xo