August 29, 2014 By Tracie 1 Comment
Every time…hopefully without fail…—before my kids walk out the door to go off and be kids…they leave with the words "make smart choices" echoing in their head….so much so that when I left a few weeks ago to go out with friends my daughter said to me, "make smart choices mom…" hilarious…note taken…
Being a teen is hard. There are days when I really miss that little person with the sticky jelly fingers telling me a funny tale from preschool. There life can be much more complicated now….decisions they make play out 400 different ways. Some "friends" don't always make the smart choice….and they would love to not feel so alone in their choice…so many times they ask you to join along. What do you say?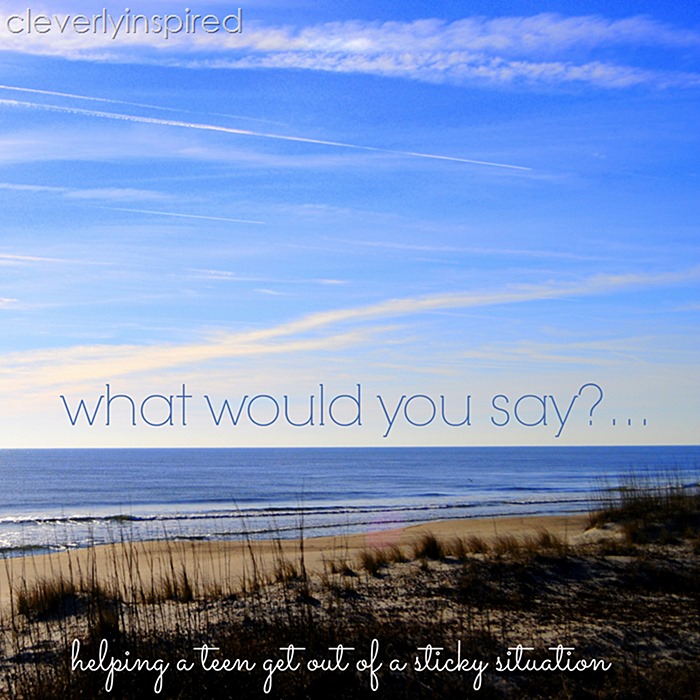 This is when "make smart choices" becomes a challenge. I am not a parent coach. I do not have all the answers…I have laundry stacked high waiting to be done….I have worries that keep my eyes open at night…I wonder if Algebra is stressing my son out….and if my daughter has nice girls to sit with at the lunch table…all these things and more run around my head. I am a parent of teens. My prayer is for them to remain confident when given 2 choices…they will chose the one that makes them proud…in turn making us proud. And I must say….my kids have yet to disappoint us. They have stood up for what they believe in…and remained true to themselves so far….We are proud of the young adults they are growing into.
But I got to thinking….we have told them to make smart choices….without really giving them any "tools" to make that choice. When push comes to shove…and someone says, " hey, some peeps are posting vines and stuff under the bleachers…Sally brought some beer too…let's go.." This is that moment. This is that time mom has been preaching about since grade school…..I need to make a smart choice….but I have no clue what to say… This moment needs a comeback….this moment needs to be rehearsed…this moment will happen if it hasn't already and I want my kids to know exactly what to say and how to say it.
So….I thought of a few responses….off the top of my head…that may work. I will be sharing these with my kids. These will be placed in the back of their head….and maybe…when they least expect it—they will pull one of these phrases out…and it will help them get out of a sticky situation. At least that is my hope… I am trying to speak their  language and make these approachable responses for a teen. Honestly— it would be great if kids could always just say no and walk away and many times they will be able to do just that….but typically that isn't as easy as it sounds when push comes to shove….at least not when I went to school.
A friend has some beer in a backpack at the football game…asking if you would like to share a beer. No one is watching…no one will see…come on…

"thanks, but I think I am allergic. I totally break out when I smell it."

        or  " my dad can smell beer a mile away…no thanks."

A friend is getting in a car with someone who has been drinking and wants you to come too.

" that guy has been drinking….not cool…I'm not an idiot."

      or  " My parents are picking me up and I am sure they would drive you too. Fries anyone??"

You show up to a party where no parents are present and you are feeling uneasy…

        " I am feeling kind of queasy. Think I ate something funny….I am going to bail."

or         "I am going to find the bathroom…" (proceed to walk out of the house and call for a ride)

The person who is driving you won't stop texting and driving.

"At the next light, maybe you could put your phone away. It makes me nervous when you are doing two things at once."

You go to a school dance and people are asking you if you want to get high.

"I'm good. Looking forward to remembering this night:)"

or          "Not my thing….oh, that's my favorite song! Let's dance!"

A group of friends start to talk about a good friend behind their back.

"He/She is actually hilarious. Have you ever seen her Vines??…omg funny."

or         " Geez guys, how do you talk about me when I'm not here. Come on…"

Any and all weird/odd/uneasy/scary situations that you should find yourself in…

"I gotta run….my mom is needing me home early tonight….see ya…"

or          "My dad just texted me…he is picking me up….says there is some sort of family emergency. Later peeps."
I pray that these are helpful and can be used to get out of a sticky situation. The way I see it….we have four more years to impress upon our twins the best way to make smart decisions. They have to know this before they go off to college and live life….because when they leave here….it is all up to them. They will be saying to themselves…"is this a smart decision…" and have confidence to chose the correct one…always listening to themselves first:)
Have a good response to share? Do tell….
xo
Closing out the Norwex party on the 30th….just order this weekend if you need anything. Thanks!
Favorite Desserts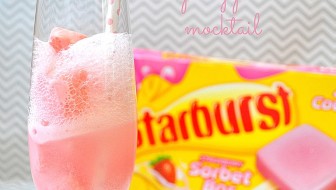 I thought this sweet little treat would be a perfect little kiss to end summer. Since my kiddos start high school next week….our summer fun is coming to a close. Boo. Though they both seem excited and … [Read More...]
DIY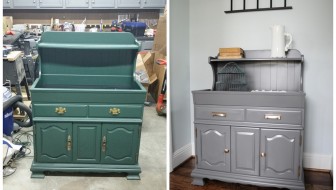 My dad gave my mom a dry sink for their first Christmas together. They were married in Nov. of 1969. The condition of this dry sink is incredible….and it has been moved 8 times. It looks brand new. I … [Read More...]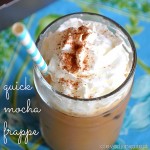 It's kind of hot. I suppose it should be…it is August. Sometimes it's too hot for coffee….dare I say. There are about 2 weeks in the late summer when I switch to iced coffee. I still need that jolt to wake me up…but I just cannot drink a hot drink. This super quick mocha frappe is just the ticket for these hot hot days of summer. My friends at Nespresso sent me a super sexy machine called the VertuoLine to try out…so I created this recipe for them:) Vavavoom…am I right? Even the pods are fun….;) … [Read More...]