What a beautiful Derby weekend here! We had a great time hanging out with a few friends and neighbors…and watched the ponies at home. I came up with a few fun games to watch in between the races…I will share that soon:) Hope your weekend was restful and fun:) I cannot get over that it is already the first week of May. We only have 2 weeks left of classes…then exam week…then SUMMER BREAK!!! Cannot wait! My post may start to fluctuate a bit…based on what we have going on. Summer is typically for low blog numbers…so I may scale back my post….we shall see….
Did you realize that Panera got rid of the tomato mozzarella sandwich? It was my go to Friday lunch during lent and they just got rid of it. They replaced it with a tomato wrap on their flat bread….which I can tell you does not compare even remotely close to the goodness of the panini. This disappoints me on many levels that are probably not normal. Loved that sandwich. I set out to create something similar at home and I duplicated it pretty well.  (sorry for poor pics…took them quick…)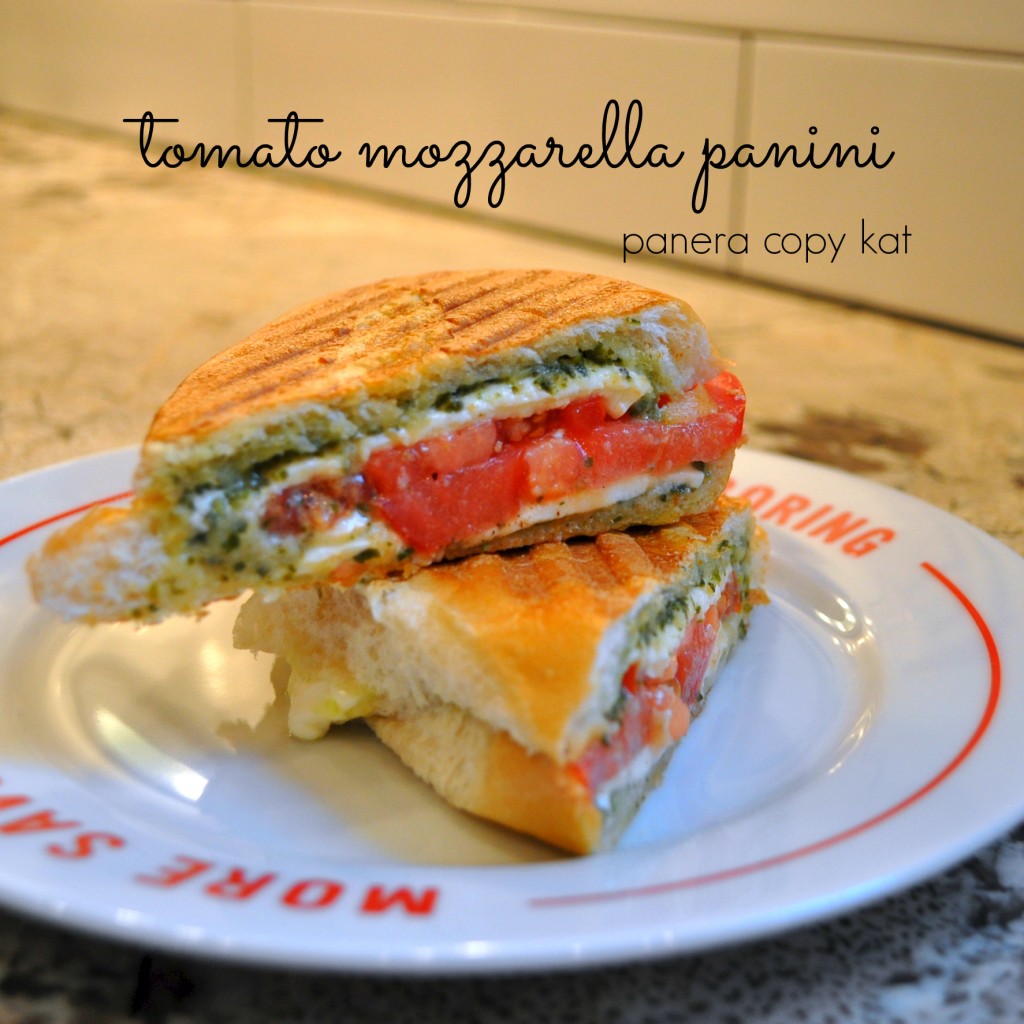 You know that I love my Panini maker but if you do not have one you could always use a baking sheet. , just the sandwich your Panini in between two baking sheets and place a heavy brick wrapped in foil on the top. It might come out a wee bit chewier…but works in a pinch. This is the Panini maker we  have….love it!
This recipe makes for a perfect use of those fine ripen tomatoes. Get some fresh bread , ready made refrigerated pesto or make your own and some fresh mozzarella. You can also slap on some arugula or fresh basil leaves if you'd like. We had this with a salad and it was a perfect meal.

Tomato Mozzarella Panini Sandwich
Author:
Tracie at CleverlyInspired
Ingredients
bakery fresh bread
2 tomatoes
pesto sauce (homemade or store bought)
fresh mozzarella sliced
arugula
Instructions
Cut the bread in half and spread inside with pesto
Place tomatoes, cheese and arugula
Place in Panini maker for 5-8 minutes
If using the oven, heat to 400, place on baking sheet with parchment. Place another baking sheet on top with heavy object. Heat 10 minutes
And hey Panera if you're listening please bring back my favorite sandwich! The flatbread does not compare!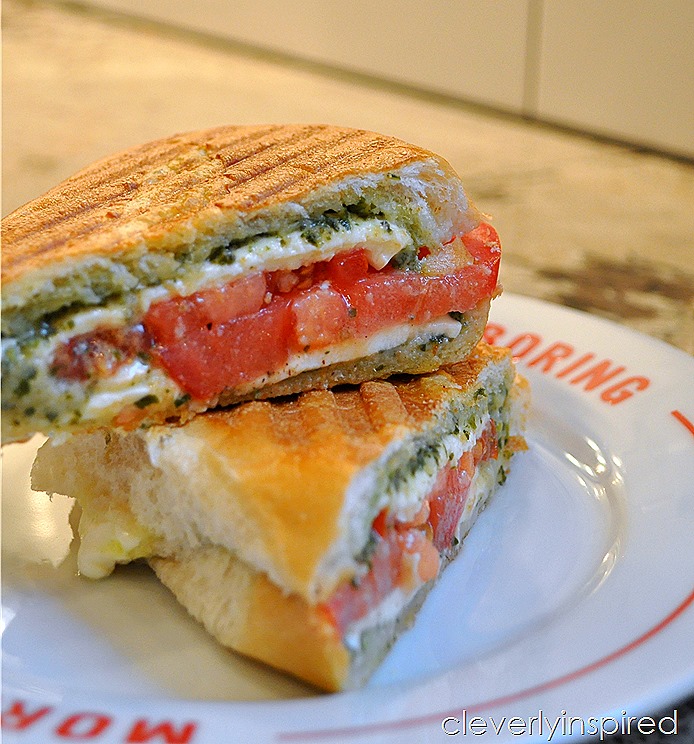 Have a great Monday friends:)
xo