Be inspired to be clever in your own home.
-Tracie Stoll Author/Creator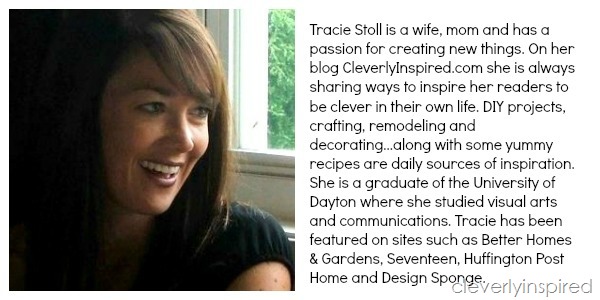 CleverlyInspired is a blog dedicated to inspiring others to be clever in their own life. Projects, cooking, decorating and remodeling…all on a budget. Since October 2010 , author Tracie Stoll has been speaking through captivating pictures and easy tutorials to give her readers a clear and crisp vision of what they can accomplish on their own.
Current Statistics
(as of Nov. 2012)
Monthly Page views:  213,000

Feed subscribers:    4,500

Total page views since Oct. 2010:   3,273,480

Total visitors:   790,773
Other stats can be supplied if necessary. Numbers based on Google Analytics.
Social Media Numbers
Facebook readers:    4,500

Pinterest followers:  6,200
Advertising Opportunities
Sidebar Ad's 150×150   3 month min.                   $50 per month

350 square ads               3 month min.                   $175 per month
Corporate sponsored post and giveaway              $200 per post
Corporate sponsored post are considered on a case by case senerio based on readership needs.
The following is included:
- A post consisting of 200-300 words
- High quality photographs featuring the product and how I would use it.
- Social media sharing on pinterest, facebook and twitter.
- To be published at an agreed upon date.
Please feel free to email CleverlyInspired for specific ad campaign needs and speaking engagements.   
Payment is accepted through PayPal or check.
Contact information:
Email:          cleverlyinspired@gmail.com

Facebook:  cleverlyinspired

Twitter:    cleverlyinspire
Property of CleverlyInspired.

Comments
comments